If you're already searching for the best 3-door dog crates, then you probably already know why you'd want one.
Just in case, though, we'll go over that real quick below.
Then, we'll take a look at my top 5 picks for the best models.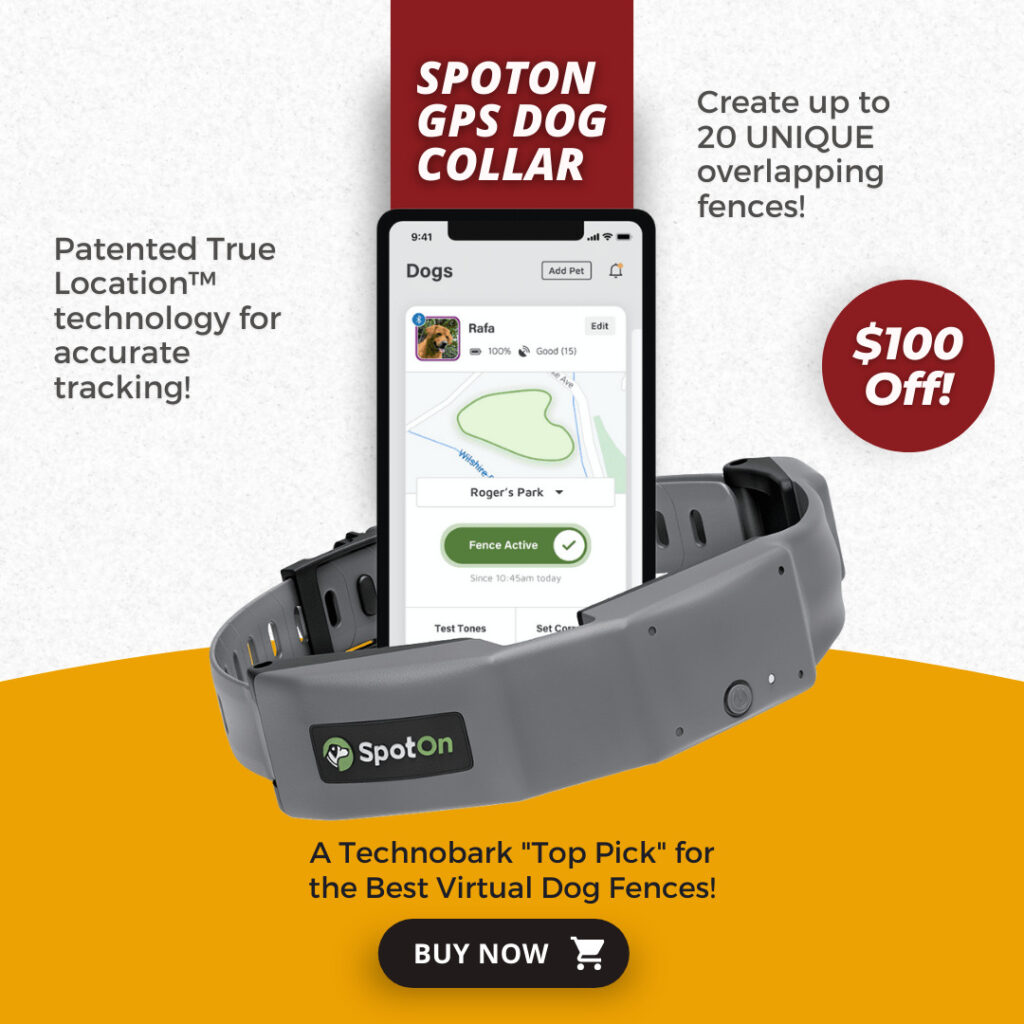 Ready to get started?
Check this guide: Top 5 Best Crates for Pit Bulls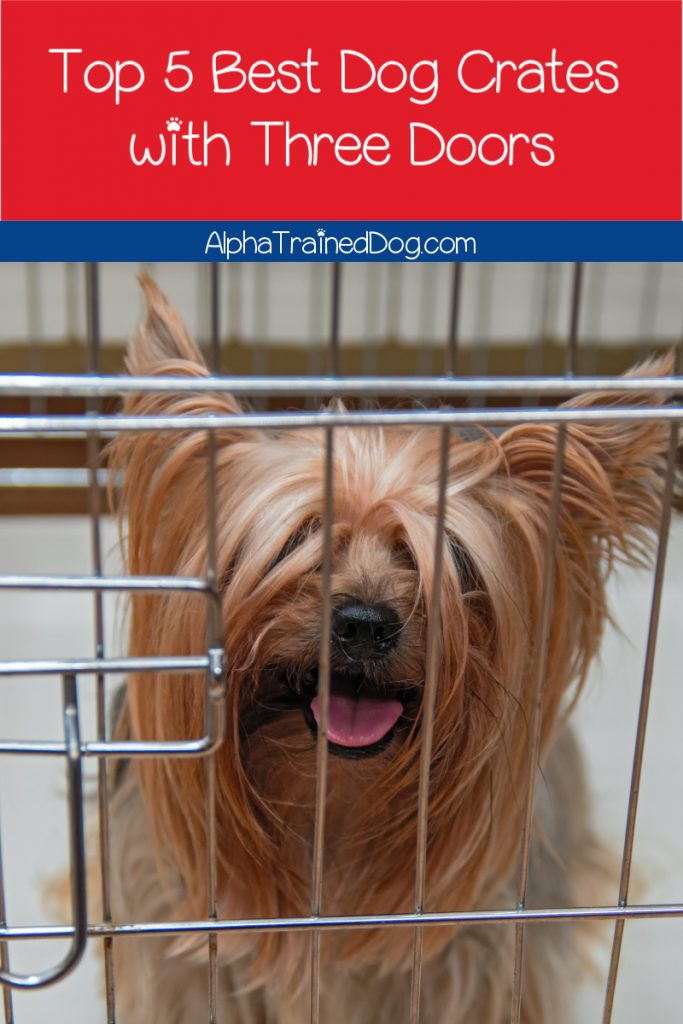 Our Top Pick
FYI, this post contains affiliate links. If you make a purchase through these links, we earn a small commission at no extra charge to you.
Want to skip ahead and grab our top pick? While I like them all, if pressed I'd go with the Frisco crate from Chewy.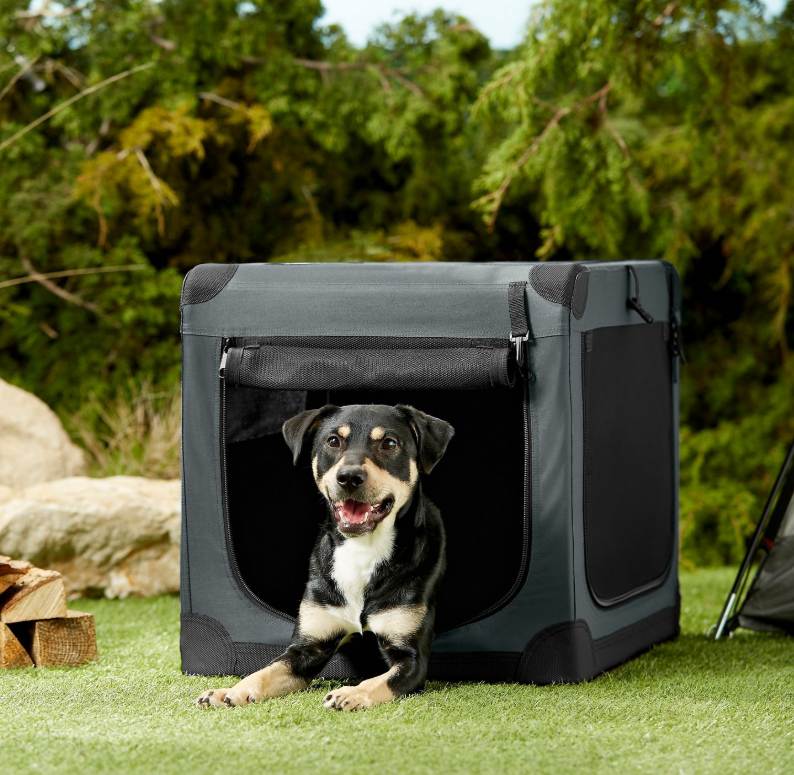 Why get a 3-door dog crate?
Why a 3-door dog crate instead of just two? Or heck, even one? How many entrances and exits does your dog really need, right?
You're right. You can get away with just one or two doors most of the time.
However, adding that third door gives you a whole new range of placement options.
For example, you can position the crate in a one corner against a wall and still have access to two doors.
Taking a trip with your dog and putting his crate in the back of your SUV? Three doors makes it easy to access him from any angle (or seat).
Basically, it's all about convenience and safety.
An extra door (or two) means that you can very quickly open the crate and get to your dog should the need arise.
While it may only save you an extra few seconds, if your dog is choking or caught on something, literally every second counts.
So, now that we know why we'd want one, let's take a look at the best 3-door crates.
Related: Best Dog crate mats for chewers
Best 3-door dog crates
My search for the best 3-door dog crates took me to Chewy, Amazon, and Wayfair.
Some of these crates are exclusive to one retailer, others are available on two or more.
I'm including links to all that apply so you can decide where to buy.
1. EliteField 3-Door Collapsible Wire Dog Crate with Divider
The EliteField Collapsible Wire 3-Door Dog Crate is a good place to start, as it's generally well-liked by users and comes in a myriad of sizes.
Let's look at the features and pros, then the cons.
Features & Pros
5 sizes from 24-48″
Easy to assemble, no tools needed
Sets up and folds down fast
Comes with a free divider to resize the crate for puppies
Non-skid rubber feet prevent it from sliding
Pan slides out for cleaning
Doors feature two bolt latches
Cons
Not escape-proof for strong dogs
Pricey for a crate
Recommendation
While it's a bit pricier than I like to see for a crate, I still think it's within the reasonable range.
Some customers do complain that their large (and determined) dogs escaped, but you'll have that issue with most crates,
I like that it comes with a divider. That way you can go with the size you'll need for your adult dog yet section it off for a puppy.

EliteField 3-Door Folding Dog Crate with Rubber FEET, 5 Sizes, 10 Models Available (3-Door Crate with Divider, 42" L x 28" W x 30" H)
Size: 42" long x 28" wide x 30" high; the 42" dog crate is 1" wider than some brand 42" crates that are 42"L x 27"W x 30"H, so the dog crate makes your dog feel more spacious; folding suitcase style crate, fully assembled; set-up and fold-down in seconds, no tools needed
A front, a side and a back door for convenience; two bolt latches with self-locking function on each door for safety; a removable divider for puppy training
SPECIAL FEATURES: Non-skid rubber feet to protect floor surfaces; slide-out BREAK RESISTANT ABS Pan for easy cleaning; durable satin-black electro-coat finish; carry handles for easy transport
Material: 3, 6, 8, 9 gauge wires (tip: the smaller the gauge number, the bigger the wire diameter)
Mesh space: 1-1/3" (smaller mesh space than most other brand crates with 1-1/2" mesh space); Product Quality Guarantee, 100% Money Back Guarantee, Customer Satisfaction Guarantee
2. Frisco Indoor & Outdoor 3-Door Collapsible Soft-Sided Dog Crate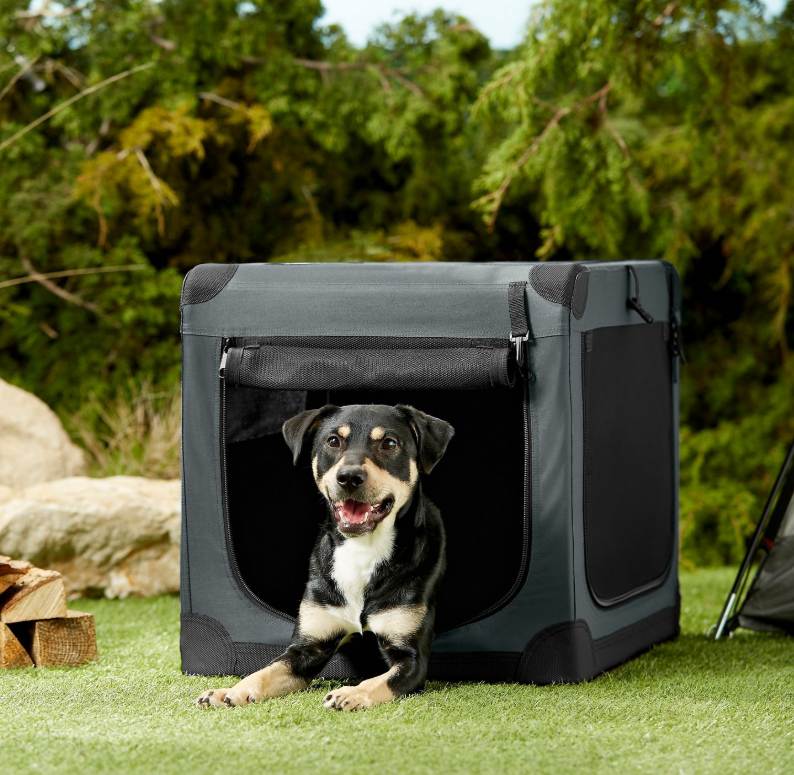 The Frisco crateis a Chewy exclusive, as is the entire Frisco brand. Don't the the whole "it's a store brand" scare you, though.
I've always had excellent luck with Frisco products. Let's check this one out.
Features & Pros
Sizes from sizes ranging from 21 inches to 42 inches
Soft-sided design makes it easy to squish down and take on the go.
Super lightweight, so it's perfect for travel.
Easy to set up, no tools needed.
Durable mesh panels for ventilation.
Three zippered doors- one on top, one side, and one on the front.
Zippers included locking clips.
Doors have straps, so you can roll them up if you want.
Steel frame and water-resistant base.
Cons
Not good for chewers
Not ideal for use in the car or during air travel
No 48″ for XL breeds
Recommendation
The biggest issue with this one (and any soft crate for that matter), it's not good for aggressive chewers.
Also, soft crates aren't really preferable for air travel. In fact, some airlines won't let you use them at all.
However, I do like this one as a pop-up crate for camping, hanging out in your back yard, or inside your home.
Not all dogs need heavy-duty wire crates, after all.
They don't offer a 48″ for bigger breeds, though, so that could be an issue for those of you with Great Danes and such.

3. Firstrax Noz2Noz Sof-Krate N2 Series 3-Door Collapsible Soft-Sided Dog Crate
As the super long name implies, the Firstrax Noz2Noz Sof-Krate is another soft-sided option for dogs who don't need a wire crate.
Features & Pros
4 sizes from 24-42″
Top, front and side entry doors.
Lightweight yet durable design
Easy to wash
Extra strong steel frame
Heavy-duty zippers with door lock
Ventilated mesh panels
Rounded corners
Easy to set up and take down in seconds
Cons
No 48″ size for XL breeds
Pricey
Recommendation
I personally have super weird issues with cutesy misspellings, so I almost passed this one up.
However, the 4.5 star reviews made me give it a second glance.
Aside from the usual cons associated with soft crates, this is an excellent buy as long as you don't have an XL breed.
It is a bit pricey, though, compared to the Frisco model.

Noz2Noz Soft-Krater Indoor and Outdoor Crate for Pets, 36-Inch
Durable, Well-Ventilated Pet Crate For Indoor Or Outdoor Use
Made With New Heavy-Duty Tight-Weave Mesh Fabric
For pets up to 70 pounds
Sets Up In Seconds Anywhere You Want To Go
Rounded Corners Protect Home Décor And Auto InteriorThe N2-36 Measures 36"L X 24"W X 27"H When Assembled And Is Appropriate For Pets Up To 70 Pounds.
4. Petmate Great Crate 2 Door Dog Crate
The Petmate Great Crate is available on Wayfair and Amazon.
You'll notice it has a different name on Wayfair. Don't let that confuse you.
For some inexplicable reason, they come up with their own names for everything.
Features & Pros
Sizes from XS (19″) to XL (48″)
Made with heavy gauge wire
5-point lock system
Includes a divider panel
Front, top, and side doors.
Slide-out pan for quick cleaning.
Petmate is a trusted brand.
Cons
Recommendation
Again, very few wire crates are escape proof for determined dogs, so let's ignore that for now.
The price is a bit on the high side, but Petmate is a well-trusted brand.
Sometimes it's worth it to pay more for the name.
The Wayfair price is a bit lower, so if you're comfortable ordering from them (I've never had any issues), I'd start there.
5. JESPET Soft Dog Crates Kennel for Pets
The JESPET soft crate is yet another soft-sided option, but honestly, when you've seen two wire crates, you've seen them all.
With soft sides, there's a bit more variety. This one in particular is just right for small breeds.
Features & Pros
3 colors to choose from
Multiple sizes from 26-30″
3 doors for easy access and ventilation
Made of steel tube frame
Durable, washable cover
Comes with a cozy fleece bed
Collapsible bars and retractable springs make it easy to store
Cons
Not for large breeds
Not chew-proof
Recommendation
I really like that this one comes with a bed. It's a nice little touch, especially considering the price is fairly reasonable.
Unfortunately, they don't offer sizes for larger breeds, so this one is really only good for small to medium pups.
Don't let the few reviews on Chewy scare you, over on Amazon it has a 4.5 star rating with over 300 reviews.

JESPET Soft Pet Crates Kennel 26", 30" & 36", 3 Door Soft Sided Folding Travel Pet Carrier with Straps and Fleece Mat for Dogs, Cats, Rabbits, Indoor/Outdoor Use with Grey, Blue & Beige, Black
Jespet Soft Dog Crate Dimensions: Folding soft-sided 30"L*21"W*23"H dog crate for large dogs up to 50 lbs. Portable and lightweight soft dog crate make it easier for outdoor travel. All dimensions are measured manually, please allow deviation of 1 inch.
Foldable Strong Dog Crate: Crafted of 600D Cationic Oxford fabric and heavy-weight mesh, it boasts reliable sturdiness. The collapsible dog crate frame is make of strong steel tube; a well ventilated, stylish, lightweight and durable crate.
Collapsible Dog Kennel: Three mesh entrances door (Top, front and side) for convenience sunlight and breathability; Ample Ventilation for Use in All Season. Easy carry with handle or strap. Adjustable strap included.
Fleece Bed Included: Our Indoor & Outdoor travel dog crate have fleece pad in it. Quality fleece bed provide a comfortable place for your pet. Lightweight and easy to carry to all places. Adjustable Carrying Strap and Fleece Mat Include.
Easy To Install: Jespet foldable soft dog kennel can easily install and fold. Collapsible Bars with retractable Springs make setup simple and storage efficient.
Final Recommendation
It's hard to say which of these is the best because they all offer different features.
As far as soft-sided crates go, I like the Frisco option.
For wire crates, I'm fond of the EliteField Collapsible one because it's a little cheaper than the Petmate.
What are your picks for the best 3-door dog crates? Share below!