If you're looking for the best dog crates for Dachshunds, I've got you covered.
Below, we'll learn all about the right size crate for your Doxie.
Then, check out 5 that we recommend.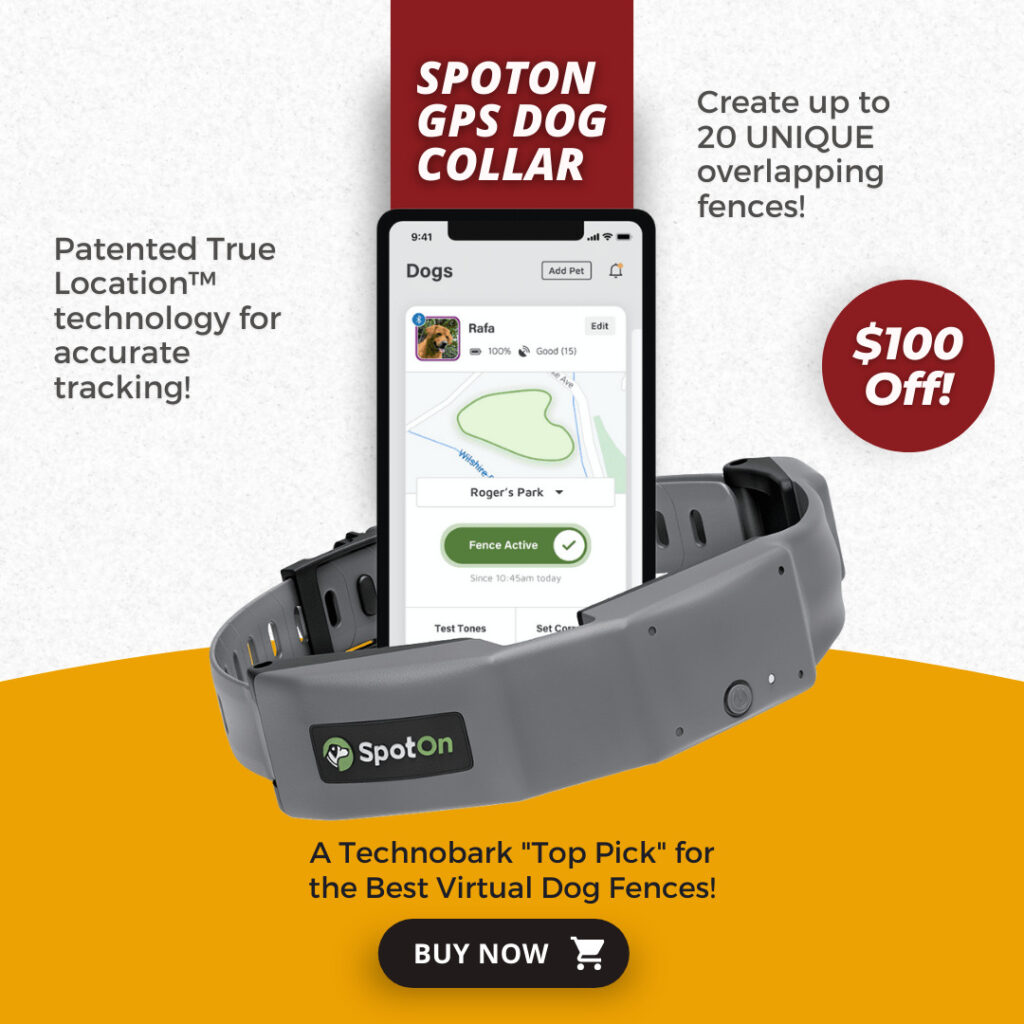 Let's get going!
You may also love: Top 10 Best Dog Training Tools to Keep on Hand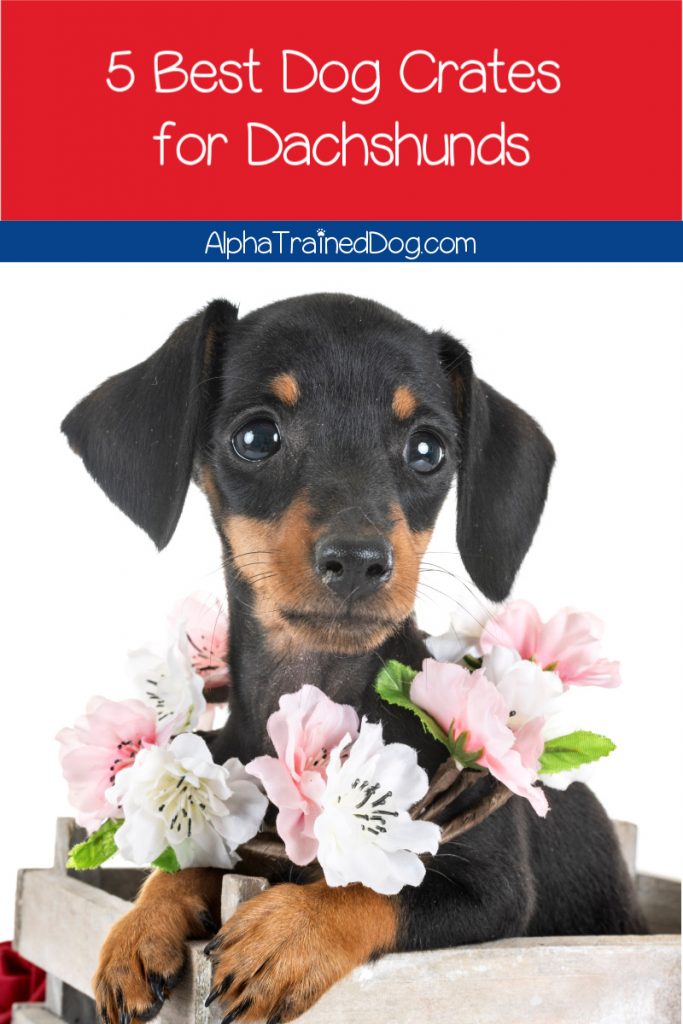 What size crate for a standard dachshund?
According to the Dog.com guide to measuring dogs for crates, a small crate measuring around 24L x 18W x 19H is the best size for a Dachshund.
That'll give her room to stand, turn , and lay down yet won't give her enough space to have a potty area.
So, now that we have that covered, let's look at my favorite options!
FYI, this post contains affiliate links. If you make a purchase through these links, we earn a small commission at no extra charge to you.
Best Dog Crates for Dachshunds
For my top picks, I tried to give you a good variety of styles.
That way you'll be covered whether you want to crate your Doxie at home or on the road!
Preview
Name
iCrate Dog Crate Starter Kit | 24-Inch Dog Crate Kit Ideal for Small Dog Breeds (weighing 13 - 25 Pounds) || Includes Dog Crate, Pet Bed, 2 Dog Bowls & Dog Crate Cover (Black)
2PET Foldable Dog Crate - Soft, Easy to Fold & Carry Dog Crate for Indoor & Outdoor Use - Comfy Dog Home & Dog Travel Crate - Strong Steel Frame, Washable Fabric Cover, Frontal Zipper Medium Blue
Preview
Name
iCrate Dog Crate Starter Kit | 24-Inch Dog Crate Kit Ideal for Small Dog Breeds (weighing 13 - 25 Pounds) || Includes Dog Crate, Pet Bed, 2 Dog Bowls & Dog Crate Cover (Black)
1. Amazonbasics 24″ Crate
The Amazonbasics crate is always at the top of my list for pretty much all breeds.
With 6 different sizes and both single and double door options, it's a pretty safe bet that it'll fit your needs.
Features & Pros
Two doors with one on the front and one on the side
Slide-bolt latches
Made of sturdy metal construction
Folds down so you can store it
Includes a divider panel
Cons
A pain to put assemble
No food bowls or other extras
Not escape-proof
Recommendation
I have this one for my big dog and it is a pain to put together at first.
Once you get the hang of it, though, it only takes seconds to collapse and put back up.
While it's a fairly no-frills option, the price reflects that. In other words, it's affordable.
With 38,000+ customers giving it a 4.5 star rating, you really can't go wrong with this one!
2. Midwest Homes iCrate Dog Crate Starter Kit
If you prefer something that actually does have a few included "frills," go with the Midwest Homes iCrate starter kit.
Features & Pros
2-door iCrate, dog bed, cover and food/water bowls.
Includes a divider
Bowls clip to the crate
Fleece bed and polyester cover are machine-washable.
1-year warranty on all products.
Budget-friendly
Cons
Doors aren't removable
Bed is just so-so, and absolutely not chew-resistant
Warranty only covers manufacturer defects
Cover isn't waterproof
Recommendation
Aside from the extras, there's really no difference between this one and the Amazonbasics crate as far as the main structure goes.
So, you have to decide for yourself if the extra $20 is worth it for the extras that you get.
For a big puppy that chews everything like crazy, I honestly wouldn't spend the extra money. The bed isn't chew-proof, after all.
However, my brother's dachshund was never a chewer. If yours isn't, either, then I think it actually is worth the extra money.

3. Ginny Pet Crate (aka ecoFlex Pet Crate)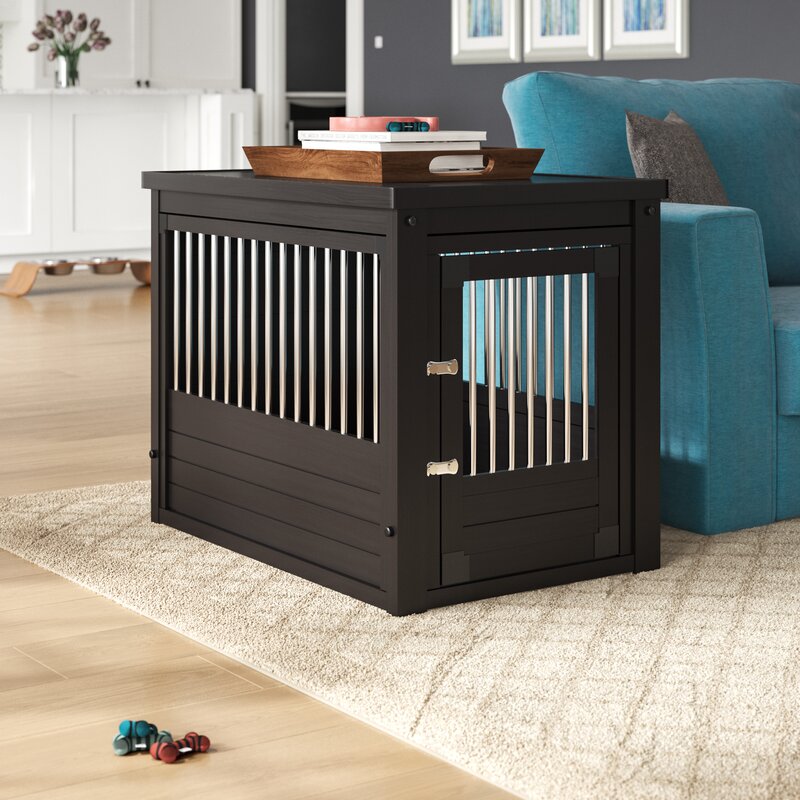 Let's be honest, dog crates aren't really aesthetically pleasing! I mean, they're basically wire cages, right?
If you're willing to spend a bit more, though, you can get something like this that's looks a whole lot nicer in your home.
Features & Pros
Fairly affordable
Made of non-toxic Ecoflex
Bars made of stainless steel tubing
Stainless steel latches keep your dog safe and secure.
Door swings in and out for easy access.
Comes in four colors.
Ecoflex is paintable in case none of the colors appeal to you.
Doubles as a side table.
Cons
Recommended only for crate trained dogs.
Not chew proof.
Not escape-proof.
Bars don't extend all the way down, so they're easy to bust out.
Recommendation
This one has a 4.5 star rating with over 10,000 reviews on Wayfair, so it's obviously adored by customers!
However, it's not recommended for those who are working on dachshund crate training.
First, it's far from escape-proof.
The bars that you see don't go all the way down into the wood (which isn't actually really wood), so determined dogs can actually pop them out.
If your pup isn't trained, you'll have to hold off. Which, of course, means buying one of the other crates we talked about so far.
On the other hand, if you have a trained dachshund, it's definitely a nice alternative to ugly cage-like crates.

4. Veehoo Folding Soft Dog Crate
Let's look at two of my favorite soft-sided dog crates for Dachshunds, starting with this one by Veehoo.
Features & Pros
Made with strong Oxford fabric and heavy-weight mesh
5-sided mesh window for ventilation.
Dog can see all around him while in this crate.
3 roll-up entrances.
Interior is made of collapsible & solid steel frame.
Comes with a washable fleece pad.
Cons
No shoulder strap,
Carrying handles aren't the most secure.
Definitely not chew-resistant.
Recommendation
No soft-sided crate is chew-resistant, so we can't judge this one by that con alone.
Overall, it has stellar reviews, even if it doesn't have quite as many as other crates on this list.
I like the fact that it's budget-friendly, but I do worry about the reviews saying the straps aren't the strongest.
That said, I have other items from Veehoo and do trust the brand overall.
Veehoo Folding Soft Dog Crate, 3-Door Pet Kennel for Crate-Training Dogs, 5 x Heavy-Weight Mesh Screen, 600D Cationic Oxford Fabric, Indoor & Outdoor Use, 28", Beige Coffee
Folding soft-sided 28"*20"*20" dog crate for medium dogs up to 35 lbs. Crafted of 600D Cationic Oxford fabric and heavy-weight mesh, it boasts reliable sturdiness.
5-sided mesh window features high ventilation and 3 roll-up entrance doors (top, front and left) allow your dog to come and go freely. Semi-closed design allows you to keep an eye on your pet.
Dog crate interior made up of collapsible & solid steel frame and washable fleece pad, is a soothing environment for crate-training dogs. Worry-free and hygiene.
Collapsible steel frame with retractable springs makes setup simple (no tools needed) and fold flat for easy transport and compact storage. Easy carry with handle or strap. Adjustable strap included.
Lightweight frame and special locking mechanism makes traveling a breeze. Perfect for road trips, the great outdoors or everyday home use. Spend more time on-the-go with your beloved dog.
5. 2PET Foldable Dog Crate
While this one isn't very different from the Veehoo, I like to give you more than one option.
I like this one because it has a 4.5 star rating with over 1,400 customers chiming in.
Features & Pros
Foldable dog crate for indoor and outdoor use.
Steel tube design for added durability.
Safe for car travel.
Top handle converts it from crate to carrier.
Water resistant, soft Oxford 600D fabric
Full front zipper that's chew-resistant
Washable
Plenty of ventilation
Comes with waterproof mat
Cons
Mesh windows prone to ripping
Not chew-proof
Recommendation
Again, a crate like this isn't designed to be chew-proof or escape-proof.
Mesh windows- no matter how strong the material- are still, well, mesh windows.
I mean, I have "pet-safe" mesh screen on my screen door that my cats and dog have managed to destroy about 100 times (we bought a ginormous roll of it).
Overall, people are happy with this one! Especially people who own small dogs like dachshunds.
2PET Foldable Dog Crate - Soft, Easy to Fold & Carry Dog Crate for Indoor & Outdoor Use - Comfy Dog Home & Dog Travel Crate - Strong Steel Frame, Washable Fabric Cover, Frontal Zipper Medium Blue
ALL-IN-ONE FOLDABLE DOG CRATE – If you're looking to buy a foldable dog crate that combines all the functionality with a touch of class & innovation, 2PET Fold-A-Crate is the perfect choice – All-in-One dog crate for indoor, outdoor, training & travel purposes – Refer to the size chart for size details
STRONG STEEL TUBE DESIGN – Unlike many other flimsy & makeshift dog crates out there, Fold-A-Crate uses a strong yet lightweight steel tube design that can be folded/unfolded in a jiffy – Includes a top handle to convert it into a fully-functional pet carrier
WASHABLE SOFT FABRIC COVER – The steel frame is covered with a water resistant, soft Oxford 600D fabric cover (a nylon variant) that is fully removable & machine washable – The new & improved design includes full frontal zipper that dogs can't easily chew to bits
PERFECT VENTILATION, MESH PANEL WINDOWS – Thanks to the well-designed bone-shaped windows & mesh panels, this foldable dog crate maintains perfect natural ventilation – This kennel comes with a waterproof mat for the floor of the crate reversible washable fleece cushion pad
MEASURE YOUR PET: Correctly measure your pet so it could fit comfortably in the crate. This crate is intended for small to medium dogs up to 25Lbs in weight. ALWAYS CHECK THE REFERENCE CHART IN THE IMAGES TO BETTER HELP YOU SELECT THE CORRECT SIZE. Being absolute pet lovers, we donate a portion of sales to various pet shelters & charities – With a 1-year warranty against manufacturing faults in place, your orders are safe & secure.
Final Recommendation
My personal top choice is the very first one on the list, the Amazonbasics crate. It's durable, affordable, and well-liked among users (including me)
That said, I really do love the look of the ecoFlex! It's definitely more stylish than other options.
Do you have any other picks for the best dog crates for Dachshunds? Share below!