Choosing the best dog training vests for your service dog is a crucial, complex decision. Many pet owners often find it taxing, considering all the different factors at play. But I'll help speed up the process by showing you some high-quality, stellar options. These chosen vests are more than capable of being a comfortable and suitable fit for almost any service dog.
Take a peek at my top picks on the side-by-side comparison table below, then keep reading for all of the details about each one.
Just a quick head's up, this post includes affiliate links. If you buy anything through them we will earn a small commission at no extra cost to you.
Image
My Favorite
Most affordable
Product name
PETNANNY Tactical Dog Harness - 2 Metal Buckle, Service Dog Vest Harness for Large Medium Dogs No Pull Adjustable Military Dog Harnesses with Handle, Molle & Loop Panels for Walking Hiking Training
WINSEE Service Dog Vest No Pull Dog Harness with 7 Dog Patches, Reflective Pet Harness with Durable Soft Padded Handle for Training Small, Medium, Large, and Extra-Large Dogs (Large, Red)
Service Dog Vest with Hook and Loop Straps and Handle - Harness is Available in 8 Sizes from XXXS to XXL - Service Dog Harness Features Reflective Patch and Comfortable Mesh Design
Service Dog Harness with Removable Saddle Bag Backpack Carrier Traveling Carrying Bag. 2 Removable Patches. Please Measure Dog Before Ordering. Made by Doggie Stylz (Girth 19-25", Black)
Dogline 22"-29" MaxAire Mesh Vest for Dogs and 2 Removable In Training Patches, Large, Turquoise
Top Feature
Tough, long-lasting construction
Heavy-duty, weatherproof construction
Perfect for nighttime walks
Perfect for hot areas with light, mesh design
5 Best Dog Training Vests
Any search on Amazon for dog training vests will turn up an overwhelming number of options. I didn't want to provide a similar experience, so I limited myself to five high-quality vests. Each one has a pristine reputation among handlers and their service dogs. So without further ado, let's see what makes them a step ahead of other available options.
1. PETNANNY Tactical Dog Training Vest
PETNANNY's Tactical Dog Training Vest starts off our list with a reliable, comfortable design that any service dog would love. Its breathable 1000D nylon and mesh material will ensure even the summer heat won't phase them. 
FEATURES:
Four sizes and two color options

Made from 1000D nylon and mesh

Two metal buckle attachment points

Reinforced top handle

Multiple hook and loop panels

Adjustable straps
PROS:
Durable, strong construction

Excellent breathability with mesh material

Numerous hooks for storing items

Soft fabric and padding offer a comfortable fit 

Wide range of adjustment 
CONS:
Difficult to put on skittish dogs

Some customers complain that the leash ring clip isn't the most durable
FINAL VERDICT
It's hard to see how any dog handler wouldn't love this product. It offers a comfortable fit while providing numerous storage hooks for extra convenience. You'll even get more control over your dog with its reinforced top handle.
Meanwhile, the vest's only significant flaw was that skittish dogs took a while to get used to it. But this issue would become less of a problem with daily repetition. 
PETNANNY Tactical Dog Harness - 2 Metal Buckle, Service Dog Vest Harness for Large Medium Dogs No Pull Adjustable Military Dog Harnesses with Handle, Molle & Loop Panels for Walking Hiking Training
🐾 [REINFORCE D-RING WITH DOULE SIDE STRONG STITCHING]: Dog harness reinforce the D-ring leash clips stitching awl, enjor more strength and durability at D-ring doule side. Heavy duty dog vest made of 900D Nylon, sturdy stitching ensuring your dog is safely harnessed during training, hunting, working, and any other occasions. While the breathable air mesh keeps your dog comfortable
🐾 [EASY ADJUSTMENT]: Put on and take off this tactical dog harness with 4 quick release buckles with no hassle. Ideal for Medium to Large Dogs, such as Bulldog, Huskies, Labrador, Alaska, German Shepherd, Doberman, etc. Please refer to our size chart, make sure match up your dog's measurement, Do not choose the size base on dog's weight or guess. Large (Neck:18"-25"; Chest:26"-39")
🐾[2X METAL BUCKLES & NO PULL ]: 2X metal buckle (Proof-Load Test S/M: 700lbs, L/XL: 1100lbs) on dog shoulder position which the most load bearing point when dog pulling, withstand great pulling force to lock down fitting. In addition, this military service dog vest features 2 metal leash attachment points - One Front Clip for No Pull control or dog training. One Back Clip for casual walking or jogging. Plastic buckles withstand 2000N pulling force to ensure it won't be easily damaged
🐾[SECURTITY & LOOP PANELS DESIGN]: Reinforced top handle for additional control and easy lifting aid in both general and treacherous situations. And this dog harnesses feature powerful MOLLE system. Instead of carrying your pup's water and food supply inside of your pack, you can attach those items to your dog and let them do the work! Multiple Hook & Loop Panels for morale patches and badges to show your dog's personality. Our dog harness has been registered patent
🐾[ONE YEAR WARRANTY ]: Please choose right size base on PETNANNY size chart. Any quality issues - Feel free to contact us if you have any questions, we are always here to solve
2. WINSEE Service Dog Training Vest 
Putting a dog training vest on has never been easier than with WINSEE's Service Dog Training Vest. Its slide adjusters make the process effortless, unlike most other options. You won't have trouble finding the perfect fit for your service dog trainee. 
FEATURES:
Four sizes and four color options

Reflective nylon material

Slide adjusters on neck and chest

Front and back D rings

Double reinforcement stitching

Seven communicative patches included
PROS:
Easy to put on dogs

Tough, long-lasting construction

Front and back D rings offer superior control

Highly visible at night time 

Comfortable, stylish design
CONS:
Side adjusters need regular adjusting.

Not ideal for extreme pullers.
FINAL VERDICT
Overall, the easy use process alone makes this vest worth considering. But the vest combines with rugged construction, highly visual material, and stylish color options. I didn't even mention the seven patches that can make nonverbal handlers' lives much easier.
But it's not a perfect product because its adjusters slide down when not in use. So you'll need to adjust them regularly to get the proper fit, which could be annoying for some. 
WINSEE Service Dog Vest No Pull Dog Harness with 7 Dog Patches, Reflective Pet Harness with Durable Soft Padded Handle for Training Small, Medium, Large, and Extra-Large Dogs (Large, Red)
【You will receive】The package contains a WINSEE dog vest harness and 7 pieces of dog patches with sewed letters, such as "Service dog", "do not pet", "in training", "emotional support" and "best friend", enough quantity for you to decorate the dog's vest harness.
【No pull & choke-free】WINSEE no pull dog harness featuring 2 sturdy D rings on the front/back range for attaching leash, a front clip that prevents pulling, and a back one for relaxed walking. The 2 D rings are reinforced on the extensional part which is not easily ripped off even by heavy pulling. Especially the metal buckle for a leash on the back give you more safety. Pulling pressure is evenly distributed to the body to prevent choking.
【Reflective Nylon】- Higher visibility of the dog training harness allows you and your dog to be seen on early morning or evening strolls. With a Unique Design sturdy handle on the front you can easily and urgently restrain even extra-large dogs. Pulling pressure is evenly distributed to the body to prevent choking.
【Adjustable & customizable neck and chest girth fit】The fit of this pet harness can be completely customized for your pet using the slide adjusters on the chest and neck. Double stitching, lots of reinforcement stitching at high stress points, easy to fit and put on, and nicely padded for your dog's comfort.
【Perfect fit】 SMALL SIZE: Perfect for pets weighing 25-35 lbs., neck measurement 16-20.5 in; chest measurement 17-26 in, MEDIUM SIZE: perfect for pets weighing 35-50 lbs., neck measurement 17-24 in; chest measurement 18-31.5 in, LARGE SIZE: perfect for pets weighing 50-80 lbs., neck measurement 18-27 in; chest measurement 24-38 in; XL SIZE: perfect for pets weighing 80-140 lbs., neck measurement 21-33 in; chest measurement 24-49 in.
3. Industrial Puppy Service Dog Vest 
The Industrial Puppy Service Dog Vest offers a strong impression with its heavy-duty construction. Its double-stitched nylon material and welded D-ring make it clear that this training vest is ready for anything. 
FEATURES:
Seven sizes and five color options

Double stitched nylon material and mesh lining

Quick-release belly buckle

Top-mounted handle

Welded D ring leash attachment

Hooks, loops, and strap design

Two removable patches included
PROS:
Ready for any situation with heavy-duty, weatherproof construction

Quick, convenient setup and adjustment process

Extra handler control via D ring/handle

Stylish color options 

Capable of supporting and holding various items (food bowls, backpacks, etc.)
CONS:
A bit stiff compared to other vests

Not ideal for long dogs (such as Dachshunds)
FINAL VERDICT
Buyers should expect to have this product in their lives for a long time. In fact, its heavy-duty construction ensures it's one of the best investments a dog handler can make. Considering its appealing color options, you'll also provide your dog with a bit of style.
However, it may take them a little time to love it. Its design offers a stiffer feel than what you'd see with other vests on our list. 
4. Doggie Stylz Service Dog Harness
Our next option, Doggie Stylz's Service Dog Harness, offers more storage than most other choices. For instance, its two removable saddle bags can fit almost any needed item. It's a level of convenience any service animal handle will adore. 
FEATURES:
Four sizes and three color options

The bottom portion is made from neoprene

Reflective strips and lettering

Two removable saddle bags

Adjustable straps

Welded D-ring and nylon control handle

Two removable patches
PROS:
Unmatched storage capabilities 

Easy to find a perfect fit

Lightweight, durable design 

Perfect for nighttime walks with reflective components

Neoprene underside prevents chafing and abrasions
CONS:
A higher price option

A few customers complain that the "Service Dog" patch falls off after a few uses
FINAL VERDICT
Of course, storage capability is the primary highlight of this model. But I'd be doing a disservice if I didn't mention its lightweight design. It makes it much easier for your dog to carry whatever's being stored in those saddlebags.
The only disadvantage to these great features is this vest's price tag. So you'll need to spend a little more on it than my other choices. Still, it's very affordable overall.
5. Dogline MaxAire Dog Training Vest
Finding a high-quality dog training vest at an affordable price tag is difficult. But Dogline's MaxAire Dog Training Vest manages to check out both with its appealing features. Who wouldn't adore its endless size/color combos and ultra-lightweight mesh design?
FEATURES:
Four sizes and 14 color options

Mesh design material

Quick-release buckle

Bottom and front adjustable straps

Stainless steel D-ring

Reflective stripes and lettering
PROS:
Affordable price

Perfect for hotter areas with light, mesh design

Snug, customizable fit 

Effortless adjustment and removal

Endless color combos
CONS:
Not ideal for heavy chewers

Some say it runs a bit small, so order the next size up
FINAL VERDICT
Anyone who has a service dog in warm climates would love this option. Its mesh design will keep your dog comfortable even during those hot summer days. Plus, the bottom and front adjustable straps make it easy to find the perfect fit.
Dog owners with heavy chewers should look somewhere else, though. This vest's design isn't built to withstand constant or heavy chewing. I'd imagine my Pitbull would bust right through it within a week or two. 
Sale
Why Do You Need Dog Training Vests?
You may not realize it, but training service dog vests are a crucial investment. Honestly, anyone who intends to certify their dog needs one. I've compiled a quick overview of four reasons a service dog owner should get one.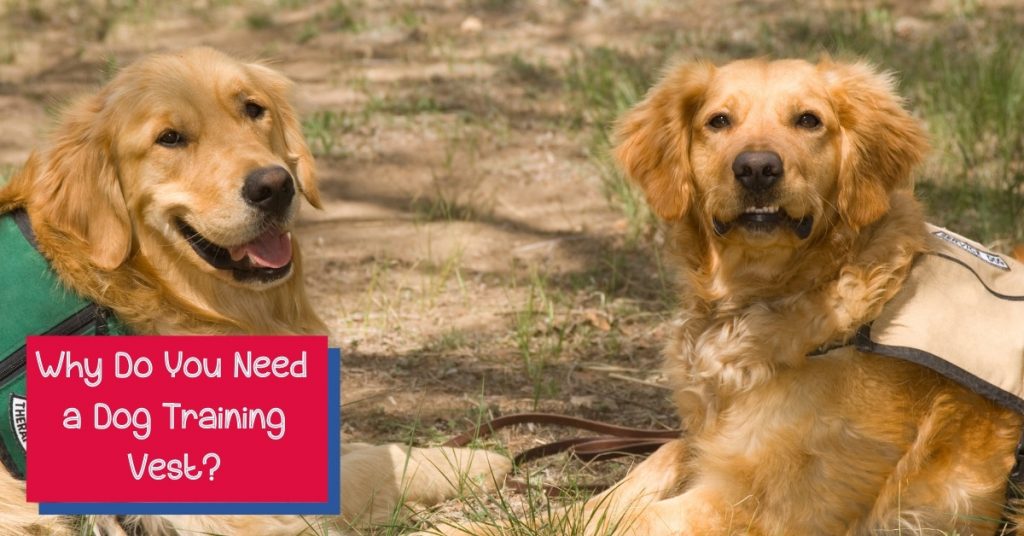 Holds Necessary Documentation and Other Essentials
Any training vest will have pockets to carry documents and other items. Most owners use these vests to hold vital records, epi-pens, medication, treats, and other pooch accessories. It's a convenient way to bring everything needed when traveling with your service dog.
For instance, I have a friend with a medical assistance service dog. He uses the vest's various storage areas to hold his necessary medication. So if a crisis occurs, he can access the medication immediately.
Displays Key Identification Information
One of the main reasons why service dogs wear training vests is for identification purposes. It allows people to understand your dog isn't a traditional pet. Instead, your dog has special privileges and performs unique tasks.
So the vest has display info to alert people about your dog's training and service. In most cases, the information displayed falls into four categories:
Your dog's name (not required)

Classification of their service dog type

Sponsorships

Training program
Communicates Helpful Information
Communication is another massive reason behind using training vests. Many handlers use the vests to communicate info using patches on them. So it allows nonverbal people and social anxiety sufferers to relay information to the people around them.
As a result, it's not uncommon to see a vest with several patches. A few common examples of information communicated through them include:
Assistance instructions in case of an emergency 

Guidelines for emergencies

Allowed interactions with the service dog
Gives Your Dog Some Style
Training vests are an excellent way to give your service dog some style. After all, these vests come in many shapes and colors with various patterns or designs. So it's essential to choose one that matches your dog's personality.
Factors to Consider When Buying Dog Training Vests
Buying a dog training vest isn't as simple as choosing the first one on Amazon. There needs to be some serious thought and consideration put into this process. But don't be alarmed; I'll walk you through each crucial buying below.
Size
Dog training vests will come in various sizes to fit many breeds. So you'll need to figure out what size best suits your dogs. Thankfully, most manufacturers will make it easy by offering a size chart based on weight, neck, and chest size.
As a result, I would recommend knowing these measurements before starting your search. It'll streamline the entire process to ensure it goes much smoother. Otherwise, the number of options could become overwhelming.
Comfort and Breathability
Training vests aren't worth getting if they don't provide a comfortable fit. As a result, I always recommend choosing options with extra padding in the leg area. It'll help prevent issues like chafing from occurring during your dog's walks.
I'd also suggest looking at customer reviews for every option. Your fellow dog owners will provide insight into whether the vest is a comfortable fit for their dog. It'd be wise to use their experiences to your advantage when choosing one.
Similarly, it's essential to consider the vest's breathability. Your dog will wear this accessory whenever they adventure outside, even during summer. So the product's material must be breathable to ensure they don't overheat and start panting.
It's worth noting that vests with mesh often provide higher breathability than other models. Therefore, people living in hotter areas should look at these options exclusively.
Handle Quality
Any high-quality dog training vest will come with a solid handle component. Handlers will need this part to help control their pup when they start getting a bit excited. So it becomes crucial to purchase a vest with a durable and comfortable handle piece.
Otherwise, these excitable moments could make you have to chase after your dog. It's an event no owner ever wants to experience. I certainly didn't enjoy running after my beagle when his leash slipped out of my hands a couple of months ago. Thankfully, he's fine.
Leash Attachment Point
Leash attachment points are something dog owners should never overlook. If these aren't well-designed, they could tear and ruin the vest's overall durability. So I'd recommend doing significant research into each option's attachment point.
In other words, check out the customer reviews and construction material. These resources will paint a picture of the sturdiness and reliability of each vest's leash attachment point.
Adjustability
You'll want a dog training vest with elastic adjustment points. It'll make finding a comfortable, snug fit for your dog much easier. I'd also advise buyers to ensure there's one wrapping around the belly area. If there isn't, it'll be much harder to find a comfortable fit and tightness.
Final Recommendation
If I had to select one, my recommendation would be Doggie Stylz's Service Dog Harness. Its unmatched storage and creative, comfy underside design are hard to beat. Honestly, it manages to meet everything that I would want in a dog training vest.
Have you tried any of these dog training vests? Share your thoughts and experiences below!