If you're looking for the best puppy agility equipment kits to take your dog training to the next level, we've got you covered!
Today, we're going to first talk about what to look for in a kit for pups (here's a hint, you shouldn't just buy any old dog agility set).
Then, I'll give you a detailed overview of my top ten favorite picks!
Let the training games begin!
Related: The Best Puppy Training Tips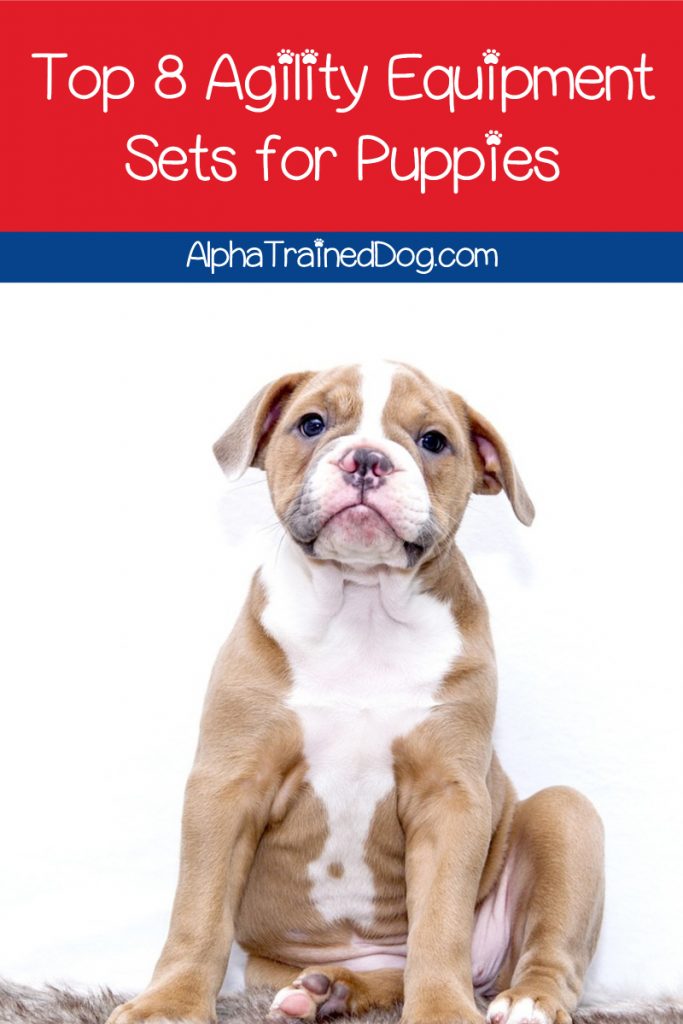 What to look for in a puppy agility equipment kit
Do a search for the best puppy agility equipment kits and you'll notice something peculiar.
Most sites (both stores as well as retail) interchange "puppy" with "dog," so none of the sets are specifically made for young pups.
While that's not an issue if you're just looking for weave poles or tunnels, it is most certainly a problem once we get to the jumps.
If you happened to check out our guide to teaching your dog how to jump rope, you may have noticed one very important piece of advice.
Puppies shouldn't engage in jumping activities until they've finished growing.
So, right there, we know that we want a kit that's about more than just hurdles.
Should we skip the jump equipment entirely though? No.
It makes more sense to spend a bit more and get a complete kit now, even if you won't be able to use the hurdles for a while.
Besides, if you get a kit with adjustable jump heights, you can set the hurdles at the lowest setting so that your puppy can just step right over them.
Beyond the hurdles, I looked at a few other features to narrow down this list, including:
Durability- is it a "for now" set or something that will last years?
Price vs. value- some sets are pricier than others, but they're worth it!
Regulation equipment vs just for fun- if you're planning on competing, you'll want equipment that meets AKC and other standards, which I'll note.
Ease of use for beginners- including you and your puppy!
Now that you know what I looked for (and what you should, too), let's take a look at my top choices.
You'll note that the list stops at 8. Why not 10?
Well, honestly, I couldn't find 10 sets that I thought were puppy-appropriate, and I didn't want to pad the list with things that I wouldn't truly recommend!
FYI, this post contains affiliate links. If you make a purchase through these links, we earn a small commission at no extra charge to you.
Best Puppy Agility Equipment Kits
All of these puppy agility equipment kits are available on Amazon, and most of them ship free with Prime.
1. PawHut 4PC Obstacle Dog Agility Training Course Kit
Let's start with a fairly basic and affordable set for puppies, the PawHut 4PC Obstacle Dog Agility Training Course Kit.
Features & Pros
Includes weave poles, pause box, tunnel, and adjustable hurdles.
Hurdle adjusts to multiple heights, including one that's low to the ground.
Ground stakes and ropes included for securing the course outdoors.
Lightweight and comes with carrying bags for each piece.
Heavy duty polyester material that resists tears
Highly rated by users
Great value for the money
Cons
If you have a giant breed, he'll quickly outgrow it (it's too small for the long haul).
The hurdle doesn't fall away if your dog misses the jump. Something to keep in mind for the future.
Can't be used indoors without modification since the poles have to go into the ground.
Not the most durable set, but it should survive puppyhood.
Recommendation
The PawHut kit is a fairly basic set that's great for beginners.
It doesn't have a ton of bells and whistles, but it'll definitely get you started, and the price is right.
2. PawHut 5 Piece Outdoor Agility Set
Another one by PawHut, this model includes a few extras and is a bit more durable than the one above.
Features & Pros
Comes with jumps, tunnel, weave poles, pause box, and adjustable jump ring.
Jump ring starts at 6″ off the ground, so it's low enough for most puppies.
Hurdles can be lowered almost all the way to the ground.
Easy to set up and take apart, no tools required.
Tunnel includes pegs for added stability.
Made with rugged plastic that's designed for heavy-duty use.
Comes with sports bag for storage.
Lightweight
Cons
It's pricier than the above model, so not really a starter set.
Pieces come apart easily when bumped.
Hurdles don't fall away when your dog hits them.
Recommendation
If you're ready for something that's not a total starter set in every way and you're willing to spend a bit more, I really love this one.
It's a bit sturdier overall than the first PawHut, so it should last well beyond puppyhood.
3. Lord Anson Dog Agility Set
The Lord Anson is a great mid-priced puppy agility equipment set with just about everything you need to get started.
Features & Pros
Includes tunnel, jumps, and weave poles.
Jump adjusts up to 39″ and starts as low as a few inches off the ground.
Total of six weave poles that are held in the ground with metal spikes.
Adjust the spacing between poles however you like.
Nice big tunnel accommodates larger breeds
Includes convenient carrying cases

Cons
Weave poles are hard to put into and get out of the ground.
Made in China (to be fair, most of the sets are)
Recommendation
While this may not be the most top of the line set, it's highly rated among users with very few complaints.
As long as you take care of it, there's no reason why it shouldn't last throughout puppyhood and into the adult years.
4. MIMU DOG AGILITY EQUIPMENT SET
If you're looking for a budget-friendly starter set for small to medium dogs, give the Mimu a try!
Features & Pros
Great for small to medium dogs up to 90 pounds
Includes tunnel, hurdles, and weave poles, and a "pause box."
The tunnel is AKC complaint.
Hurdles are adjustable from about 4″ up to about 33″
Stakes screw into the ground for added stability
Comes with carrying bags
Cons
Not weatherproof, so you can't leave it out in the rain.
Tunnel is made of very thin material
While it's fine for puppies, giant breeds will outgrow it quickly.
Recommendation
The Mimu is definitely a "starter set only" kit, as I can't see it holding up beyond puppyhood.
However, the price is right for the overall value, so it's a good pick for those on a tight budget.
5. BALL DYNAMICS FITPAWS CANINEGYM AGILITY KIT
Ball Dynamics may look like nothing more than a low-to-the-ground hurdle kit, but bear with me for a moment, as it's actually a great little set for small pups.
Features & Pros
Dimensions: 19.5L x 9.5W x 14H in.
Hurdles adjust from 2″ off the ground up to 8″, making them very puppy-friendly.
Super small-dog-friendly, can even be used with teacup breeds.
The cones can also be used in weaving work
Lightweight and easy to travel with
Great for indoor and outdoor use
Cons
Not Prime Eligible, but ships free.
A smidge pricey for what it is
Only ideal for small dogs and puppies, so it won't really grow with your big dog.
Doesn't come with a carrying bag.
Recommendation
While this set isn't going to be great once your big dog grows up, if you want something that you can use indoors and outside for small pups, it's a good pick.
6. Affordable Agility Agility in The Bag
Yes, it's the most expensive set so far, making the "affordable" part kind of ironic, but wait until you check out the features before dismissing it.
Features & Pros
Comes with everything you need for years of agility training, including weave poles, hurdles, a tire jump, pause box, tunnel, and a few little training tips.
Tunnel is 3′ long and includes an 8′ removable closed chute.
Bar jump adjusts up to 26″
Tire jump is adjustable and has a 24″ diameter.
Pause box is a PVC frame and not just a little square vinyl frame.
Arrives partially assembled, and includes easy-to-follow directions for the rest.
Easy to take apart for storage or traveling.
Comes with a very sturdy & large carrying bag.
Freestanding bases make it ideal for indoors and outdoors.
Even comes with vinyl tape for decorating the set.
Made in the USA

Cons
It's pricey, but absolutely worth it.
Sadly, it's too small for large breeds beyond puppyhood
Doesn't meet competition regulations (everything is scaled down a bit)
Recommendation
If you have a small to medium breed and you know you're definitely going to continue with agility work, this set is a great investment.
Everything is super durable, including the furniture-grade PVC.
Unfortunately, it's just too small for large breeds, and too pricey to be a "just for now" kit.
These last few items aren't really complete sets but they do make great additions to your kits.
7. The KLIMB Dog Training Platform and Agility System
If you're planning on entering your pup into competitions, the KLIMB is a great way to train them in platform work (including how to actually climb up on the platform).
Features & Pros
Comfortable elevated surface teaches them how to stand still on the platform.
PawGrip soft-touch coating helps improve footing and makes it more comfortable.
Blue-9's proprietary QuiKonnect tab makes it easy to create multi-level platforms of any size.
Legs store under the platform for easy storage
Weather resistant and durable.
Completely waterproof and washable (just hose it off).
Cons
It's expensive! The price is for just ONE platform.
Not regulation size.
Accessories that really should be included (like slip-free feet) aren't, and they're not cheap!
Doesn't come with directions or any tips for usage.
Recommendation
While the cons are pretty glaring (especially the price), this very simple platform has pretty terrific reviews.
That said, I'd really only get it if you're planning on competing. Just remember that it's not actually regulation size, so it's good for getting dogs used to A platform, not THE platform.
8. Affordable Agility Rocker Board
If you want to teach your dog to use a see-saw, I recommend starting with this rocker.
In my opinion, it's a lot safer than a traditional dog see-saw, so it's better for puppies.
Features & Pros
44″ long and 22″ wide
Great intro to a see-saw,, especially for scared dogs.
Two rocking motions, including beginner and advanced.
Includes an adaptor piece to to convert it to a Teeter mode.
Made of wood and painted with a non-slip surface.
Featuring an adaptor piece, you can convert this board to Teeter Mode, simulating a teeterboard.
Already assembled.
Cons
It's pricey
Shipping is expensive, too!
Recommendation