Do ultrasonic anti-barking devices actually work to deter barking?
More importantly, are they even safe for your dog?
Those are two very different questions, but we'll explore both of them below.
We'll also talk about the few types of anti-barking devices we'd actually recommend.
Let's get started!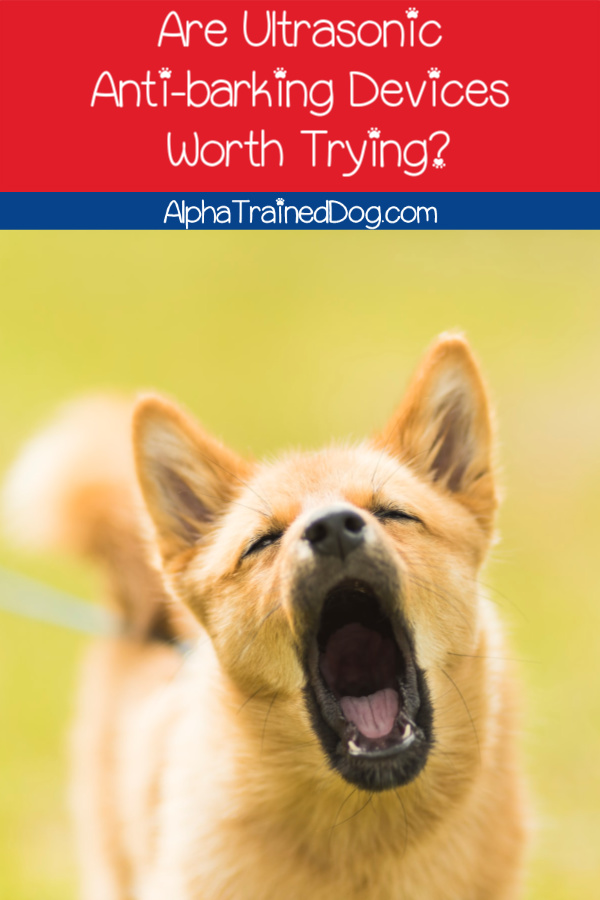 What are ultrasonic anti-barking devices?
Ultrasonic anti-barking devices are tools that emit high-frequency sounds that only your dog (and maybe your cat, but not you) can hear.
Dog can hear sounds up to about 50,000 Hz. Humans, by comparison, can only hear them up to about 20,000 Hz.
Theoretically, the sound is bad enough that your dog will stop barking just to shut it up, but not so bad that it does any damage to his ears.
They come in all sorts of varieties, including:
Collars that your dog wears around his neck
Birdhouse style devices that you hang in your yard
Portable devices that you hold in your hand
We'll talk about each type in a few minutes. First, though, let's find out if they're even worth considering, starting with "do they work?"
Now is probably a good time to tell you that I'm not a fan of type of punished-based training. Make no mistake about it, ultrasonic devices ARE punished-based tools.
That said, I won't let my bias interfere with presenting both sides.
Do ultrasonic ultrasonic dog training devices work?
Yes. No. Sometimes. Depends on your dog.
How's that for a vague answer?!? Let me elaborate.
If you check out the reviews for a myriad of ultrasonic anti-bark devices on Amazon, you'll see that quite a few have four stars or more.
That tells us that plenty of people feel like the devices are doing what they're supposed to- stopping their dog from barking.
However, numerous customers left 1-star reviews, claiming that the device did absolutely nothing at all.
Add to that the fact that many of the 4-star collars also vibrate and it's hard to figure out whether the sound or the sensation stops dogs from barking.
Why does it depend on your dog?
Whether or not an ultrasonic anti-bark device works depends almost entirely on your dog's tolerance for annoying sounds.
Years ago, before I knew anything about the right way to train a dog, we had a handheld sonic device.
Out of my three large-breed dogs, only one really cared enough about the sound to stop barking.
He hated it so much that after a few times using it, just seeing the device was enough.
The other two were totally unaffected, and they were smaller than Coop, so it had nothing to do with size.
If your dog hates noises in general, then yeah, it'll probably work. If he has a high tolerance for noise, then no, it probably won't.
Still vague, I know, but there really isn't a definitive yes or no answer.
Now, let's talk about whether they're safe.
Do ultrasonic dog repellers hurt dogs?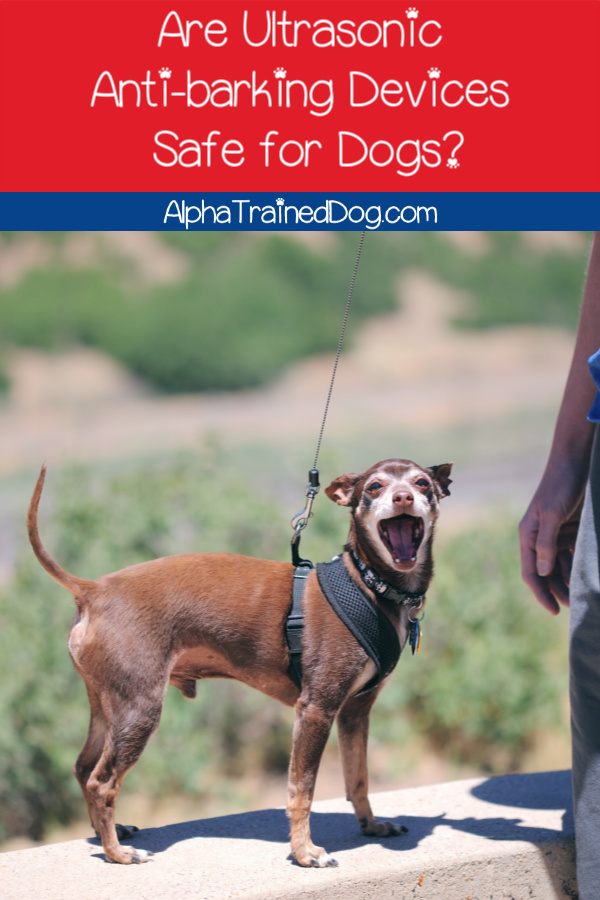 Once again, the answer isn't a clear yes or no. It also depends on what you mean by "hurt."
Do ultrasonic devices cause dogs physical pain?
When used correctly, most experts agree that a high-frequency sound won't cause physical pain or damage to your dog's ears.
In other words, a short burst of a high-frequency sound shouldn't physically hurt the average dog.
Of course, some dogs have more sensitive ears, so it's best to talk to your vet before testing that theory.
What about psychological pain or anxiety?
Psychological pain is an entirely different story altogether, and the answer depends on your dog's overall feelings on high-pitched noises.
We know that punishment-based training tools in general are far more likely to create a stressed-out and aggressive dog than positive training methods.
However, if your dog responds to high-pitched sounds with curiosity rather than abject terror, using an ultrasonic device along with positive reinforcement shouldn't cause long-term damage.
On the other hand, if your dog yelps, cowers, or tries to get away from the sound, continuing to use it will most certainly create long-lasting psychological damage.
Are they worth trying?
At this point, we've basically learned that while they're not physically harmful, they can be psychologically damaging to dogs that are already anxious about sounds.
We've also learned that while they don't work for all dogs, they do work for some.
If, after all that, you've decided that you want to give them a try, you're likely wondering which one is the best, right?
Since I have a fairly sound-anxious dog, I can't tell you from personal experience which one to get.
However, based on research, reviews, and recommendations, I narrowed it down to a couple options that I'm comfortable recommending.
FYI, the next section contains affiliate links. If you make a purchase through these links, we earn a small commission at no extra charge to you. 
What is the best ultrasonic dog bark control device?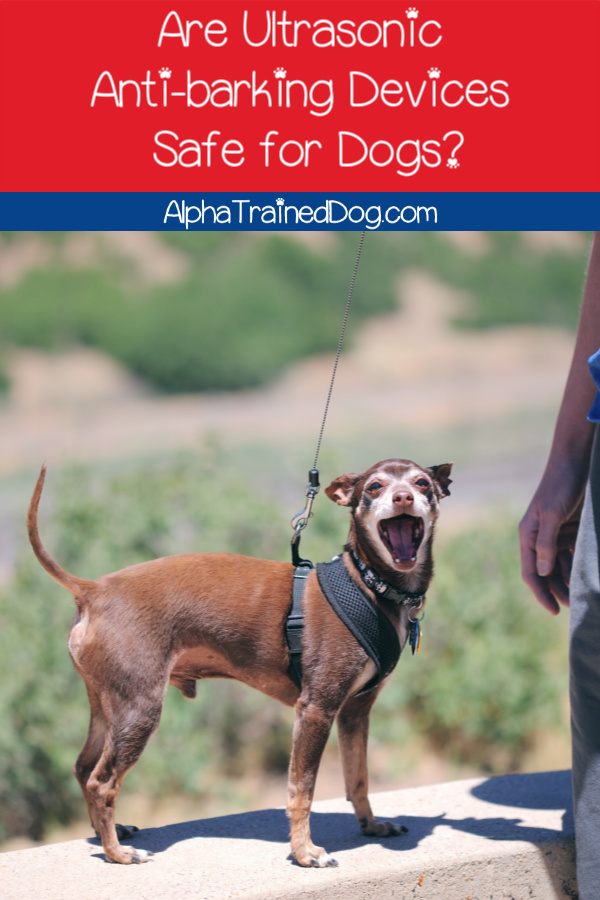 Use the table below for a quick overview of each one, then read on for more details.
Preview
Top pick
Name
Doggie Don't Device- Handheld Audible Dog Training Tool - Stop Barking (Replaceable Batteries)
MODUS Anti Barking Device Bark Control Device with 4 Adjustable Ultrasonic Volume Levels, Automatic Ultrasonic Dog Bark Deterrent, Indoor Bark Box Safe, Suitable Dogs
DogRook Bark Collar for Small Medium Large Dog - Anti Barking Collar for Dogs - Vibrating Dog Bark Collar - Adjustable Bark Collar No Shock - 8-110 lbs - Blue Dog Collar
Top Feature
Completely controlled by you
Uses beeps rather than long sounds
Top pick
Preview
Name
Doggie Don't Device- Handheld Audible Dog Training Tool - Stop Barking (Replaceable Batteries)
Top Feature
Completely controlled by you
Preview
Name
MODUS Anti Barking Device Bark Control Device with 4 Adjustable Ultrasonic Volume Levels, Automatic Ultrasonic Dog Bark Deterrent, Indoor Bark Box Safe, Suitable Dogs
1. HANDHELD DOGGIE DON'T DEVICE
Out of all the different types of ultrasonic anti-barking devices, I prefer this one the most.
Since it's handheld, you're in total control over both the duration and timing of the sound.
PROS
Completely controlled by you
Portable
Doesn't go around your dog's neck
Nearly 70% of reviews are 4 to 5 stars
CONS
You can hear it as well, and it's really loud!
About 20% of people said it was either painfully loud to them or their dog just ignored it entirely.
RECOMMENDATION
While some reviewers complained that it hurt their ears, I actually kind of like that about it.
After all, if it's painful to you, you're not going to overuse it! If you give it a quick tap for a short burst of sound when your dog is across the yard, it can be a useful tool.
Just make sure you're also giving your dog a "quiet" command so he understands why you're making such an awful sound.
Doggie Don't Device- Handheld Audible Dog Training Tool - Stop Barking (Replaceable Batteries)
Stop Barking & Bad Behavior: Stop dogs from barking. Also correct fighting, jumping, biting, nipping, chewing, begging & leash aggression behavior
Protect Yourself & Your Dog: Prevent attacks from aggressive dogs & coyotes while walking, running, hiking & biking
Loud: Device produces a very loud audible noise (more than 100 decibels) that humans & animals can hear. No shock, so humane. Effective on all dog breeds and other animals
Easy to Use Training Tool: Push button & say command. Loud noise redirects dog's attention to stop unwanted behavior. Eventually, simply showing the device will get dog's attention
Replaceable Batteries & Cord: Comes with 2 lithium CR2 3.0v batteries. Batteries can be replaced. Also includes easy to carry wrist strap
2. MODUS ANTI BARKING DEVICE
Need a solution for when you're not around to push a button? The Modus is a well-liked solution.
PROS
Microphones detect barking from up to 50 feet away
4 different power levels 
Safe for dogs and humans
CONS
Dogs get used to it fairly quickly and ignore it
Since you're not controlling it, you have no way of knowing when it goes off.
No blinking light or anything to indicate whether it's actually working.
MODUS Anti Barking Device Bark Control Device with 4 Adjustable Ultrasonic Volume Levels, Automatic Ultrasonic Dog Bark Deterrent, Indoor Bark Box Safe, Suitable Dogs
【GET PEACEFUL AND QUIET】Imagining a quiet home where you can relax with your own thoughts, get a good night's sleep. Thousands of people like you have used MODUS anti barking device to take back their peace and quiet. Using an ultrasonic bark control device can effectively prevent barking by your or your neighbor's dog. Provide a quiet and comfortable rest and sleep environment.
【AUTOMATIC CONTROL & 50 ft EFFECTIVE DISTANCE 】The sensitive microphones can automatically detect dog barking up to 50 feet away (also works on your neighbors' dogs!). Then dog barking control devices will automatically blast high-pitched sounds that only the dog can hear. Once the dog stops barking, the ultrasonic bark control device will automatically stop transmits ultrasonic sound.
【SUITABLE FOR ALL SIZE DOGS】The ultrasonic dog bark deterrent has 4 different power levels of high, medium, low and test. Suitable for small, medium and large dogs. Test mode can be used to verify that the microphone and speaker are functional. You can manually adjust the power of the bark box with a simple knob. We recommend you start with the unit on low and then increase the power as needed.
【SAFE & EFFECTIVE SOLUTION】MODUS ultrasonic dog bark deterrent uses high-pitched ultrasonic sound technology. Ultrasonic sound is above the hearing range of humans, but it will make attention and stimulate to dogs. It is safe for humans and dogs. With its hanging rope or hole, you can easily mount this on a wall.
【SIMPLE DESIGN & SATISFACTORY SERVICE】The simple outlook of MODUS ultrasonic dog bark deterrent can be easily integrated in the overall environment of the house. The LED light will indicate the working and battery status, offering you an easy and cozy experience of dog training. MODUS ultrasonic anti bark device can be used on dogs from 6 months to 8 years old.
3. DOGROOK HUMANE ANTI BARKING TRAINING COLLAR
If you really feel like a collar is the way to go, the DogRook is the only one I recommend.
It doesn't exactly use ultrasonic sounds, but rather a series of beeps in different levels of loudness.
Along with the beeps, it also uses gentle vibration to deter barking. NOT shocks. Just a vibrating sensation.
Many owners of deaf dogs use this collar for positive training as well, so they're made to be entirely humane.
PROS
Humane and pain-free
7 safe vibration modes as well as beeping sounds
Waterproof
About 70% of the 3,000+ reviews gave it 4 to 5 stars.
CONS
The prongs can damage your dog's skin if the collar isn't fitted exactly right
Around 25% of reviewers gave it less than 3 stars.
Once again, if you're using it when you're not around, you can't back it up with positive reinforcement.
DogRook Bark Collar for Small Medium Large Dog - Anti Barking Collar for Dogs - Vibrating Dog Bark Collar - Adjustable Bark Collar No Shock - 8-110 lbs - Blue Dog Collar
Bark training: Our anti bark collars for dogs teach your pup to be relaxed and trusting instead of terrified. The no shock dog barking collar offers a highly effective, pain-free bark training solution
Vibration & sound: The beep collar for dogs combines 2 vibration modes & 7 sound stages to deliver progressive bark training. The vibrating collar for dogs provides instant, automatic feedback tailored to your dog
Smart & sensitive: Our vibrating dog collar features a smart microphone that responds to your dog's unique bark only! The no bark collar for dogs has 5 sensitivity levels that can be adjusted to match environmental noise
Rechargeable & waterproof: The no shock bark collar has a long-lasting battery life (up to 14 days) and is rain-, snow-, and splash-proof. This makes the vibration collar for dogs suitable for both indoor and outdoor use
For pups of all shapes & sizes: Our anti-bark collars for dogs fit pups between 8 and 110 lbs. The wide dog collar is adjustable up to 22 inches. The bark collar for medium dogs, small dogs, and large dogs comes with prong covers for long-haired breeds
Final Recommendation
Are ultrasonic anti-barking devices worth trying? That really depends on how you feel about aversion training methods.
Personally, I would try reward training methods first. It's entirely possible to train a dog to be quiet without using a device of any kind.
However, if it's gotten to the point where nothing else will work and you really don't want your neighbors to call the cops on you, they're worth a try.
Just make sure you back them up with a command and reward your dog when he stops barking.
What are your thoughts on ultrasonic anti-barking devices? Share below!