"What are some of the most vital dog training tips?"
Before you even start training, you'll want to know the answer to that question.
Don't worry, I've got you covered!
Today, we'll go over the top 10 most important training tips every dog owner should know.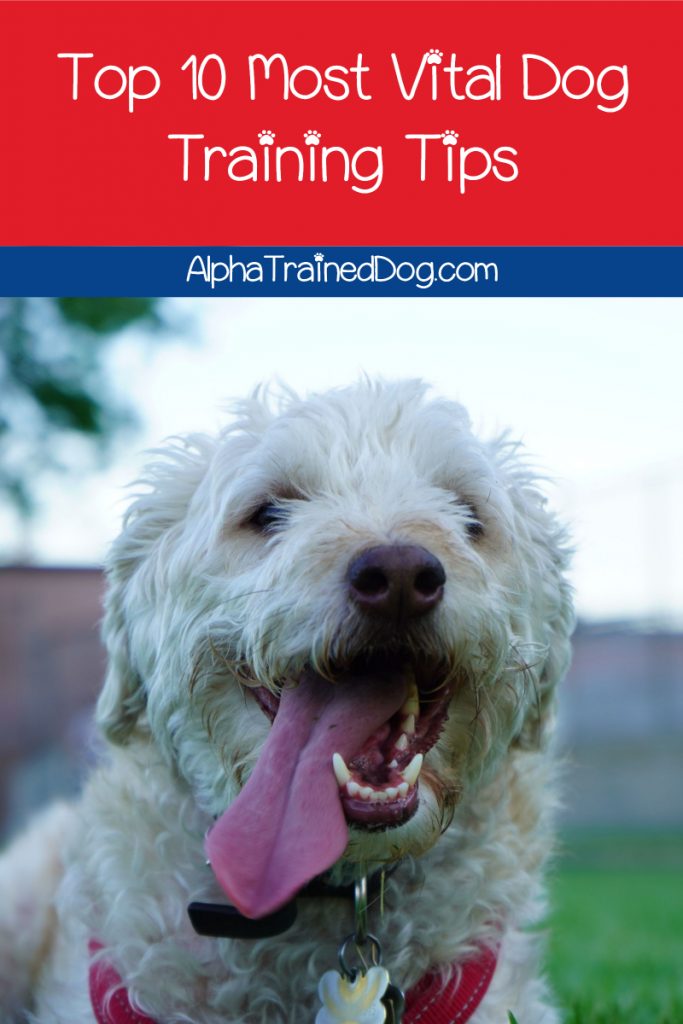 Most Vital Dog Training Tips
First things first, a little clarification. I see a lot of articles out there that answer this question by giving you a list of commands to teach your dog.
When I think about vital dog training tips, I think "what can I tell you that will help you train your dog?"
I feel like if you wanted a list of basic commands, you would have asked "what should I teach my dog?"
Each of these tips applies to pretty much any type of training from basic puppy strategies to advanced trick training!
1. Be Patient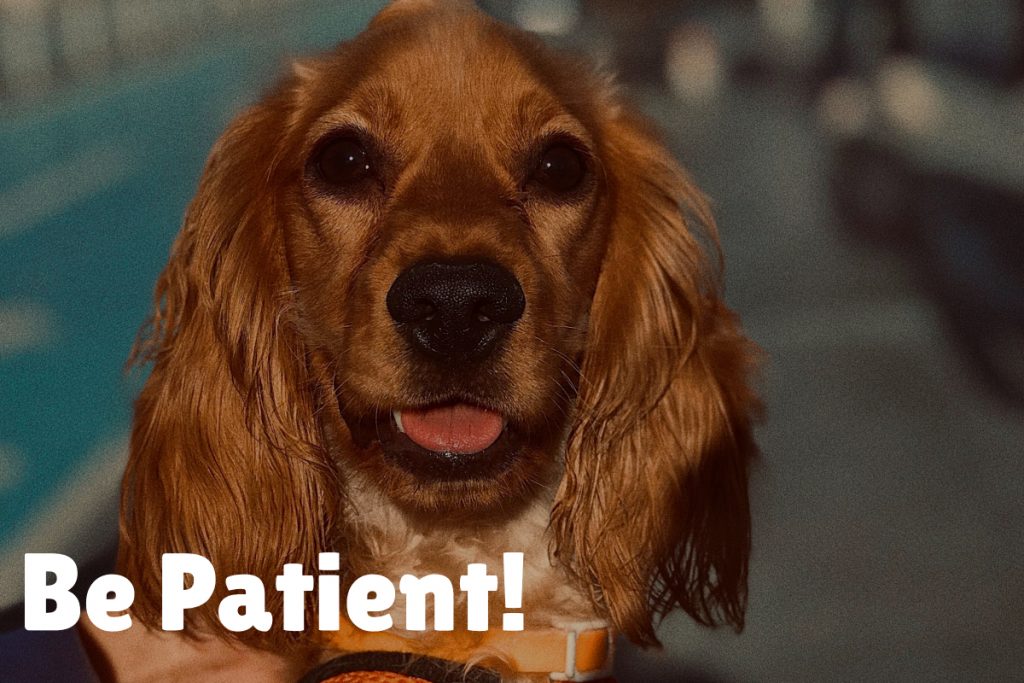 Patience is absolutely vital when training your dog and one tool that you simply cannot get by without.
Look, I get it better than anyone. Training a dog can be super frustrating, especially in the beginning!
I can't tell you how many times I stepped in dog pee in my last clean pair of socks, then went to put on flip flops only to discover that half of one was missing!
Getting frustrated isn't going to help your dog learn faster, though, and may even slow down his progress if your frustration escalates to anger.
So, take a deep breath and remember that you won't be stepping in dog pee or wearing chewed up shoes forever!
2. Never ever punish your dog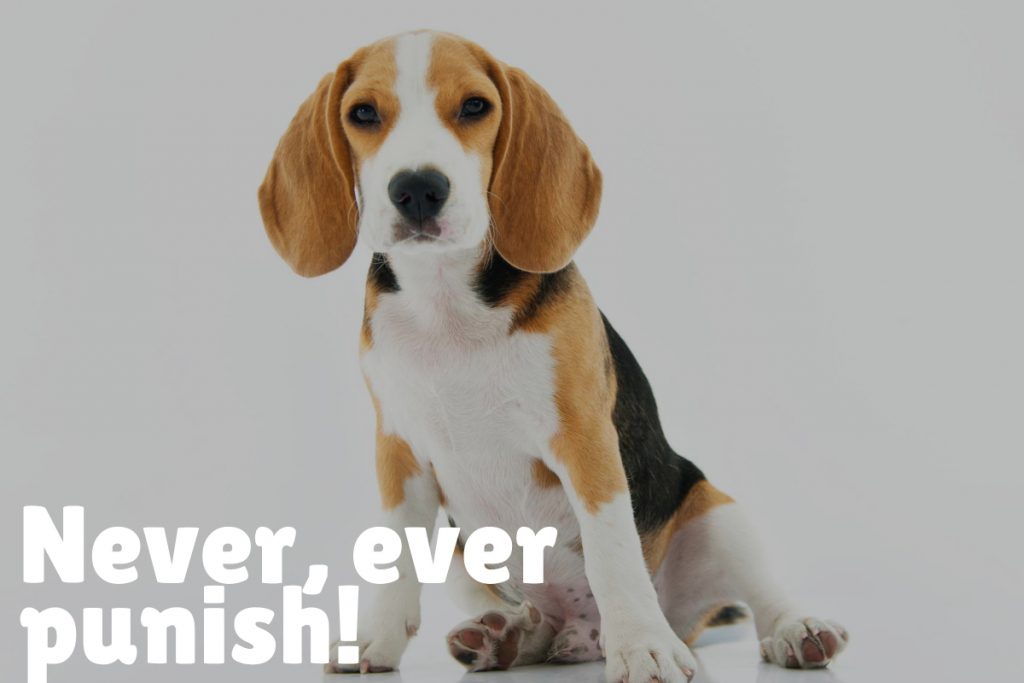 Please, do not ever hit your dog, yell at him, or rub his nose in his waste. It's not "training," it's abuse.
Not only is it incredibly cruel but it can also completely undo all the training you've done so far and make them neurotic at best, terrified of you at worse.
Certified dog trainer Adrienne Farricelli of Dog Discoveries makes an incredibly good point in regards to punishment during potty training.
She says that you wouldn't punish a baby for peeing on the floor when they're diaperless, so why punish a puppy for the same thing?
The same rule applies for "training" devices used to punish negative actions, like shock collars.
Bottom line, whether it's a device or an action, if it's designed to hurt or scare your dog, it doesn't belong in your training routine.
3. Choose the right training strategy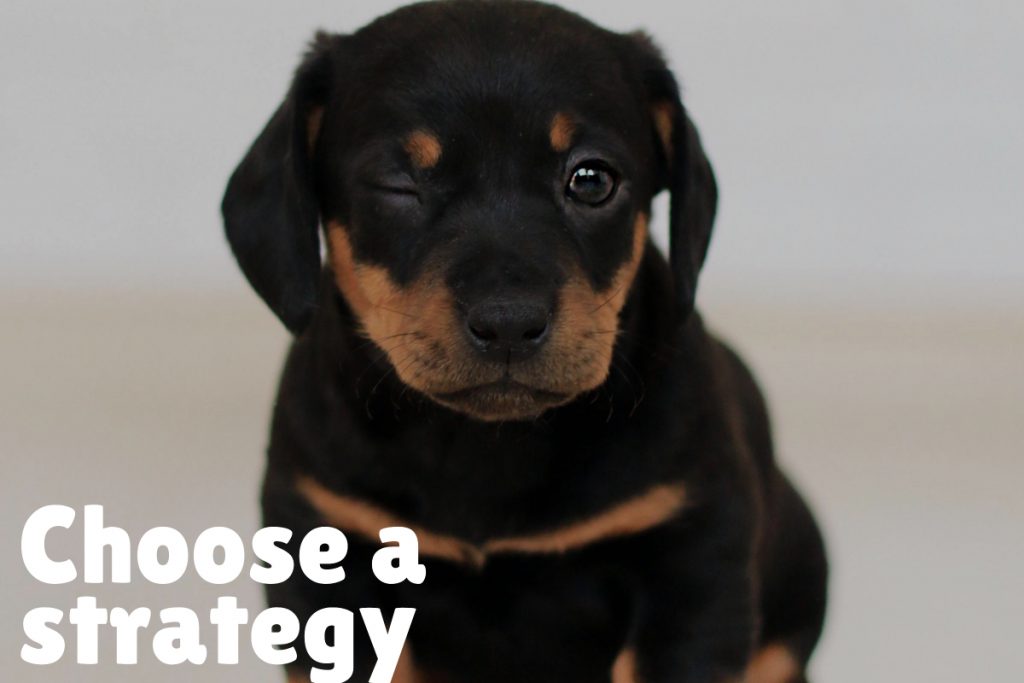 The "right" strategy is the one that you feel most comfortable with, both in terms of learning yourself and teaching your dog.
Just like there are countless parenting strategies, there are also dozens of ways to train your dog.
Even once you settle on a general methods (reward training is my pick, if you're curious), you'll find many sub-methods to consider.
Read up on them, then choose something that you feel like you really understand and can commit to.
4. Keep your language simple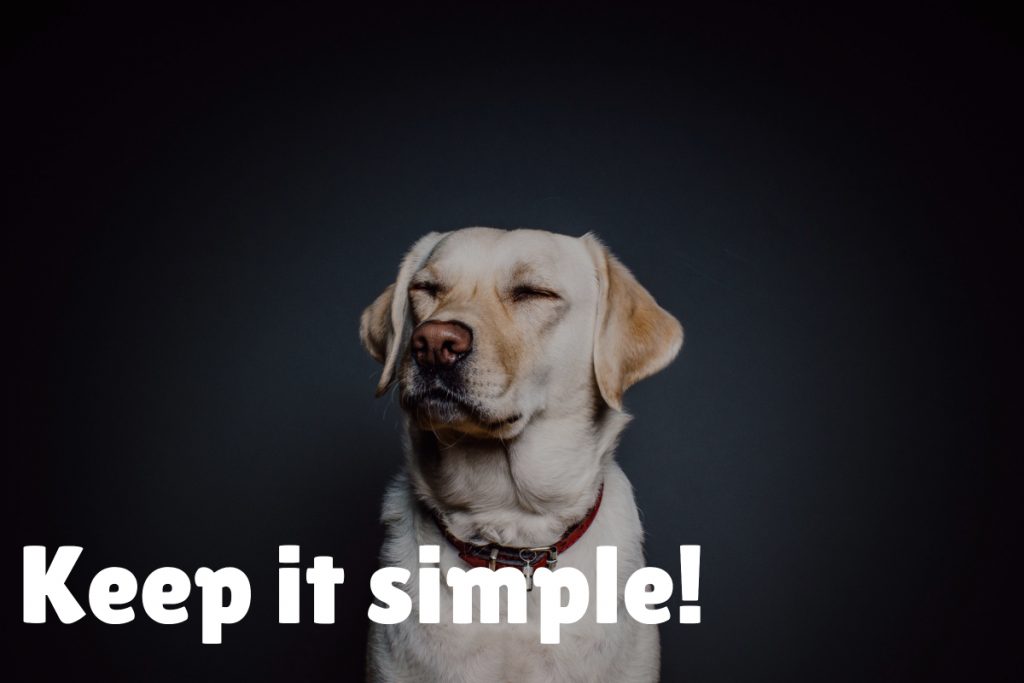 I think a lot of dog training frustrations come from the fact that we forget that dogs don't actually speak "human" until we teach them to do so.
Until then, everything you say to them sounds like this:
In other words, your dog can't "sit," "stay," or "come" until you thoroughly teach them what those words mean.
When you're starting out, just stick to saying just the command itself. Say, "Sit," not "If you want a cookie, you need to sit."
Later on, your dog may learn to pick the command out of a string of "blah blah blahs," but for now, keep it super simple.
5. Create a reliable routine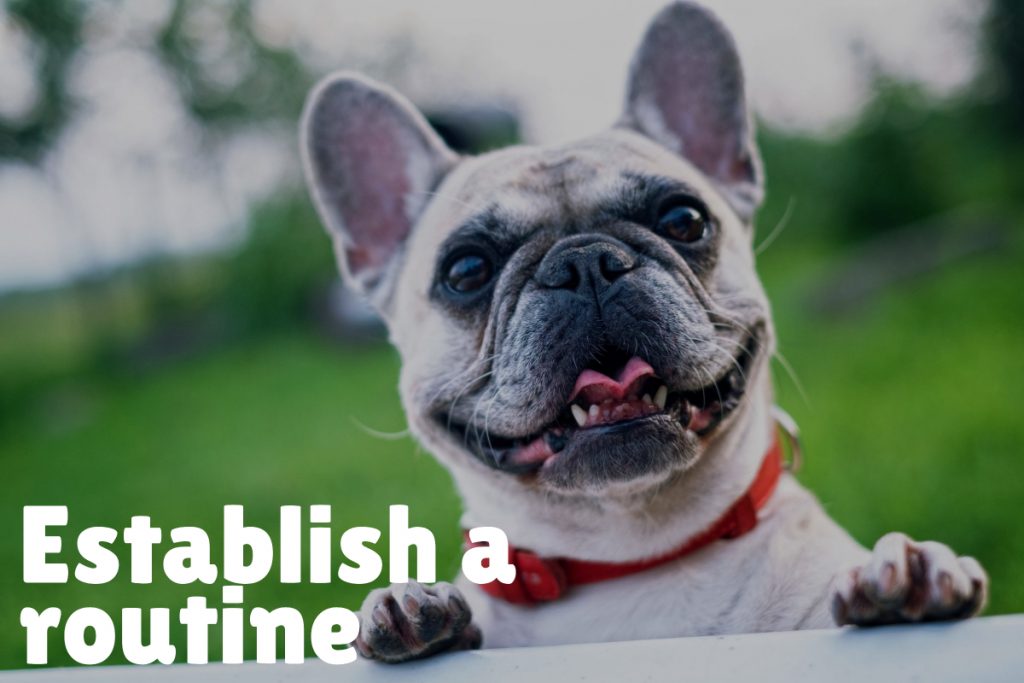 You don't need to plan every last second of your dog's day, but you should give them a general idea of when to expect certain things and gives them a sense of security.
Just remember that your dog can't tell time, so you'll want to use cues to set up your routine.
Here is an abbreviated example of Freya's summer routine (from her point of view):
Wake up and go outside, get "hooray for poo poo outside!" treat, then breakfast appears.
Humans make clacky clacky sounds for a long time.
Patrol the yard looking for arch-nemesis then nap time.
Teenage human emerges from his cave! Yay! Show him where arch- nemesis lives!
Clacky clacky clacky stops and human goes to "hot don't touch" to make food that's not for me.
Human delivers food to me. Also gives furry "don't chase" his dinner.
Humans eat "sorry has onions can't have," then hot dog game time for me!
Patrol yard, nap, nap, patrol, then cheesy goodness "sit stay" game time!
Humans sit on my couch and watch "it's just a TV dog!" until time for bed.
You get the idea. Freya uses our body language and cues to learn her routine.
The clacky sounds are typing, since we work from home. Both the hot dog and the cheese games are training games that we play together.
6. Keep training sessions short and sweet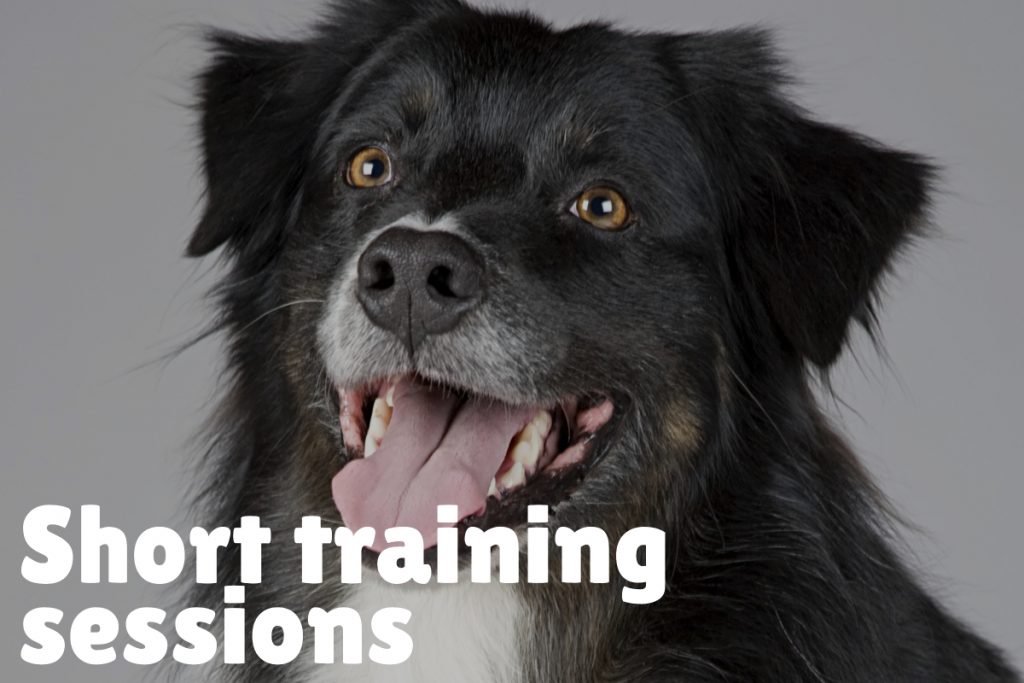 Just about all training experts say to keep sessions relatively short, like under 20 minutes. Too much more than that and your dog loses interest.
That's all I have to say for this section! Short and sweet, just like the tip implies!
7. Repeat and reset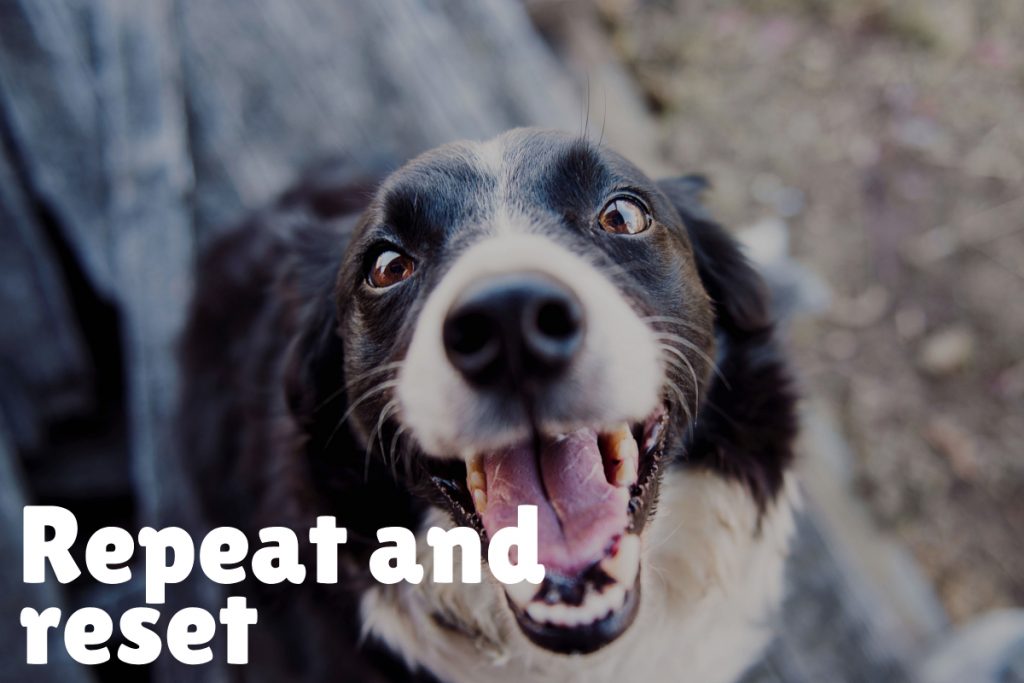 Repetition of a single command at a time along with resetting are key, according to Dog Training Nation.
An example of resetting is when you toss their treat so they have to retrieve it, rather than just handing it to them.
That way, if you're teaching "sit" or "lie down," you don't have to toss in an "up" command to get your dog back to his starting position.
A clicker is super helpful with resetting because it "marks" the correct behavior (so your dog doesn't think that retrieving the treat is the action you want to reward).
8. Reinforce commands with training games
Training routines should be short and sweet but you can reinforce the lessons all day long through fun games.
Well, not all day long. Some of us have to work and sleep, but you know what I mean.
Even a simple game of fetch can help reinforce commands like "give it," and "bring it here."
9.Know when to call in a professional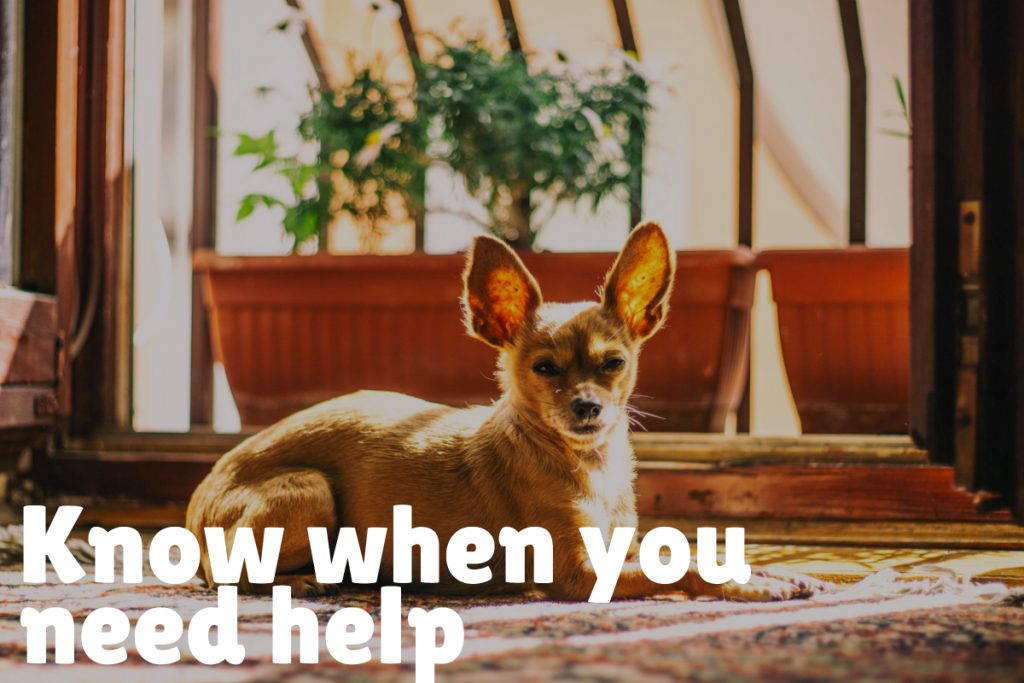 While I think most dogs can be trained at home either through formal or even informal training, some just need professional help.
Know yourself and your dog. If you feel like you're just not equipped to teach him, there's no shame in taking him to a pro trainer.
Training classes are great not just for teaching your dog to listen, but for teaching YOU how to communicate with your dog.
10. Be flexible!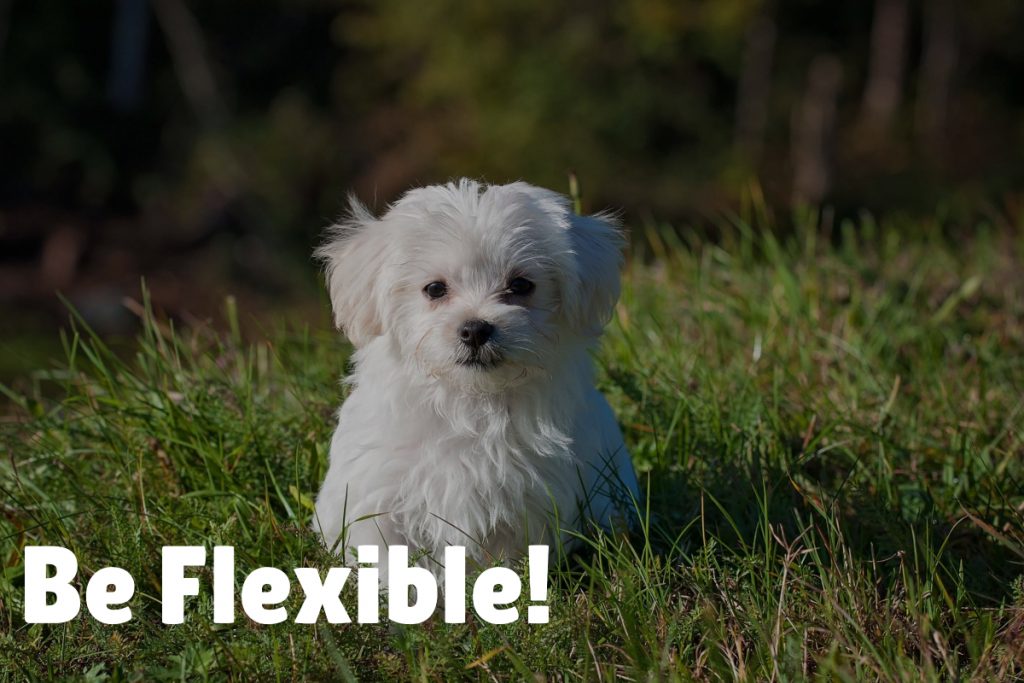 Last, but far from least, be flexible enough to recognize when a particular training strategy isn't working and adapt to one that will.
For example, Freya gets bored very easily, so traditional "repeat and reset" of a single command didn't really work with her.
She lost interest after the second "sit."
Instead, I created the "cheese game" to mix various commands together. I use commands she knows, but every week I add a new one to the mix.
Here is an example of how it goes:
Sit, get cheese.
Lay down into the "wait" position.
Wait for "good girl!" praise, then get cheese.
Learn new skill, get cheese.
Sit and paw, get cheese.
Wait, get cheese.
The key is to add in commands that naturally fit the flow.
Her newest skill is "turn" and I model it by walking around to behind her while she's facing me, so that she has to turn to see the cheese.
There you go! Follow these tips and you should have no problem training your dog!
While all of these are vital dog training tips, I have to say that "be patient" is the most important!
How about you? Do you have any other vital dog training tips? Share below!