If you're ready to hit the jogging circuit with Fido, you'll want to read our guide to dog running equipment first!
Below, we'll go over some of the top gear to take on your adventures.
First, though, let's look at some things to consider before running with your dog.
Let's get started!
You may also like: The 7 Best Pieces of Exercise Equipment for Dogs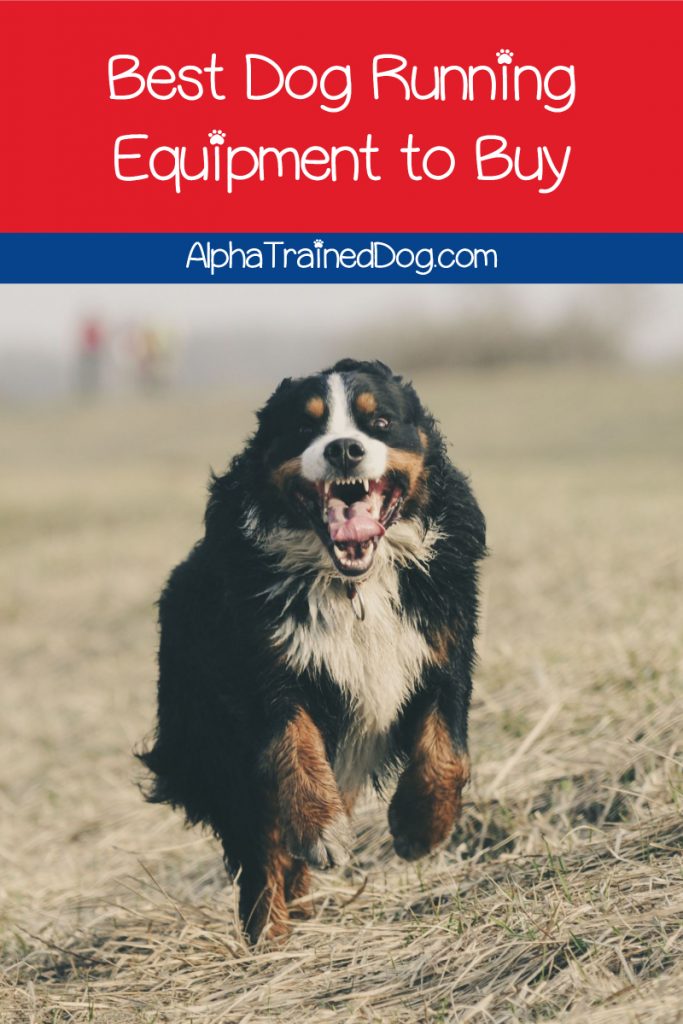 Top Pick
While we'll cover a bunch of different types of dog running gear below, there's one thing that I recommend grabbing first: the TaoTronics Retractable Hands Free Dog Leash.
FYI, this post contains affiliate links. If you make a purchase through these links, we earn a small commission at no extra charge to you.
Things to consider before running with your dog
Before we dive into the best running gear for dogs, let's very quickly go over a few things to consider.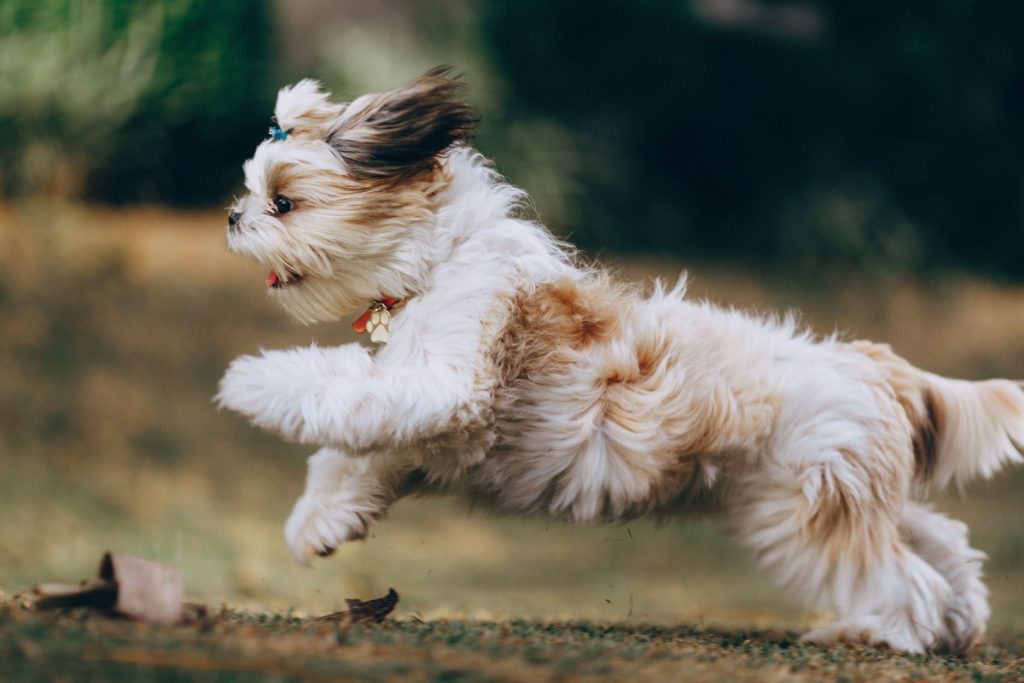 Your dog's age, breed, & health needs
First, you'll want to make sure your dog is old enough to join you on runs.
Puppies shouldn't go on long runs (or even long walks) until they're about 8-12 months because their bones need time to finish growing and fusing.
Certain breeds with short snouts also aren't the best running partners, as they have a harder time breathing.
It goes without saying, but if your dog suffers from hip dysplasia or other debilitating joint conditions, running isn't the best exercise.
A good rule of thumb is to just call your vet and ask!
Weather
Don't rely on his fur to keep him warm (or lack of fur to keep him cool).
Remember, if it's too hot for you to run comfortably, it's way too hot for your dog.
Likewise, unless he's a breed built for winter weather, extreme cold can be just as dangerous.
Threats from pests
Before you even think of hitting that trail, make sure your dog is protected from pests like fleas and ticks.
You'll also want to check on his vaccines and make sure he's up to date.
Even if you're running in an urban area, you just never know what you'll encounter.
Okay, so now that we've covered a few things to remember, let's take a look at the best dog running equipment.
Best Dog Running Equipment for Adventurers
Use the table below for a quick peek at our top picks. Then, read on for more details.
Preview
Name
TUG 360° Tangle-Free, Heavy Duty Retractable Dog Leash for Up to 110 lb Dogs; 16 ft Strong Nylon Tape; One-Handed Brake, Pause, Lock (Large, White)
FlipBelt Running Belt, Aqua, Large
RUFFWEAR, Wind Sprinter Ultralight Wind Resistant Jacket for Dogs, Blue Atoll, Medium
Musher's Secret Dog Paw Wax (7 Oz): All Season Pet Paw Protection Against Heat, Hot Pavement, Sand, Dirt, Snow - Great for Dogs on Trails and Walks!
Preview
Name
TUG 360° Tangle-Free, Heavy Duty Retractable Dog Leash for Up to 110 lb Dogs; 16 ft Strong Nylon Tape; One-Handed Brake, Pause, Lock (Large, White)
Preview
Name
FlipBelt Running Belt, Aqua, Large
Preview
Name
RUFFWEAR, Wind Sprinter Ultralight Wind Resistant Jacket for Dogs, Blue Atoll, Medium
1. TaoTronics Retractable Hands Free Dog Leash
A good hands-free leash is perhaps the most important piece of dog running gear, and this one by TaoTronics earns top ratings on Amazon.
Features
Attaches around your waist for a hands-free run.
Extra handles for added control.
Strong dual bungees absorb your dog's jerks and lunges.
Great for dogs all the way up to 150 lbs.
Stretches up to 67″
Reflective for night use
Pros & Cons
| | PROS |
| --- | --- |
| | Strong bungees |
| | Shock-absorption |
| | Fits up to 150 lbs |
| | Affordable |
| | CONS |
| --- | --- |
| | Not for giant breeds |
| | Some complaints about durability |
| | Bulky |
Recommendation
While this is a highly rated hands-free leash, the negative reviews do leave room for concern.
A few wrote that the leash snapped or that their dog chewed through it in a day.
However, the vast majority sing its praises, so here's what I'd do- test it in your back yard (or another fenced area) before taking it on a run.
That way, you know that yours is free of defects. If it breaks, it's better that it happens at home rather than out on a run.
That goes for ANY leash that you buy, not just this one. They ALL have the potential to break with a strong enough dog (or a manufacturer defect).
2. Tug Retractable Leash
The Tug isn't hands-free, but it's definitely worth a look. It's a 4.5-star leash across over 5.580 ratings. Let's see why.
Features
Three different sizes for dogs up to 110 lbs
Four different color options.
16 feet long, with easy-adjust retraction.
Tangle-free 360-degree movement.
Quick Lock And Unlock Feature that you can do with your thumb.
Comfortable and ergonomic anti-slip handle
Pros & Cons
| | PROS |
| --- | --- |
| | Multiple sizes |
| | Tangle-free |
| | Easy-adjust retraction |
| | Ergonomic |
| | CONS |
| --- | --- |
| | Not for XL breeds |
| | Complaints about durability |
| | Easy to accidentally unlock |
Recommendation
While it has thousands of positive ratings, there are a few issues.
First, this isn't a good pick for dogs over 110 lbs. In fact, according to reviews, I'd say skip it if your dog weighs over 70-ish pounds.
Again, as with all leashes, there are complaints about durability and snapping.
I reiterate what I said above, test it in a secure location before hitting the trails with your pooch.
3. FlipBelt
If you opt for a hands-on leash, then you'll want to grab yourself a Flipbelt. It's a significantly cooler version of a fanny pack. 😀
Features
8 colors, including neon belts for added visibility
Multi-access pockets throughout
No buckles
Won't bounce as you run
Reflective logo
Machine washable AND dryable
Pros & Cons
| | Pros |
| --- | --- |
| | Reflective |
| | No fasteners |
| | Comfortable |
| | CONS |
| --- | --- |
| | Pricey for a belt |
| | Not for "pear-shaped" women |
| | Snug openings are tricky |
Recommendation
While thousands of people absolutely rave about this simple belt, a few felt it wasn't really designed for them.
One of the biggest complaints comes from a customer who said it isn't for "pear-shaped women." It just wouldn't stay on her hips.
Another issue- while snug openings keep your phone and valuables secure, they also make it hard to easily grab them when needed.
Beyond that, though, the FlipBelt is extremely beloved by users, so it's worth trying.
FlipBelt Running Belt, Aqua, Large
FLIP BELT RUNNING BELT The FlipBelt fitness running belt is the ultimate alternative to bulky running armbands and running pouches. Unlike these old solutions, the FlipBelt is lightweight, doesn't chafe, doesn't bounce, and its 4 slide-in pockets comfortably fit ALL of your personal must-have items with you. Pockets stretch to fit most larger sized smartphones (confirm sizing before ordering).
PATENTED WAIST PACK DESIGN The sleek, tubular band is designed to sit flat on your hips without riding up, and fits women and men of all shapes and sizes. Zero fasteners eliminate chafing, and a moisture-wicking design prevents items from bouncing while running or working out. Available in sizes XXS-XXL, with fabulous color options.
HOW TO WEAR The FlipBelt Classic is the most comfortable fitness belt on the market - simply pull the FlipBelt on like a pair of pants, place over or under clothes, and slide in your stuff through the multiple openings around the exercise belt. Turning the waist pouch belt over closes all openings and further secures your items in place. Internal key hook for added security.
MULTIPURPOSE FANNY PACK Flip Belt for women and men is the perfect hands-free solution for a multitude of uses, including fitness, medical, travel, lifestyle and more. Carry your phone and keys securely while running, working out, at a concert or sports venue. When you need your inhaler, EpiPen or diabetic supplies safely within reach, it doesn't get better than the FlipBelt.
FLIPBELT Often imitated, never equaled, FlipBelt is known for being the most elite running belt available! Every detail, from the innovative pocket technology to the anti-chafe flat seam construction and perfectly breathable moisture wicking material, has been meticulously crafted with your comfort in mind. FlipBelt is patented and designed in the U.S. and features long-lasting quality and durability.
4. RUFFWEAR – Wind Sprinter 
The RUFFWEAR line of dog jackets is fantastic for keeping Fido warm on chilly runs.
While you'll want to consider one of their heavier coats for those really cold days, I love the Wind Sprinter for Spring and Fall.
Features
Six sizes for all dogs from XXS to XXL
Lightweight and easy to stow in your runner's bag (or belt)
Protects against wind and light rain
Made with durable nylon ripstop fabric & a water repellent coating.
Leg loops keep it secure.
Vest style is roomy, especially for hard-to-fit dogs.
Covered side-release buckles.
Pros & Cons
| | PROS |
| --- | --- |
| | Compatible with most harnesses |
| | Durable fabric |
| | Storm collar for extra protection |
| | Reflective trim |
| | CONS |
| --- | --- |
| | Water-resistant, not waterproof |
| | Only for light wind and rain |
| | A bit pricey |
Recommendation
Remember, this one isn't going to keep Fido warm in cold weather. Nor will it totally protect him in a downpour.
However, it's a great light windbreaker that protects against a sudden shower.
I like it because you can actually fold it into a little "stuff sack" when it's not in use, or attach it to your belt with the loop.
Plus, with six different sizes, it's easy to find the right fit for just about all breeds.
RUFFWEAR, Wind Sprinter Ultralight Wind Resistant Jacket for Dogs, Blue Atoll, Medium
VERSATILE WINDBREAKER: A lightweight, stowable windbreaker ideal for unpredictable weather conditions; Protects against wind and light rain
WATER REPELLENT: Ultralight nylon ripstop fabric is wind resistant; Features a DWR (Durable Water Repellent) coating; Leg loops for a secure fit in windy weather
VEST STYLE: Good coverage and a roomier fit for hard-to-fit dogs; Covered side-release buckles make it easy to put on and take off; Leash portal compatible with most harnesses
STORM COLLAR: Oversized storm collar can be folded up for extra weather protection; Converts to a stuff sack for quick, compact storage
REFLECTIVE TRIM: Reflective accents for visibility in low-light conditions; Integrated light loop at the back of the neck for attaching The Beacon light (sold separately)
5.  Musher's Secret Paw Protection Ointment
Whether you're running in the snow, on grass, or hitting the pavement, protecting your dog's paws is a must.
For that, you'll want to grab Musher's Secret!
Features
100% natural waxes
Protects your dog's paws from sand, pavement, salt, and ice
Perfect for all outdoor activities
Easy to apply
Contains moisturizing vitamin E
Pros & Cons
| | PROS |
| --- | --- |
| | Designed for sled dogs |
| | Hydrating formula |
| | All-natural |
| | Easy to use |
| | CONS |
| --- | --- |
| | Bulky jar |
| | A bit pricey |
| | Slippery on wood floors |
Recommendation
As far as cons go, there are two that stand out. First, the jar is too bulky to just pop on your running belt, so you'll need to wear a backpack or apply it before leaving.
Second, it's hard to completely remove. While that's fine if you have carpeting, it can be dangerous on wooden floors.
Beyond that, though, it's very highly rated. As the name implies, Musher's Secret was made for sled dogs.
Given the all-natural ingredients, I might even try this for my own dry "paws"!
Musher's Secret Dog Paw Wax (7 Oz): All Season Pet Paw Protection Against Heat, Hot Pavement, Sand, Dirt, Snow - Great for Dogs on Trails and Walks!
🐕 UNLIKE SOME PAW WAX MADE WITH low quality ingredients that JUST DON'T WORK OR make your poor pup sick, over 3 generations Musher's Secret has always been made with only the HIGHEST QUALITY 100% Natural Food-Grade WAXES & OILS to condition & PROTECT your pet's paws. Our dog lotion ACTS AS AN INVISIBLE BOOT forming a BREATHABLE SHIELD against sand, hot pavement, snow & salt, so your dog can mush, hike, hunt or PLAY SAFELY in any conditions!
📺 AS SEEN & LOVED ON Good Morning America, NY Times, People & The Dog Clinic, Musher's Secret dog paw cream brings you & your furry family the TIME-TESTED REMEDY OF CANADIAN DOG SLED DRIVERS. Now hunters & homebodies alike swear by our dog paw wax as the best DOG PAW OR CAT PAW cream for HEAT, SAND, SNOW & rocky terrain. For HEALTHY PET PAWS, apply to pads & BETWEEN TOES before heading outdoors
🐝 MUCH LIKE GOOD LEATHER, a pup's pads can dry & crack painfully. A quality PAW SOOTHER, our paw protection for dogs with VITAMIN E & BEESWAX conditions & relieves dog paws. Semi-permeable, our dog paw protection allows for perspiration to escape while keeping the pads STRONG, SUPPLE & PROTECTED. Also works great ON SNOUT, EARS, ELBOWS & other "hot spots".
🐾 FAST-DRYING, NON-ALLERGENIC & NON-Staining, apply paw cream for dogs 2-3 times per week – more often in snowy conditions. Our paw balm dogs absorbs in seconds – NO STAINS ON CARPETS, FLOORS OR CLOTHING. Great for duck hunting dog, dog hiking gear, cat paw balm, or dog care. Give your dog, cat or other four-legged friend the LOVE HE DESERVES with Musher's Secret Paw Wax for Dogs.
🇨🇦 MUSHER'S SECRET is proudly made in Canada from our FAMILY-OWNED 3rd generation recipe DEVELOPED FOR SLED DOGS. Our wax was developed with our furry friends in mind, and their well-being has been and continues to be our priority to this day! We are now honored to BRING OUR SECRET TO YOU and your pets. IF, FOR ANY REASON, you don't love our paw butter, reach out and WE WILL MAKE IT RIGHT.
6. EcoBark Classic Dog Harness
If your dog tends to pull, you may want to consider a harness rather than a collar.
I love the EcoBark for many reasons. Let's look at a few.
Features
Sizes from XS to XXL
No pull & no choke harness
Breathable double layer of mesh made from non-toxic fabric.
Strong yet lightweight
No chafing
Made with eco-friendly materials.
Escape-proof when sized properly.
Hypoallergenic
Easy to put on and take off
Pros & Cons
| | PROS |
| --- | --- |
| | Multiple sizes |
| | Eco-friendly |
| | Easy to see |
| | Anti-rub tech |
| | CONS |
| --- | --- |
| | Not for giant breeds |
| | Runs small |
Recommendation
While a few complained that it ran small, others say it ran too big.
I think that if you have a dog in the "tween" sizes of the ranges, you'll find it a bit trickier to fit them into the harness.
Overall, this harness has terrific ratings. I love that it's eco-friendly, non-toxic. I also like that they took extra care to make it non-chafing.
Sale
iCrate Dog Crate Starter Kit | 30-Inch Dog Crate Kit Ideal for Medium Dog Breeds (weighing 26 - 40 Pounds) || Includes Dog Crate, Pet Bed, 2 Dog Bowls & Dog Crate Cover
ULTIMATE CONVENIENCE & PERFECT STARTER KIT FOR THE NEW DOG OWNER. Everything you need arrives in 1 carton so you can enjoy more time with your new family member
MEDIUM DOG BREED KIT INCLUDES EVERYTHING YOU NEED TO GET STARTED: 1 fully equipPed 2-door iCrate, 1 dog bed, 1 crate cover & 2 (20 Ounce) pet bowls that affix to the dog crate; Dog crate measures 30L x 19W x 21H inches when assembled
STARTER KIT ideal for medium dog breeds with adult weight up to 26 - 40 pounds
DESIGNED TO FIT & USER FRIENDLY: Fleece pet bed & polyester crate cover fit your dog crate & are machine washable/dryer friendly; 2 inches Snap'y Fit inches dog bowls are designed to attach to the dog crate keeping food & water in one convenient location
FULLY EQUIPPED DOG CRATE: iCrate double door included w/ this kit has a divider panel, 4 roller feet (to protect floors), carrying handle & leak-proof removable dog tray
7. OneTigris Dog Pack 
If you want Fido to carry a few items for you, it's important to choose a good backpack for him, like this one by OneTigris.
Features
Made with Durable 1000D nylon and mesh liner
2″ by 7″ loop panels for carrying treats, food, and water.
Hidden zippers to prevent it from snagging on your dog
3 adjustable straps to fit medium to large breeds
Strong leash clip
Pros & Cons
| | PROS |
| --- | --- |
| | Strong yet breathable |
| | Won't snag fur |
| | Adjustable for medium to large dogs |
| | Won't easily unzip |
| | CONS |
| --- | --- |
| | Not for small or XXL dogs |
| | Not long-lasting |
| | Confusing listing |
| | |
Recommendation
Okay, so the listing is a bit confusing because some colors are for the older version, while some are for the newer one described here.
I recommend looking at both and deciding which better fits your needs.
Some customers complain that their backpack only lasted through a couple of hikes. However, others say it held up great after many outings.
Just remember, your dog shouldn't carry more than 10% of their body weight (according to OneTigris themselves).
If it's breaking, then it may very well be overloaded.
Also, even though it comes with a "grab handle," never, ever, ever use this to pick your dog up. Never.
If you're just looking for a dog backpack to carry a few treats and what not, then this is a great option.
Sale
OneTigris Dog Backpack for Medium & Large Dogs, Nylon Backpack for Dogs Tactical Pet Backpack with Side Pockets for Hiking Walking Training Running (Brown, Large)
OneTigris MAMMOTH Dog Pack: Durable 1000D nylon with mesh lining for breathability to maximize function and comfort on lengthier outings
Storage Room: 3L pouch with two 2" by 7" loop panels on either side for carrying water, dog food, treats, toys; Each side pouch comes with an exterior horizontal umbrella pocket with cross-bungee cords for strapping on extra gear
Hidden Zippers Design: To prevent the dog's hair from getting stuck in the zipper, also it's not easy to be unzipped when in use
Adjustable Dog Harness Backpack: Hook-and-loop belly strap with UTX-Duraflex buckles so the pack stays in place and wrap dog's neck & belly around well
Specifications for Large Version Pet Backpack: Net weight: 600g/21oz; Reinforced grab handle with UTX-Duraflex clip for leashes; 2 adjustable straps fits for different dog breeds and sizes with 21-31.5 inch neck & 29-36 inch chest
Final Recommendation
When it comes to the best dog running equipment, it's hard to say "buy #3" or "go with #4." All of these items serve different purposes.
That said, I do think you should consider at least grabbing the hands-free leash and the paw balm.
Your turn! What dog running equipment dog you recommend? Share below!