What are the best treadmills for pitbulls & other medium dog breeds?
We've already talked about the right treadmills for puppies & tiny dogs as well as our larger canine companions.
What about our medium pals, though?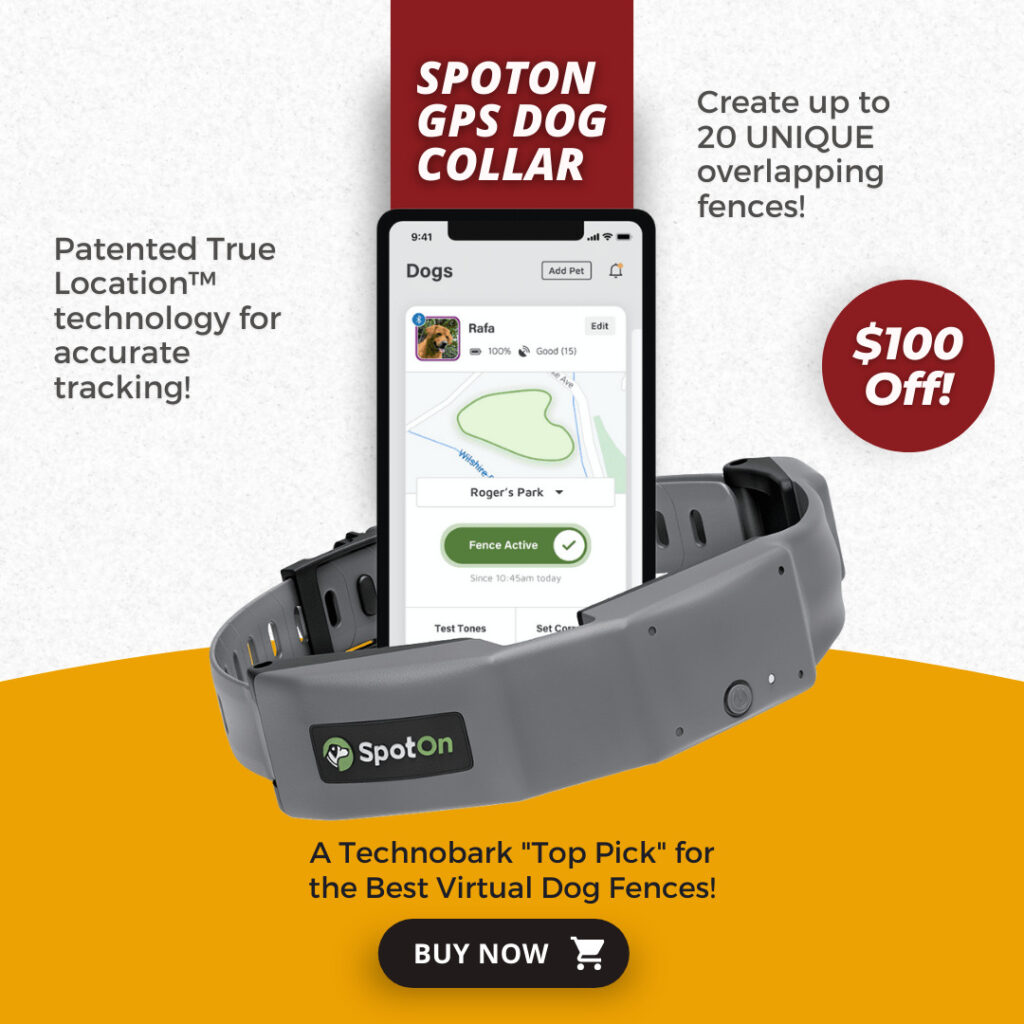 Which treadmills work best for them?
Read on to find out the answer!
Related: Best dog treats for training pitbull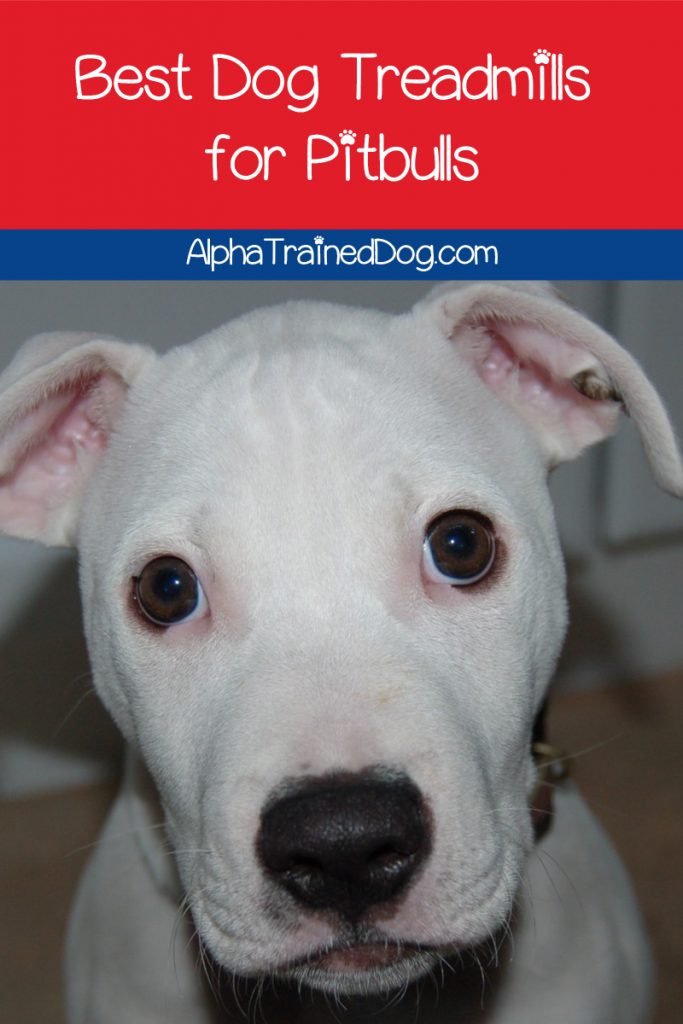 How to Shop for Dog Treadmills for Pitbulls
If you've checked out our other dog treadmill reviews, you'll see some familiar models below.
That's because the dog treadmill industry is still very (very, very, very) small!
The good news, though, is that most treadmills are designed for medium breeds.
You'll still need to pay close attention as you shop, though. Here are a few tips to keep in mind.
Medium isn't always medium
Of all the dog sizes, "medium" is by far the most confusing.
The AKC classifies everything from the short & squat Basset Hound to my "taller & longer than my large breed Shepherd" Pharaoh Hound as "medium."
See, sizes go more by weight than anything. My Pharaoh Hound is sleek and thin, with a max weight of about 55 lbs, yet like I said, she's larger than my GSD was.
Pitbulls can range anywhere from 25 to 85 pounds, depending on the actual breed (the term "pitbull" is a catch-all for a number of bully breeds).
I bring this up because not all dog treadmills for medium dogs work for, well, all medium dogs.
Weigh limits don't always reflect size limits
If the whole "medium isn't always medium" thing confused you, try to wrap your head around this: weight limit and size limits are NOT the same thing.
See, there's one treadmill that I've talked about before that can handle up to 200 lbs, however it's really only good for smaller dogs (or the small end of the medium spectrum, which doesn't include pits).
Why? Because it's too short and narrow for our stockier pals as well as our long-legged friends.
So, you'll need to look at the overall measurements and running space to really determine if it's a good fit for your dog.
Now, let's look at my top recommendations, shall we?
Top 4 Dog Treadmills for Medium Dogs (like Pits)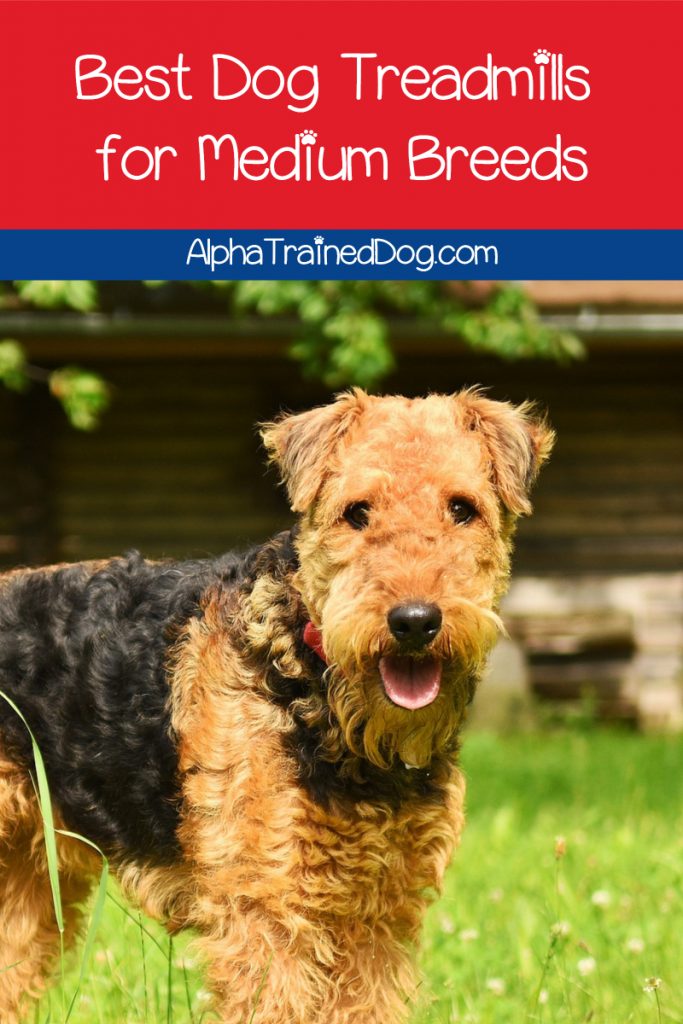 As much as I prefer nice round numbers like "top 5," I really only know of 4 dog treadmills that are appropriate for pitbulls & other similar medium breeds.
Let's take a look, then I'll share my top recommendation.
FYI, this post contains affiliate links. If you make a purchase through these links, we earn a small commission at no extra charge to you.
1. dogPACER Folding Treadmill Review
If I had to pick just one dog treadmill to recommend across the board, it would be the dogPACER LF 3.1.
Not only is it a fairly budget-friendly option compared to some of the other models, it's also a "fan favorite" among dog owners.
It can hold up to 179 lbs (why not 180? No clue!), so the weight limit is perfect for pretty much every medium breed.
Plus, it's wide enough to handle your stocky pit!
The best part? It folds down almost flat when you're done with it for the day, so you can put it somewhere out of the way.
Let's start with the basic specs, then we'll look at the pros and cons.
Specs
Folded size: 42.28"L x 22"W x 8.5"H
Open size: 76.77"L x 27.16"W x 46.18"H.
Running area dimensions: 71" X 16.5"
Treadmill weight: 84.4 lbs.
Dog weight limit: 179 lbs.
Pros
At just under 85 lbs, it's one of the lighter models.
Easy to assemble for a treadmill
Folds down quickly and easily for storage
Speeds go from 0.5 MPH up to 7.5 MPH
Multiple incline positions to simulate hills
Programmed with multiple workouts, or you can create your own
A lifetime warranty on the frame
Cons
Definitely not a small treadmill, so you'll need plenty of room for it.
Tends to be a drain on your power grid, so make sure you plug it into an outlet of its own.
While it's wide enough for most medium breeds, if you have a particular rotund pooch it may be a tight squeeze.
Some dogs don't like the high sides since they can't see over or through them.
Warranty only covers the frame and nothing else, which stinks because the frame is the least likely thing to break!
Recommendation
Although the dogPACER is definitely my #1 overall recommendation, there are a few instances where it may not be the best bet.
If you have a medium dog on the smaller end of the spectrum, for example, it may be a bit of overkill.
I'd recommend it for medium breeds like:
Pitbulls
Vizsla
Airedale Terrier
Border Collie
Mudi
2. GoPet PR720F Dog Treadmill Review
While GOPet makes multiple models, you'll want their PR720F for medium breeds.
It has a relatively simple style, but don't let that fool you, it's one of the best dog treadmills for pitbulls.
Specs
Overall Size: 70″L x 25″W x 11″H
Running area size: 52 X 16″
Weight of treadmill itself: 100lbs
Dog weight limit: 132 lbs
Pros
Wide enough to accommodate even the stockiest pits.
Low side rails won't block your dog's view, so it's great for apprehensive pups.
Motor is very quiet.
Easily attach your dog's favorite toy to the eyelet.
Speeds range from 0.6-8MPH
Remote control lets you change settings without bending down.
Great safety features, like an emergency stop function.
Mounts on wheels for easy transportation around your home.
Cons
Shipping is kind of insane, especially considering others ship free
No incline options, so it can get a little boring for dogs
Only a 1-year warranty
Doesn't fold, although you can store it upright to get it out of the way
Recommendation
For dogs who are scared to use a treadmill, this is definitely your best bet. The side rails are virtually non-existent.
The shipping fee is a little outrageous, but it looks like GoPet dropped the price a bit on Amazon to make up for it, so it kind of works out okay.
Honestly, they'd be better off raising the price and ditching the shipping fee, as people like me look at things and think "I'm not paying nearly 1/3 of the item's price to ship it!"
I'd feel confident recommending it for pretty much every medium dog, including:
Bulldogs
Australian Cattle Dog
Collies
Pits
The entire terrier group
GoPet PetRun PR720F Dog Treadmill Indoor Exercise/Fitness Kit
For Dogs Up to 132 Pounds. Tread Running Area 52 X16
Air cylinder Auto-Fold. Exercise Multiple Dogs
Low running platform. Remote or manual control
Speed and timer control. Emergency safety stop. Dog chain holder
Speed from0.6 - 7.5 MPH. Silent driving system for very quiet operation.
3. GoPet PR725 Treadmill Review
While the PR720F will suit your needs for medium dogs, if you have a super leggy breed, I prefer the PR725.
Yes, it's a whole lot pricier, but it does have some features that I like better than the 720F.
Specs
Overall Size: 90″L x 24″W x 16″H
Running area size: 71″L x 16″W
Weight of treadmill itself: 137 lbs
Dog weight limit: 176 lbs
Pros
With speeds up to 10MPH, it's the fastest model, making it great for swift hounds.
Slowest speed setting is still an acceptable and mellow 0.6MPH
Sides fold down so you can store it upright
Comes with a remote to change the settings without bending
Nice open sides won't make your dog feel trapped
You can set it to gradually increase and decrease the speeds.
Eyelet for hanging a motivating toy
Cons
Very pricy
Super cruddy 1-year warranty
Quite heavy and difficult to move around
Even when folded you'll still need a good chunk of space for it
Not wide enough for bulky breeds
Recommendation
So, here's the thing: while it's exactly the same width as the other GoPet model, it's not really ideal for wider dogs.
As you can see, the other model has virtually no side rails, so a slightly wider dog won't feel squished in.
While I love the open slat rails on this model, they make it a better fit for slimmer dogs.
I will say this (I've said it before, I know), while the GoPet models are great and all, that paltry 1-year warranty irritates me beyond belief.
I highly recommend buying it through Amazon and getting their protection plan. It's a lot cheaper than an extended warranty through GoPet.
I'd recommend this one for:
Slim sighthounds (smaller greyhounds, Pharaoh Hounds, etc)
Standard poodles
American Leopard Hound
Slim pits
Brittany
4. GoPet Dog Exercise Wheel for Large Dogs
Last on our list is an option that's a bit different (although it's from GoPet again).
While it's not your typical dog treadmill, it's the only option for those who want something they can use outside.
Well, I suppose you could use the others on, say, your deck, but you'd definitely have to bring it indoors when you're done!
You'll note that it has the lowest weight limit out of all the options. Don't worry, though, it's still perfect for medium dogs.
Specs
Overall Size: 87″(h) x 36″(d) x 82″(w)
Running area size: 70″H x 35″D x 65″W
Dog weight limit: 150 lbs
Features & Pros
No electricity required
Use it indoors or outside
Non-slip rubber mat running surface
Free-standing design, so you can put it anywhere that you have space
Includes an optional brake that you can use to slow it down.
Stable platform
Easy to clean
Cons
Very expensive, especially consider it doesn't have as many features as its electronic counterparts
What you see is what you get, it doesn't fold or close up for storage at all.
Dogs may be absolutely terrified of it since it's basically a giant, unfamiliar hamster wheel.
Aside from the brake, no real speed control
Once again, only a 1-year warranty
Recommendation
I have to be honest, this isn't my favorite option by a long shot.
My dog won't even go through a hula hoop (I'm trying to train her in agility coursework and she's terrified of the hoop for some reason) so I can't imagine her even looking at this twice.
I feel like it's kind of expensive for something that is dog-powered (vs actual powered).
If you need something that you can use outside (and leave outside) though, this it it.
I'd recommend it for medium breeds like:
Pits
Bulldog
Collie
German Shepherd
Labs
Final Recommendation
If you're looking for the best dog treadmills for pitbulls, go with the first option. It's the best by a long shot in my opinion.
As for the best dog treadmills for medium dogs in general, well, they're all good picks, otherwise they wouldn't be on this list!
Do you have any favorite dog treadmills for pitbulls and other medium breeds? Share below!