If you're looking for the best dog treadmills for puppies & small breeds, you're in luck!
While finding great treadmills for large breeds is a challenge, most models are actually made just for the tinier guys.
Today, we'll take a peek at the top 5 models, along with each one's pros and cons.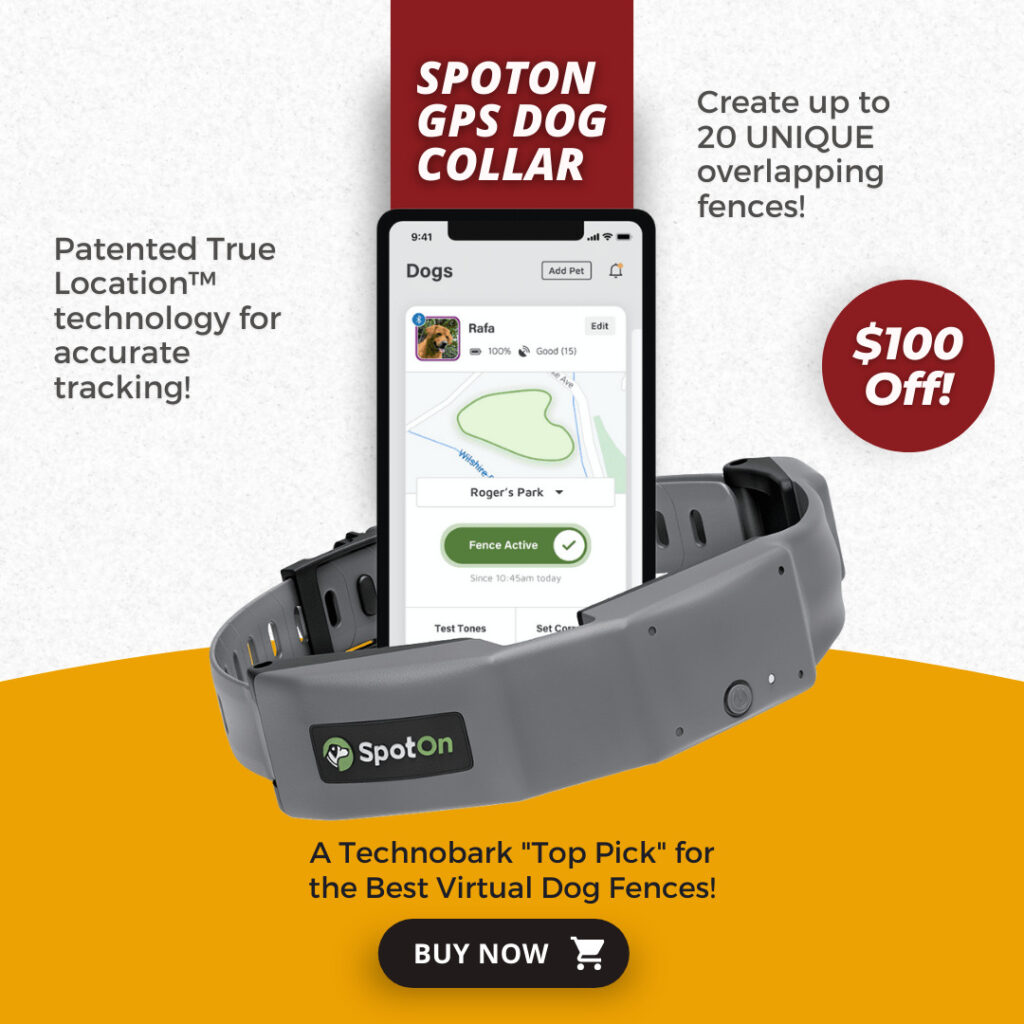 First, though, let's talk a bit about how to safely use dog treadmills for puppies.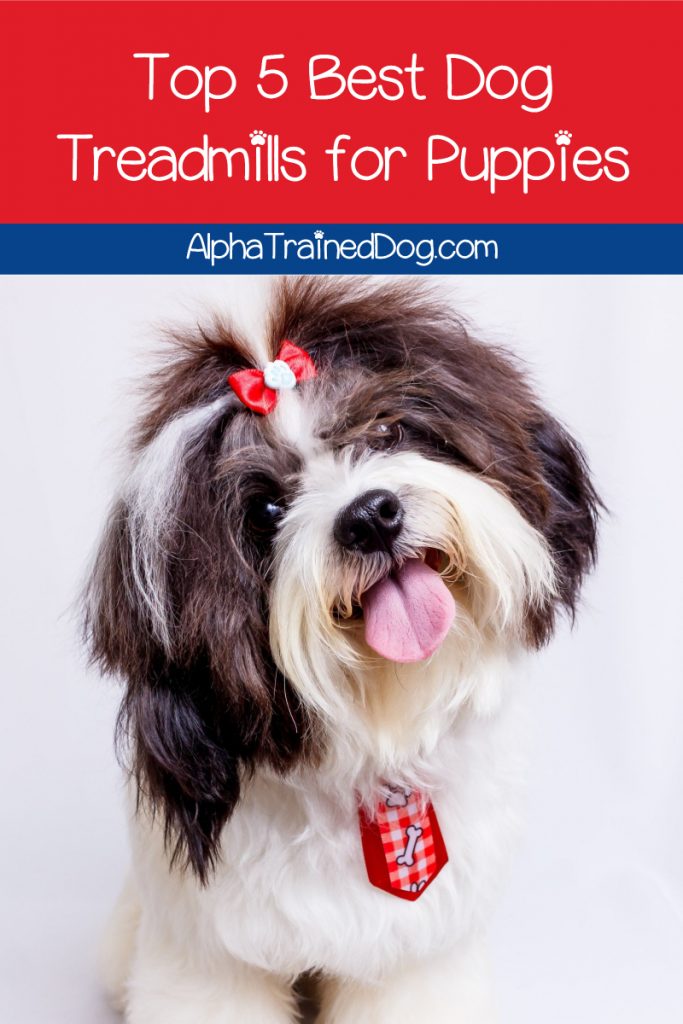 Dog Treadmills for Puppies: Safety Tips & Considerations
So, here's the thing; there really isn't a load of research into whether dog treadmills are safe for puppies, let alone how to use them the right way.
Aside from their use in rehabilitation exercises, you won't find a ton of expert opinions about dog treadmills at all. The trend is just too new.
So, to learn how to safely use them for puppies, we have to dig a bit into general puppy exercise safety tips and think about how to apply them to treadmill use.
Fortunately, it's pretty easy and just requires a little common sense, which I know all of you have!
Talk to your vet
Before you rush out and drop $500 of you hard-earned money (and that's for a cheap dog treadmill), have a conversation with your vet.
Ask him if your breed has any special exercise requirements. For example, a bulldog has lower exercise tolerance than, say, a Border Collie.
Giant breeds, like the Great Dane, are at a higher risk of orthopedic diseases, and too much exercise can contribute to that, according to the AKC.
While you can research your breed's exercise needs on the internet, your vet is really the best resource.
Leash train him first
Even if you're not going to be using a leash with the treadmill, it's always a good idea to get your puppy used to walking on one.
Not only is it a vital step in getting a scared dog to use a treadmill in the first place, it helps you maintain better control of your pup while he's using one.
Plus, you want your treadmill to be a complement to regular walks (more on that below), so using a leash helps reinforce good walk behavior.
Start slow!
You know that old saying, you have to learn to walk before you can run? Well, the same goes for dog treadmills.
Start on the slowest setting and let your dog get used to it. Gradually increase the speed as he becomes accustomed to the treadmill.
Keep your session short
Puppies do not require as much exercise as adult dogs. In fact, too much is actually a bad thing!
So, how much is just enough?  "A common rule is five minutes of exercise per month of age, up to twice a day," explains Kimberly Alt of Canine Journal.
In other words, if your pup is 4 months old, she'll need 20 minutes twice a day. Keep in mind that those sessions include all exercise, not just walks.
You could do a 20-minute session with your puppy agility equipment in the morning, then a 15-minute walk on the treadmill followed by a 5-minute game of fetch or chase in the evening.
Don't replace his "real" walks
This rule applies to treadmills for all dogs. Unless you or your puppy can't walk outside because of medical reasons, don't use the treadmill for all of his walks.
See, those walks don't just give your dog some much-needed exercise, they're also great for mental stimulation, staving off boredom, reinforcing training, and bonding with you.
DO NOT leave your dog unattended on a treadmill
One last yet incredibly important safety rule for all dogs; do not (do not, do not, do not) leave them unattended on the treadmill.
In other words, don't tie their leash to the handle, turn it on, then go into the other room to make dinner.
Stick close by at all time. Preferably right there next to the machine, but at the very least just a few feet away (many dog owners work out on human treadmills right next to their dog, and that's fine).
Now that we know how to safely use dog treadmills for puppies, let's take a look at the best models. Each of these is also perfect for most small breed dogs.
FYI, this post contains affiliate links. If you make a purchase through these links, we earn a small commission at no extra charge to you.
Best Dog Treadmills for Puppies & Small Breeds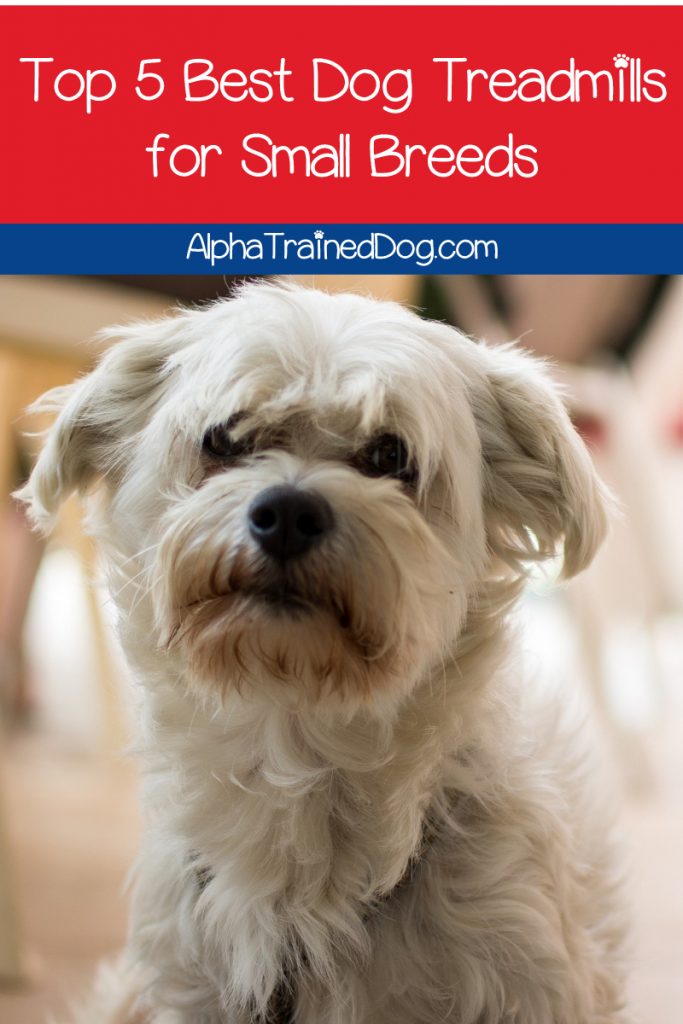 Below, you'll find my top five picks for the best dog treadmills for puppies as well as small breeds.
I've included the specs along with the features, pros and cons for each one.
1. dogPACER Folding Treadmill Review
The dogPACER LF 3.1 is always my top choice whenever we talk about dog treadmills, and for a good reason.
It's not only among the "cheaper" options (still costs over $500, but that's considered a budget treadmill), but it's the most highly rated among users.
Plus, since it can hold dogs up to 179 pounds, unless you're pup is a giant breed, he won't outgrow it.
Treadmills are pricey, so it's better to find one that you can use throughout your dog's whole life.
Since it folds up when not in use, it's even ideal for small spaces (although I'll give you another option for apartments below).
Let's look at the specs, then we'll check out pros and cons.
Specs
Size when folded: 42.28"L x 22"W x 8.5"H
Size when open: 76.77"L x 27.16"W x 46.18"H.
Running area size: 71" X 16.5"
Weight of treadmill: 84.4 lbs.
Dog weight limit: 179 lbs.
Pros
Lightweight (at least as far as treadmills go)
Relatively easy to assemble
Folds up just as easily when you need to get it out of the way
Speed range begins at 0.5 MPH and goes up to a brisk 7.5 MPH
Incline positions range from 5 – 9 Degrees
Comes preset with workouts, plus you can program additional ones.
Includes a lifetime warranty, but just for the frame.
Cons
It's rather large when open (over 6′ long), so you'll need plenty of space.
Heavy power load! A few reviewers recommend plugging it in alone on a circuit.
While it's perfect for puppies and small breeds, even with the high weight limit it's not really wide enough for robust adult dogs.
Warranty only covers the frame.
Recommendation
If you have a puppy that's going to grow up into a large-ish breed (but not a giant breed), then the dogPACER is really your best bet.
It may be a bit too much treadmills for dogs that will stay small, though, so I wouldn't really recommend it for a chihuahua.
I would recommend it for puppies of breeds like:
Husky
Border Collie
Bull terrier
Basset Hound
Dalmatians
As well as larger small dogs (yes, I know that's like saying jumbo shrimp) and medium breeds like:
Basset hound
Beagle
American Eskimo Dog
Basenji
Cocker Spaniel
2. PetZen Dog Treadmill Review
The PetZen Dog Treadmill is, in my opinion, the best dog treadmill for puppies that will stay relatively small.
It's also a fantastic option for people who live in apartments and other tiny spaces.
The budget-friendly model (it's usually just under $400) definitely doesn't scrimp on the features. Let's check the specs first, then I'll tell you more about them.
Specs
Overall Size: 44 x 20 x 21 inches
Running area size: 29" x 14"
Weight of treadmill itself: 47lbs
Dog weight limit: 30 lbs
Pros
Perfect size for even the tiniest puppy.
The motor is very quiet, making it ideal for dogs who are scared of treadmills at first.
Speed ranges from a very slow 0.3 to 5.0 MPH.
Multiple incline options.
Comes programmed with multiple workouts, or you can customize your own.
Lower side panels won't block your view of your dog (or your dog's view if he's not incredibly tiny)
An included treat holder helps entice dogs to use it
Also includes a remote control
Cons
Challenging to set up the first time
Treadmill itself doesn't fold (although the sides do fold down)
Only holds up to 30 pounds, so not ideal for puppies that will grow into bigger dogs.
Running space is too short for "leggy" dogs
Only includes a 1-year warranty
Recommendation
If you have a small breed pup that will stay under 30lbs, this is my top choice for you.
For larger puppies, it's really only going to last a few months before you need to move up in size, but you could always sell it.
Even used dog treadmills go for close to the same price as new ones, so you likely wouldn't be out a ton of money.
Just keep in mind that it's not ideal for leggy pups. For example, my Pharaoh Hound wouldn't be able to use it even as a pup (she was all legs, neck and ears!).
I would recommend it for small breeds like:
Pug
Cairn Terrier
Miniature Schnauzer
Shih Tzu
Jack Russell Terrier
Toy or miniature poodle
Chihuahua
DogTread Premium Small Dog Treadmill
LCD Console – Program Speed, Distance and Time for each workout. Red Safety Start and Stop is easy to identify. Included remote control provides additional training versatility.
Recessed Treat Holder – Provides a convenient way to dispense and hold treats during the initial stages of training. NOT FOR WATER, TREATS ONLY.
Sturdy, Attractive Dog-Friendly Design – The DogTread is equipped with a whisper-quiet motor and is free of any holes, meshes or seams where a dog might get small paws caught.
Natural Running Platform & Manual Incline Options – Low training fence provides a more comfortable and positive experience while the Flip-bar Incline increases training intensity as needed to simulate outdoor terrain.
Space-saving Portable Design – Securely rests on its nose for convenient storage. Transportation wheels makes it easy move the DogTread to any location.
3. GoPet PR720F for Small to Medium Dogs Treadmill Review
GoPet makes a few couple of models but this is the best option for puppies that will stay within the small to medium range.
It may look pretty boring compared to the other models so far, but don't let the simple style fool you, it's a fantastic treadmill.
Specs
Overall Size: 70″L x 25″W x 11″H
Running area size: 52 X 16″
Weight of treadmill itself: 100lbs
Dog weight limit: 132 lbs
Pros
Perfect for the smaller and medium guys, but can still handle some larger breeds.
Quiet motor
Super sturdy and well-made
Includes an eyelet that allows you to attach a toy for motivation.
Speed starts at 0.6MPH and goes up to a super fast 8MPH.
Includes a remote control
Emergency safety features on the side rails as well as an emergency stop feature
Wheels on the bottom make it a breeze to move around
Low & open sides allow dogs of all sizes to see all around them.
Cons
1MPH may be a bit too brisk for beginners
Super duper high shipping cost (over $200!).
Doesn't have multiple incline options (other models in the GoPet line do)
Only has a 1-year warranty
Recommendation
The low sides are one of my favorite features, as dogs tend to get freaked out when they feel closed in.
While I absolutely abhor that shipping fee (come on, GoPet, nearly everyone else ships free!), the Amazon price is a little lower than the price on their website, so it almost balances out.
Although the weight limit goes up to 132lbs, I would recommend this more for small breeds up to the very low end of large breeds. For example, all of the breeds mentioned in the PetZen review plus:
Bulldog
Australian Cattle Dog
Collies
Ibizan
Greyhound
most of the terrier group
GoPet PetRun PR720F Dog Treadmill Indoor Exercise/Fitness Kit
For Dogs Up to 132 Pounds. Tread Running Area 52 X16
Air cylinder Auto-Fold. Exercise Multiple Dogs
Low running platform. Remote or manual control
Speed and timer control. Emergency safety stop. Dog chain holder
Speed from0.6 - 7.5 MPH. Silent driving system for very quiet operation.
4. GoPet PR725 Treadmill Review
Fair warning, this one is the priciest dog treadmill for puppies by at least a few hundred bucks, but it's a great pick for pups that will grow into large breeds.
Not only does it hold dogs up to 176 lbs, but it's long enough for our leggy pals.
Specs
Overall Size: 90″L x 24″W x 16″H
Running area size: 71″L x 16″W
Weight of treadmill itself: 137 lbs
Dog weight limit: 176 lbs
Pros
Speeds start at 0.6 MPH and go up to 10 MPH, so it's the fastest treadmill we've seen.
Folds down for upright storage
Handy remote control for changing speeds
Sides are open so dogs can see (think hospital bed rails)
Easy to gradually increase and decrease the speed.
Safety lock feature
Eyelet for hanging toys
Ships free on Amazon
Cons
A bit too much treadmill for dogs that will stay small
It's expensive!
Despite that high cost, you only get a 1-year warranty
Heavy and hard to move
Still bulky even when folded for upright storage
Too slim for wider breeds (like the English Mastiff)
Recommendation
While I stand by my #1 choice above as the best treadmill for puppies that will grow up into larger breeds, this is a very close second.
If you think your dog will be scared to use a treadmill, the open-slat rails on this one are a bit less confining.
However, I am not at all thrilled by that horrific 1-year warranty. Things that cost over $1,000 should have significantly longer warranties.
The slim profile also makes it less than ideal for "wide load" dogs, and it's way too much treadmill for puppies that will stay in the small to medium range.
I'd recommend it for:
Slim breeds like the Greyhound, Pharaoh Hound & Saluki
Afghan Hound
Bloodhound
Boxer
Labs & Retrievers
Poodle (standard)
5. Goplus Dog Treadmill Review
If $500+ (and in some case, +++) is way too much for you, you're going to love the GoPlus Dog Treadmill.
Even though it's by far the cheapest dog treadmill on this list (and on any list), it's actually very rich in features!
Specs
Overall Size: 49"x 21" x 28"-29.5
Running area size: 14 " x 38"
Weight of treadmill itself: 47.5lbs
Dog weight limit: 200 lbs
Pros
Can handle more weight than any other option so far (but with caveats, see cons)
The display shows you time, distance, speed and even how many calories your dog has burned.
A whopping 12 different modes, including multiple speeds and functions.
Speeds range from 0.5 MPH up to 7.5.
Comes with a remote control
Emergency stop button on the remote
Base can adjust to three heights.
Wheels make it easier to move.
Crossbar for attaching the leash.
Cons
Despite that high weight limit, it's only wide and long enough for small to medium dogs
Quite possibly the bulkiest option on this list
No warranty information available
Some users complain that it's loud
Recommendation
While the Goplus isn't my favorite by a long shot, it's really the only option if you want a dog treadmill for puppies that won't cost more than a car payment.
You really have to understand, though, that the weight limit is very deceiving.
Yes, it can hold up to 200 lbs, but this is NOT a model for large breeds. The price is right to use it during just your dog's puppyhood.
If you want it for the long haul, though, I'd only recommend it for breeds with shorter legs and bodies, like:
Bichon
Boston Terrier
Pug
Corgi
Finnish Spitz
Miniature poodle
Final Recommendation: What is the Best Treadmill for Puppies?
Let me just say that the dogPACER tops this list for a reason, especially for pups that won't stay small.
Unless your puppy will grow up into a Great Dane or other giant breed, you can't go wrong with it.
However, if you're shopping for dog treadmills for small dogs that will stay that way, I'd go with the PetZEN.
Do you have any other picks for the best dog treadmills for puppies or small breeds? Share below!