If you're struggling to find the best dog treadmills for large dogs, let me help you out!
Today, we'll cover the top 3 picks that are big enough to handle larger breeds.
Yep, that's right, I even found one dog treadmill for a Great Dane!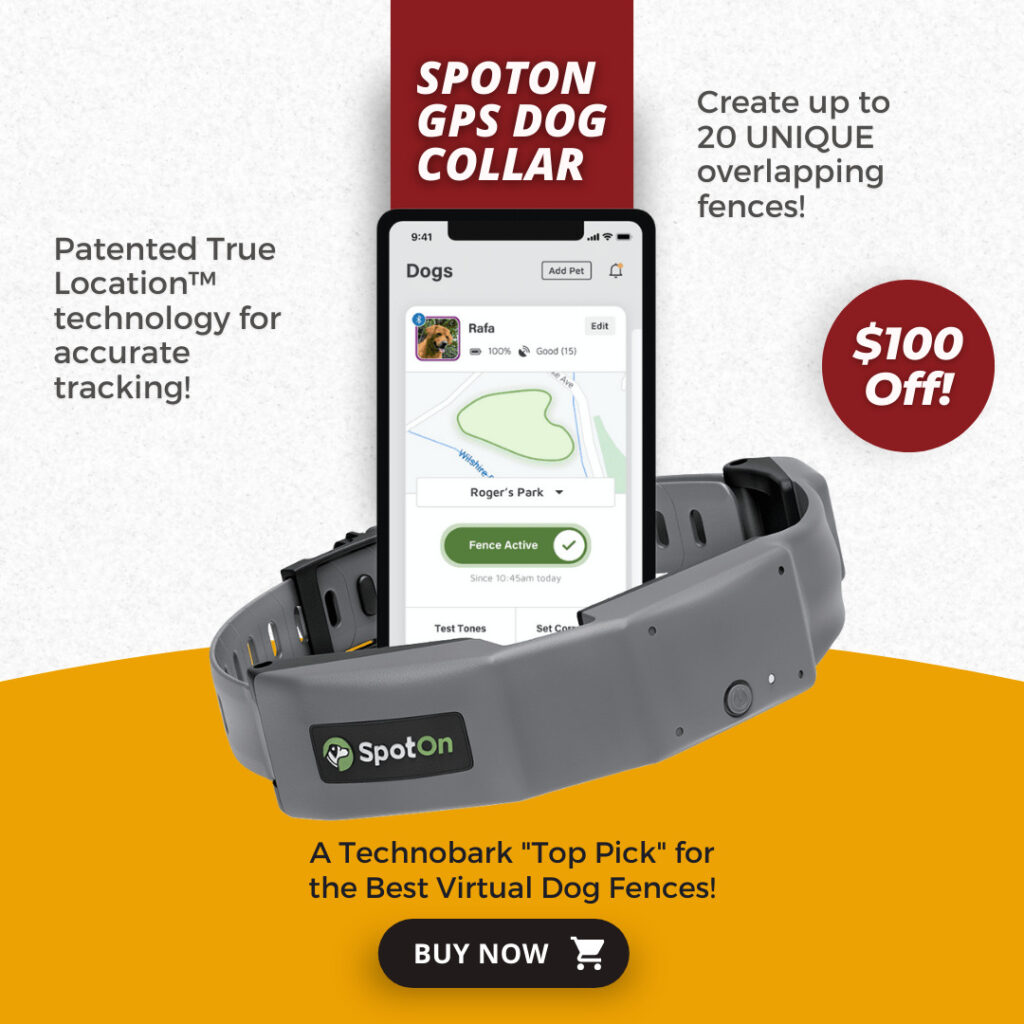 We'll also be looking at the best picks for greyhounds and other relatively large speedy sighthounds!
Read on to check them out.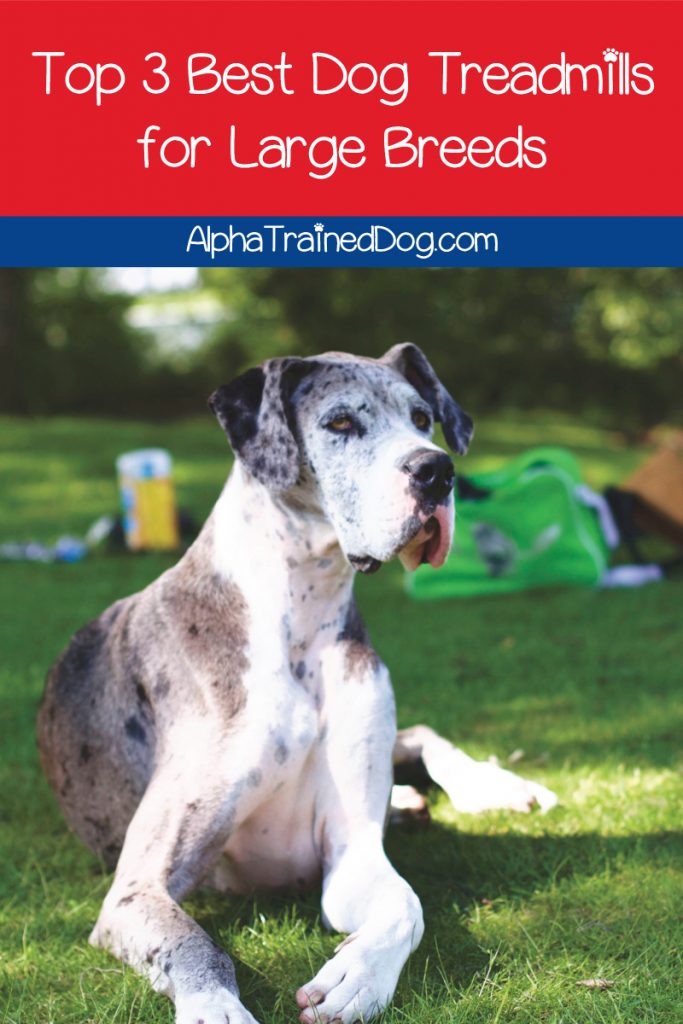 What You Need to Know About Treadmills for Large Dogs
Before we begin, I just want to go over a couple of things so you go into this guide with reasonable expectations.
There are no cheap XL dog treadmills
First, if you have visions of cheap dog treadmills for giant breeds dancing through your mind, clear them out.
The average XL dog treadmill is going to cost you a pretty penny. I'm sorry to burst your bubble or rain on your parade, but that's just how it is.
In general, the dog treadmill industry is fairly tiny. Since there's not a ton of options yet, manufacturers don't have to worry about competitively pricing their products.
Not all giant dogs will fit on an XL Dog Treadmill
You would think that an XL dog treadmill designed to hold up to 200 lbs would fit pretty much any breed, right?
Well, as one popular treadmill proves, just because it can hold the weight of an English Mastiff doesn't mean it can actually handle the width of one.
So weight limits alone shouldn't be your deciding factor in choosing the best one for you pup.
There's no such thing as a compact, easy-to-store large dog treadmill
Last (but far from least), it's important to understand that you'll never see "compact" and "large dog treadmill" in the same sentence. Well, except for that one, of course.
Sorry, but even the ones that fold down don't exactly magically become compact and easy to store away in a closet.
Now that our expectations are managed, let's take a look at the three large dog treadmills that I'd recommend for bigger breeds (including our speedy sighthound companions).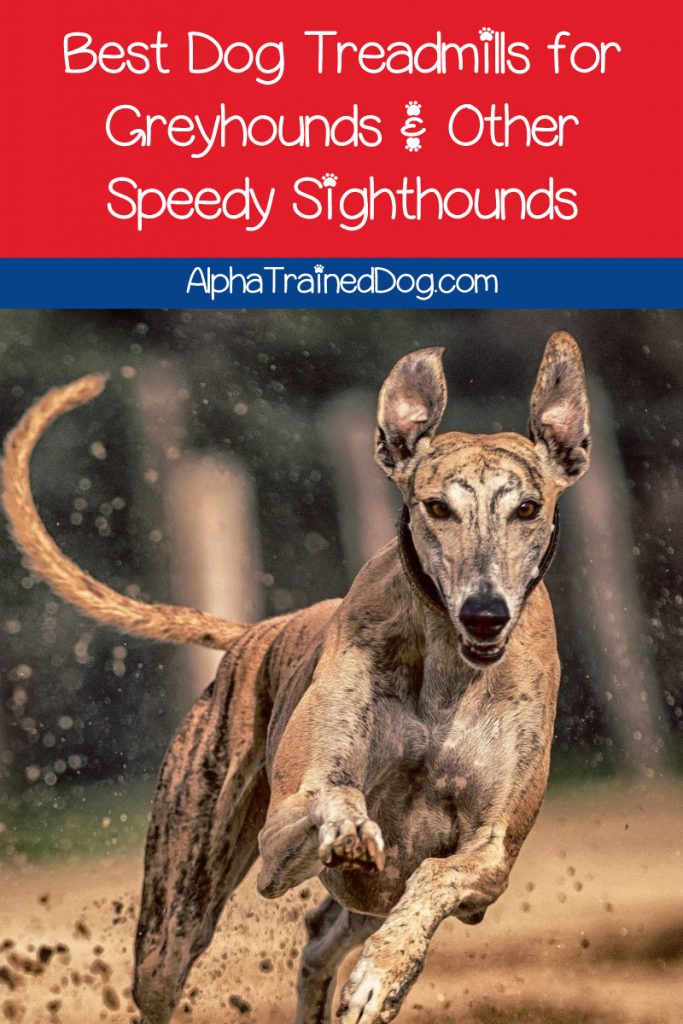 FYI, this post contains affiliate links. If you make a purchase through these links, we earn a small commission at no extra charge to you.
Best Treadmills for Large Breed Dogs
Take a look at the table below for a quick peek, then read on for more details about each treadmill.
Preview
Name
GoPet Treadmills For Dogs Like The PR725 Provide Excellent Exercise For Large Dogs Up to 175 lbs, Includes Dog Leash Bar
GOPET Treadwheel Medium/Some Large (<150lbs)
Preview
Name
GoPet Treadmills For Dogs Like The PR725 Provide Excellent Exercise For Large Dogs Up to 175 lbs, Includes Dog Leash Bar
Preview
Name
GOPET Treadwheel Medium/Some Large (<150lbs)
1. DogPacer Folding Treadmill for up to 179lbs
The dogPACER LF 3.1 Folding Fitness Dog Treadmill isn't just the best dog treadmill for large dogs, it's the best option all-around.
Designed to hold up to 179lbs, it's a good dog treadmill for Greyhounds to Golden Retrievers to some Great Danes.
It's also one of the only XL dog treadmills that actually folds down when not in use (although again, it's still pretty bulky).
Let's look at the basic specs, then we'll check out the pros and cons.
SPECS
Size when folded: 42.28"L x 22"W x 8.5"H
Size when open: 76.77"L x 27.16"W x 46.18"H.
Running area size: 71" X 16.5"
Dog weight limit: 179 lbs.
PROS
Budget-friendly compared to other large dog treadmills
Surprisingly lightweight for a treadmill (it weighs about 84lbs)
Super simple set-up
Folds down easily so you can prop it up against a wall when not in use.
The frame comes with a lifetime warranty.
Speed ranges from a slow 0.5MPH to a swift 7.5 MPH
Set it to multiple different incline positions to simulate hills
Program in up to three different workouts with the dedicated buttons.
Replacement parts are reasonably priced on their website.
CONS
Warranty only covers the frame.
While it can handle up to 179lbs, it may not be wide enough for a Mastiff or other "wide load" breed.
No reverse feature (although I'm not really sure why this is so important to some people, but apparently it is).
It's over 6′ long and more than 2′ wide, so you really need a good chunk of floor space for it.
May need a dedicated circuit. In other words, if you have an older house with ancient wiring, you can't really plug it in with other things.
The return process isn't that great and takes a while for it to process.
Another important "con" for those in Alaska and Hawaii, according to the DogPacer website, they only ship to the lower 48 states.
If you live outside the lower 48 and are able to get it shipped to you by someone else (a 3rd party seller, or if you pay for a friend to send it to you), they'll void the warranty and won't accept returns.
I don't know why. I guess it has to do with the cost of shipping to those states? I get not shipping to them, but voiding the warranty entirely seems a bit extreme.
RECOMMENDATION
If you're looking for a dog treadmill that can handle some of the largest breeds, this is an excellent choice.
Based on the weight limit and overall specs, I'd feel confident recommending it for dogs around the same size as:
Greyhounds (and other sighthounds)
Border Collies
Pit Bulls
German Shepherds
Labradors
Dobermans
Boxers
Great Danes on the smaller end of the weight range
2. GoPet PR725 Dog Treadmill for Large Breeds Review
This particular GoPet model is the best dog treadmill for Greyhounds and other relatively sleek large breeds.
Unfortunately, it's not really wide enough for breeds like the Great Dane or Mastiff.
Like the dogPACER, it does fold down a bit, although still not what I'd call compact. However, it has a thinner profile overall, if that makes sense.
Basically, it's easier to prop up against a wall without it sticking out too far.
SPECS
Overall Size: 90″L x 24″W x 16″H
Running area size: 71″L x 16″W
Dog weight limit: 175 lbs
PROS
Speeds start at 0.6 MPH and go up to a super speedy 10 MPH, which is one of the reasons it's the best dog treadmill for greyhounds!
A handy remote control lets you change the speed without using the on-board controls.
Sides fold down so you can store it standing up.
The sides are open, so your dog feels a little less closed in than with the dogPACER>
Use the controls to gradually increase or decrease the speed.
Includes an eyelet so you can hang your dog's toy there to motivate him.
Dolly wheels make it easier to move, thank goodness (see con below about the weight).
Made in the USA
CONS
It's fairly heavy at 137 lbs
VERY pricey, although still not the most expensive of the three.
Only has a 1-year warranty, which stinks given the price.
RECOMMENDATION
While the dogPACER is still my overall top choice, this is a very close second, especially for those of us with sighthounds who move at the speed of light!
I also prefer the side rails on this one to the dogPACER, mostly because they allow my dog to see me when she's running. She is easily freaked out if she feels enclosed.
The cruddy warranty is definitely a major con, though, especially for something that costs over a grand.
Based on the specs and customer feedback, I'd recommend this for dogs like:
Greyhound, Saluki, Pharaoh Hound & other thin breeds
German Shepherd
Weimaraner
Irish Setter
Smaller Irish Wolfhounds (they start at about 105 lbs and are fairly lithe for such large breeds).
3. GoPet Dog Exercise Wheel for Large Dogs
This last option, which is also by GoPet, is a bit different, since it's not technically a treadmill so much as a treadwheel.
Still, I wanted to include it because it's the only option that's designed for both indoor and outdoor use.
It does have the lowest weight limit of the group, but it's still big enough for most large breeds (just not really giant breeds).
Specs
Overall Size: 87″(h) x 36″(d) x 82″(w)
Running area size: 70″H x 35″D x 65″W
Dog weight limit: 150 lbs
FYI, the video below shows one of their smaller models, as I couldn't find a good one of their large model.
Features & Pros
Rubber matted non-slip surface
Free-standing design that lets you put it anywhere, including outdoors
Optional brake slows down the pace
Wheel sits and spins on a super stable platform
Totally dog-powered, so you don't have to find a place to plug it in.
Made in the USA
Easy to clean, just wipe or hose it down
Cons
Super pricey
Not big enough for a giant breed dog like the Great Dane
Doesn't fold down so it takes up a lot of room
Totally different from anything your dog has used, which means they may not want to go near it.
1-year warranty (again, not really great for such a pricey product)
Recommendation
Honestly, while a lot of people really love the GoPet Exercise Wheel, I would only buy it if I needed something I could use outdoors.
While I love that it's dog-powered, it is pretty pricey for something that doesn't plug in or have more options.
That said, if you decide to give it a go, I'd recommend this model for dogs like:
Golden Retriever
Doberman Pinscher
German Shepherd
Alaskan Malamute
Pit Bull
Final Recommendation
These are really the only dog treadmills for large dogs that I could find, and I spent a lot of time looking.
Out of the short list, I'd go with the dogPACER for most breeds, or the GoPet treadmill for greyhounds and other speedy sighthounds.
The wheel is my last choice just because my dog wouldn't like the style of it, but it's the only option if you want an outdoor dog treadmill.
One last note, I know that sighthounds like Greyhounds and Salukis are technically "medium" dogs, but to me they fall much closer to the large-breed range.
My Pharaoh Hound is technically a medium dog according to the AKC, but she's longer and taller than my German Shepherd was!
I just wanted to mention that in case you're thinking, "She's talking about medium dogs in a large breed post, clearly she doesn't know squat!"
I assure you, I do know the difference between toy, small, medium, large, and giant-breed dogs, I just don't always agree with the classification system. 🙂
Do you know of any other treadmills for large dogs? Share below!