If you're looking for a complete GoPet Dog Exercise Wheel review to find out if it's a good buy, I've got you covered!
After all, this particular dog treadmill costs a pretty penny, so you want to know it's money well-spent, right?
Today, we'll go over the difference between the GoPet Dog wheel and its electronic treadmill counterparts.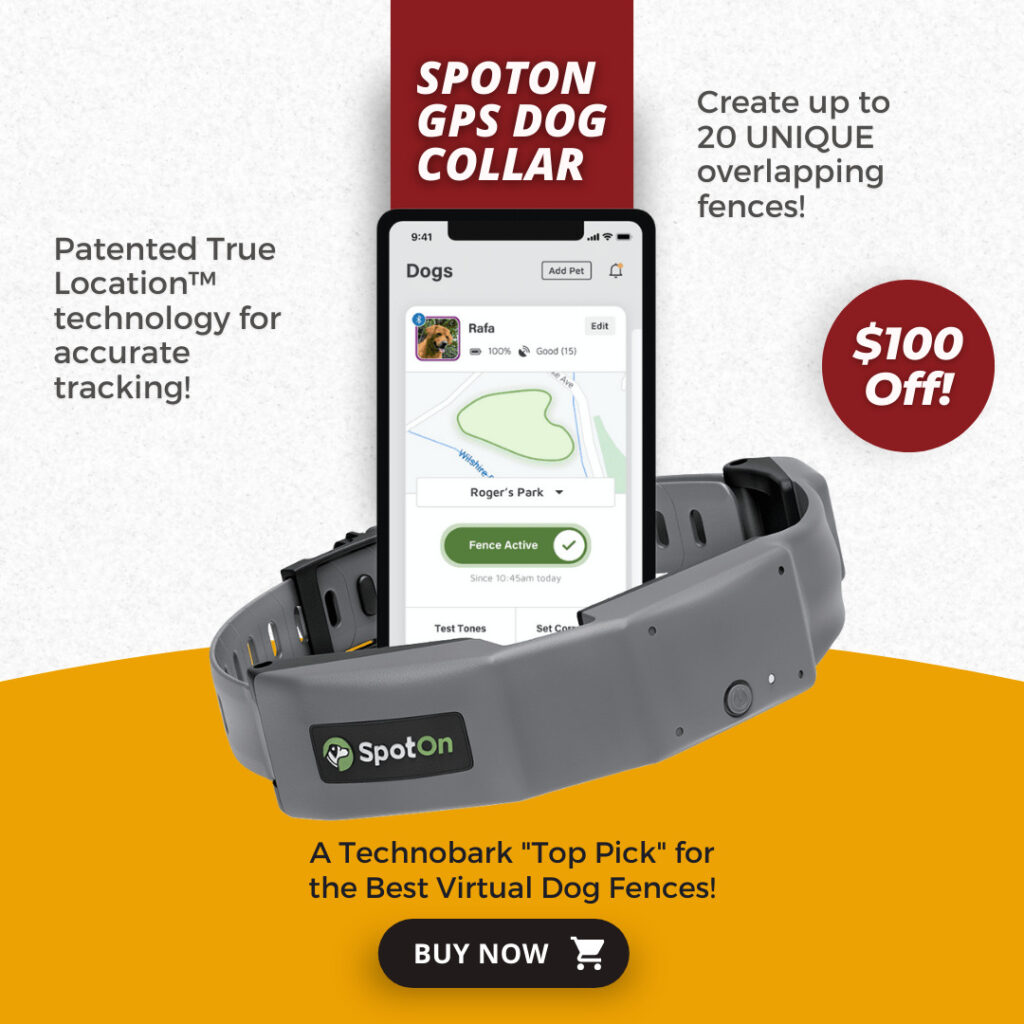 Then, we'll take a look at the features, pros and cons to help you decide if it's right for your dog.
Related: Dog Exercise Wheel: Complete Guide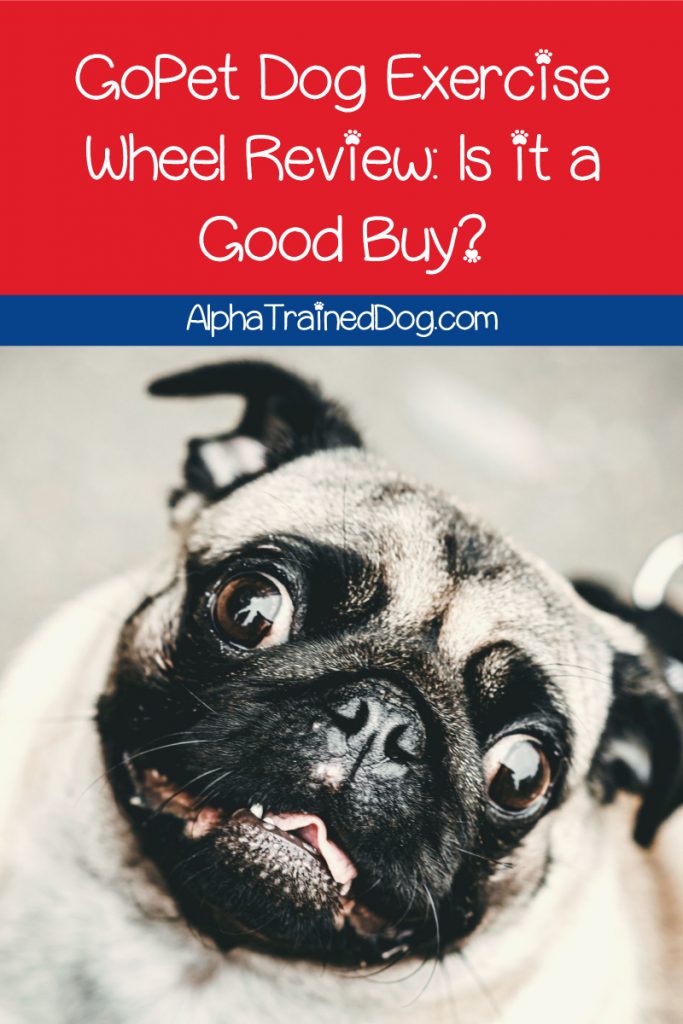 How is the GoPet Exercise Wheel Different from Other Dog Teadmills?
If you look at the GoPet Dog Exercise Wheel, your first thought will likely be, "So, it's a giant hamster wheel for dogs, right?"
Yes, you're right. That's essentially what it is: a very large wheel that your dog stands inside and that turns when he walks.
Right away, we can see that it's different from the average dog treadmill! After all, the electronic versions look exactly like human treadmills, don't they?
Shape isn't the only difference, though. If you look closely, you'll notice that there aren't any cords coming out of the GoPet Dog Exercise Wheel.
It's entirely "dog propelled," meaning it goes because your dog does. Check out the video below to see what I mean.
It's also quite a bit bulkier than other dog treadmills (not to mention pricier overall), so before you add it to your cart, you'll want to make sure it's right for your dog.
Let's look at the top features, pros and cons to find out.
FYI, this post contains affiliate links. If you make a purchase through these links, we earn a small commission at no extra charge to you.
GoPet Dog Exercise Wheel Review
Like I said above, the GoPet Dog Exercise Wheel is a bit pricier than the electronic dog tread mills, so you want to be 100% certain that it's a good buy before you plunk your money on the proverbial table.
Let's start with the overall features. There aren't many, though. It's a fairly straightforward and simple device.
Features of the GoPet Dog Exercise Wheel
The GoPet Wheel is pretty much a "what you see is what you get" exercise device.
Features include:
Multiple sizes ranging from small enough for a toy breed to large enough for a dog up to 150 lbs.
Rubber matted non-slip surface
Free-standing design, so you can put it just about anywhere.
Optional brake to slow your dog down
Wheel sits and spins on a super stable platform
Like I said, it's pretty much "what you see is what you get."
GOPET Treadwheel - Indoor/Outdoor Exercise for Large Dogs
For Dogs up to: 150 pounds. Running Area: 60 D X20 W. Training Door Included.
Tension Control for added resistance. Running Area Mat for added comfort.
Free,off-leash exercise so your dog can run at his own natural pace. Easy to clean.
Can be used anytime - even if your dog is home alone. Secure and Stable.
Provides a physical outlet for high energy dogs.
Now, let's take a look at some of the pros. Even for such a simple design, there are quite a few!
Pros of the GoPet Exercise Wheel
While the greatest "pro" of the GoPet wheel is, of course, the fact that it lets your dog get some exercise even when you can't take him for a walk, any treadmill will do that.
So, let's take a look at some pros specific to the wheel itself.
No cords mean no increase in your electric bill
One of the best features is actually a lack of a certain feature- cords! Since you don't have to plug it in, you won't see an increase on your energy bill.
While the average electronic dog treadmill isn't going to astronomically raise your bill, in this case nothing is better than something!
Use it both inside and outdoors
The GoPet Wheel is designed for both indoor and outdoor use, so if your home is simply too small for what amounts to a ginormous hamster wheel, you can always put it in your yard.
It's made of UV-resistant plastic, so it won't break down if you leave it out in the sun too long.
If you're not sure why that's such a major pro, leave cheap plastic chairs out on your deck for a year and see how nice they look. Or just take my word for it, it's a good thing.
Comfortable running surface
Perhaps the most important "pro" is the super comfy rubber mat running surface.
After all, without it your dog would basically be running on metal. The mat is very similar to a thick "welcome" mat that you put right outside or inside your door.
Easy to clean and maintain
One of the major pros of the GoPet Wheel is the fact that it's super simple to clean.
Since there are no cords or electronic parts, you don't have to worry about avoiding them!
Just pull out the hose and spray it down if you're outside. Indoors, you can wipe the surfaces clean with a wet towel.
Be sure to dry it completely before letting your dog run on it, though.
Includes a "training door"
I am putting this "pro" last because I can't decide if it's a feature that I like or would like to discourage you from using.
It took me a few minutes to figure out what they meant by "free training door included."
I was thinking it's basically a free dog door! No, it's not. It's actually a wire-like door that you put on the front to the wheel to close your dog inside.
Whether this is a pro or a con is up to you. While it's a nice extra, I don't think I'd want to block my dog in the wheel. She'd freak out!
Cons of the GoPet Wheel
While the GoPet Exercise Wheel is definitely unique and has many wonderful features, it unfortunately has a few glaring cons.
It's pricey, especially for large dogs
This is far, far from a cheap dog treadmill! The smallest size, which is only big enough for toy breeds, will run you over $600.
If you need the largest size for a really big dog (but not giant, as we'll see below) expect to pay close to $3K.
Put into perspective, that's more than two months worth of my rent.
It's super bulky, so you need a lot of room for it
While the smaller version isn't too space-consuming, as you go up in sizes you'll need more and more space to dedicate to it.
The largest size is 87″H x 36″D x 82″W.
The height isn't really an issue, but you'll need just under 7 feet of horizontal space and 3 feet of "depth" space.
Sadly, it doesn't fold down, so expect to stare at it every single day until the end of time.
Or until your dog gets tired of it and you send it down into your garage, where it will take up more space than your car!
None of the sizes are big enough for giant breed dogs
Even the ginormous large wheel is only designed for dogs up to 150lbs.
While that gives you a huge range of breeds, my aunt's Irish Wolfhound wouldn't be able to use it!
Still, they do offer sizes for every other breed, so unless you have a "gentle giant," this shouldn't be a major con.
There's a very strong chance your dog won't go near it
Now we come to the biggest "con" of all. It really doesn't matter if the GoPet Dog Exercise Wheel is the very best thing since sliced bread if your dog won't go near it.
If you look at the review on Amazon, nearly every single 1-star rating has to do with "my dog won't go near it."
Getting a dog on a treadmill is tricky enough.
Getting them on something that looks unlike anything they've ever even considered using is a whole different challenge.
GOPET Treadwheel for Small Dogs
For Dogs up to 25 pounds. Running Area: 40 D X12 W. Easy to clean. GoPet TreadWheels give your dogthe equipment he needs to exercise. The free standing GoPet TreadWheelprovides an unlimited running area allowing your dog to walk or run for miles - even if you are not home.
Training Door Included. Running Mat for added comfort. Many dogs will use the treadwheel to relieveboredom and get some exercisewhile their owners are gone. Be sure to check our our Video - If you feel a Treadmill would be a better option please go back to the Dog Treadmills page. A great way to exercise overweight dogs. Allows for outdoor use.
off-leash exercise so your dog can run at his ownnatural pace.
Can be used anytime - even if your dog is home alone. Secure and Stable.
Provides a physical outlet for high energy dogs.
Final Recommendation
I'm having a hard time deciding if I love or strongly dislike the GoPet Exercise Wheel for dogs.
On the one hand, I love that it's "dog powered," so I don't have to worry about cords or how much energy its using.
On the other hand, though, I can't imagine my own dog using it. She spooks easily and it would just freak her out.
Then, of course, there's the cost!
Still, if you have the money for it and you're a risk taker, it could end up being the best thing you ever buy for your dog, especially if you can't walk him as often as you'd like.
Do you have anything to add to my GoPet Dog Exercise Wheel review? Do you have one? Share below!