Looking for the best dog treadmills to give Fido a workout when he can't go outdoors?
Surprised that there actually IS such a thing as dog treadmills?
Today, we'll talk about their benefits and why you'd want to buy one.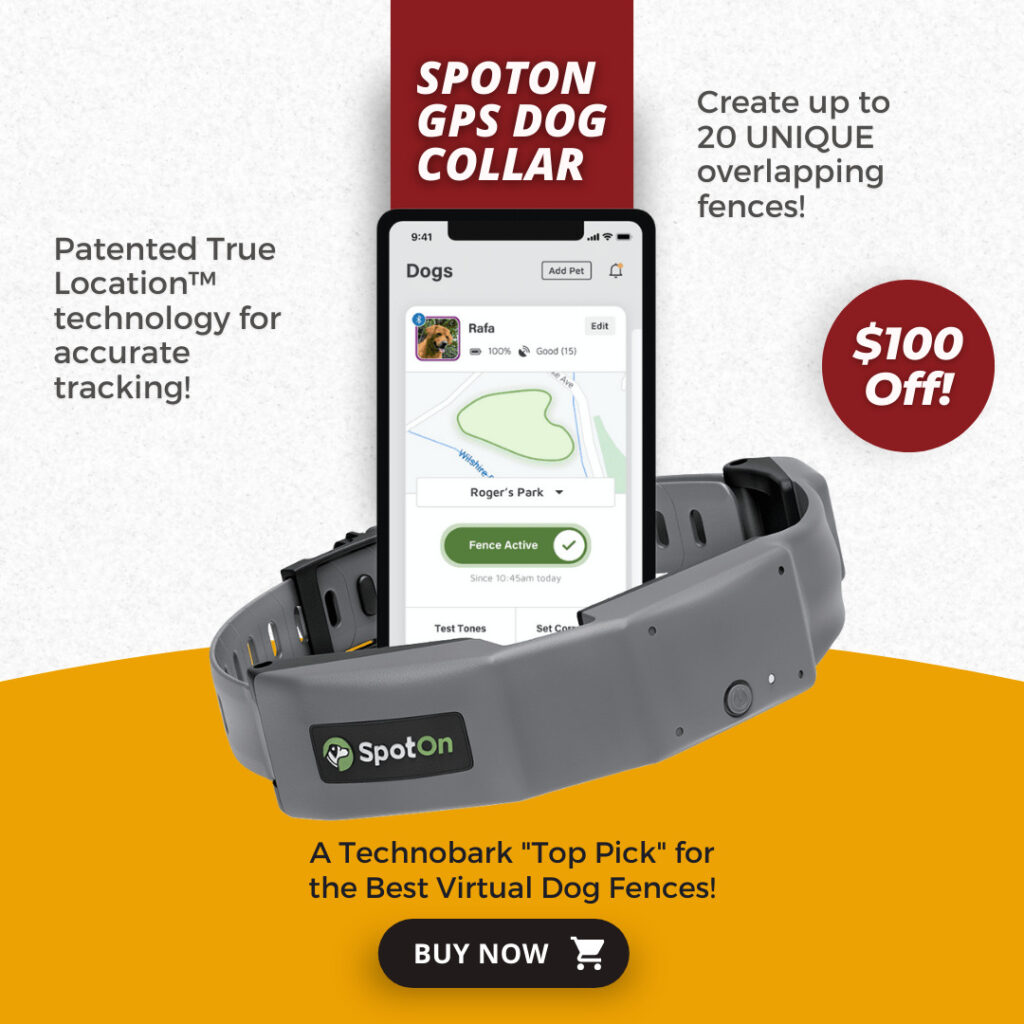 Then, we'll check out my top 5 favorite treadmills to buy for your pooch!
Let's get started!
Related: Top 10 Best Training Tools to Keep on Hand
Why Would You Want a Dog Treadmill?
A dog treadmill is perfect for those who live in apartments, don't have a backyard, or live in areas with extreme weather (too hot or cold).
It's also great if you have a health condition (like a bad back) that makes it hard to walk your dog as often as you should.
In other words, if you can't always take your dog outside, you may want to consider a treadmill.
Even if you can take your dog outside as often as you want, a treadmill is still a great idea!
Let's be honest, some days our dogs have infinitely more energy than we can possibly help them burn through training games & walks!
So, bottom line, if you've ever thought to yourself, "Gee, I wish I could walk Fido more," you may benefit from a treadmill!
Speaking of benefits, let's take a look at a few reasons why they're good for dogs!
Why Are Treadmills Good for Dogs?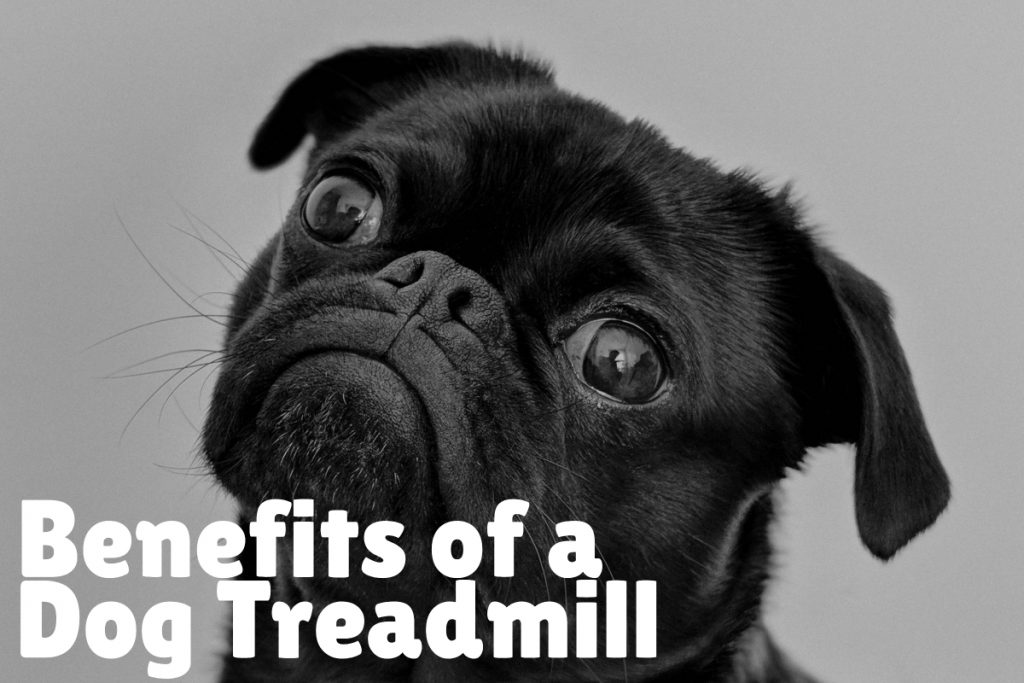 A dog treadmill has more benefits besides the obvious (giving them more opportunities to walk). Below are just a few of the top reason!
Burns energy before a training session
We already know that excess energy can ruin a good session. A treadmill helps burn off some of that extra energy so your dog is ready to focus on you.
Helps relieve stress and anxiety
You know how people feel so much better after a good run (most people anyway, I'm not much of a runner)? Well, the same concept applies to dogs!
Running releases "feel-good" hormones that help relieve stress, anxiety & depression.
Yep, dogs can feel all of those emotions just like humans!
Easier for senior dogs
My German Shepherd lived until just shy of 15 and she was active right up until after her 13th birthday. The problem? She didn't really know her limits…and neither did I.
A couple of times, I made the mistake of walking her too far. By the time we were ready for our return (uphill) trip, she was wiped out.
I either had to call someone to pick us up, carry her (which is hard considering I'm 5'2″ and can't really carry 75+ lbs up a hill) or take breaks every few feet so she could gather her energy again.
Moral of the story: a treadmill lets your senior dog to work out at her pace and stop when she's had enough without you worrying about how to get her the rest of the way home!
Helps obese dogs lose weight safely
Just like a human treadmill can help YOU lose those extra pounds, a doggy version helps FIDO work off that excess weight.
However, just like you, your dog can't just dive into running at full speed ahead when he's not used to it.
A treadmill lets him start off slowly and work his way up to a more rigorous routine.
It's a great way to bond!
Walking your dog in general is a good bonding activity.
When you can't do it outside, set up your treadmills right next to each other and go for an indoor stroll!
Don't have room for two treadmills? Expert Krista Wickens recommends doing some stretching exercises next to your dog or even just standing next to him praising him!
Can Dogs Use Human Treadmills?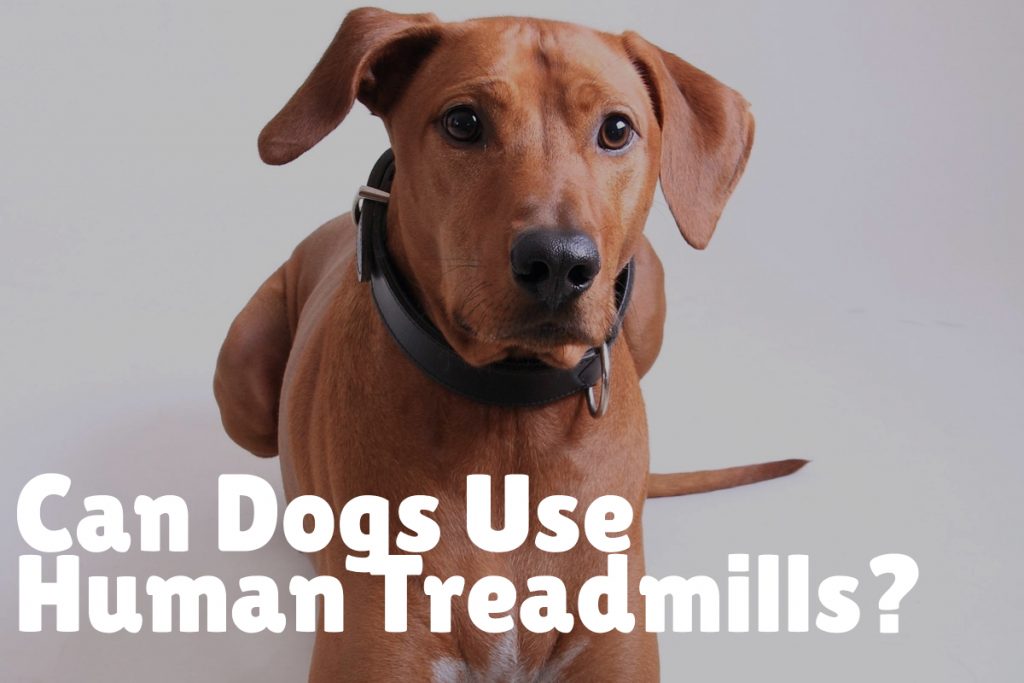 Short answer, no, not really. Well, theoretically I supposed, but only with modifications and it's still better to use a dog treadmill.
If you look at a dog treadmill, it looks kind of like a human version but with guards on the side.
Don't let that fool you! They're actually quite different!
As Rocky's Retreat explains, dog treadmills are designed for our pups' longer gaits. They also have a slower starting speed than human treadmills.
There are other key differences, too, including:
Better ventilation to prevent overheating (since your dog's entire body hovers over the tread).
Wider tread to accommodate your dog's full body.
Extra safety features to prevent tails and paws from getting injured.
Quieter motor so your dog doesn't get freaked out by the noise.
So while you could possibly modify a large human treadmill for dog use, I highly highly highly recommend using one made for a dog.
Now that we've covered all the basics, let's dig into the best dog treadmills to buy!
FYI, the rest of this post contains affiliate links. If you make a purchase through these links, we earn a small commission at no extra charge to you. 
Best Dog Treadmill Reviews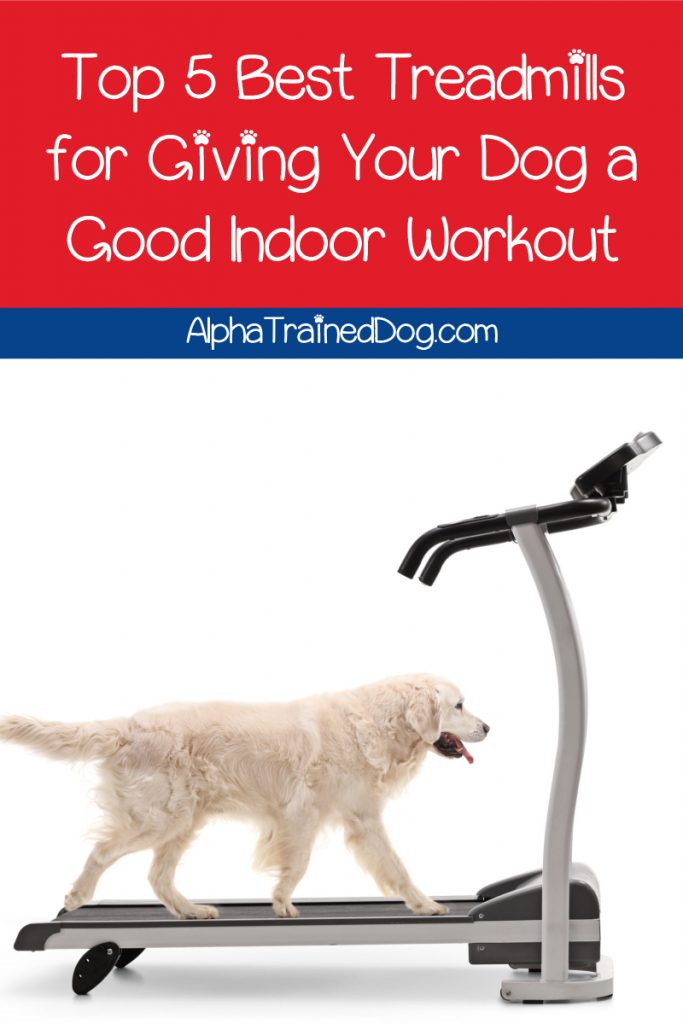 Start by checking out the table for a quick look at my top five picks, then keep reading for features, pros and cons.
Preview
Name
DogTread Premium Small Dog Treadmill
GoPet PetRun PR720F Dog Treadmill Indoor Exercise/Fitness Kit
GoPet Treadmills For Dogs Like The PR725 Provide Excellent Exercise For Large Dogs Up to 175 lbs, Includes Dog Leash Bar
Best for...
Best budget-friendly option
Preview
Name
DogTread Premium Small Dog Treadmill
Preview
Name
GoPet PetRun PR720F Dog Treadmill Indoor Exercise/Fitness Kit
Preview
Name
GoPet Treadmills For Dogs Like The PR725 Provide Excellent Exercise For Large Dogs Up to 175 lbs, Includes Dog Leash Bar
Preview
Best for...
Best budget-friendly option
1. Our Top Choice: dogPACER Folding Treadmill Review
The dogPACER LF 3.1 Folding Fitness Dog Treadmill is the best all-around option for dogs all the way up to 179 lbs.
At under 100 lbs itself, it's fairly lightweight for a treadmill.
Since it folds up when not in use, it's even ideal for small spaces (although I'll give you another option for apartments below).
Let's look at the specs, then we'll check out pros and cons.
Specs
Size when folded: 42.28"L x 22"W x 8.5"H
Size when open: 76.77"L x 27.16"W x 46.18"H.
Running area size: 71" X 16.5"
Weight of treadmill itself: 84.4 lbs.
Dog weight limit: 179 lbs.
Pros
Lightweight (for a treadmill, anyway)
Easy to set up, even for those of us who are assembling-challenged
Just as easy to fold up and put aside when not in use!
Lifetime warranty for the frame
Set the speed range from .5 MPH all the way up to 7.5 MPH
Multiple incline positions
Three programmable buttons allow you to set different workouts
Cons
You need a good amount of floor space when it's in use (over 6′ long and 2+' wide)
Some users say that it needs its own dedicated circuit. In other words, if you plug it into an outlet with other stuff, you could trip the fuse.
On the off chance that you have to return it, the process is a bit tricky and takes some time.
Although the weight limit is high enough for most breeds, it may not accommodate very heavy breeds (like the English Mastiff).
Recommendation
This is my top choice so obviously I recommend it! I love that it's large enough for nearly all breeds.
I also like that it folds down so you can store it away. In a house low on space, that's important.
You could just stop here, buy this one, and be happy as a clam with your purchase. Of course, I'd prefer that you keep reading!
2. Best Treadmill for Small Dogs: PetZen Dog Treadmill Review
The PetZen Dog Treadmill (aka the DogTread Small Dog Treadmill, see note below) is my top choice for small dogs who live in small spaces!
It's relatively compact compared to other options on this list yet still packs in a ton of great features.
Quick note: I refer to this as the PetZen because that's what everyone knows it as but it appears that the brand is actually called DogTread now.
Specs
Overall Size: 44 x 20 x 21 inches
Running area size:  29" x 14" 
Weight of treadmill itself: 47lbs
Dog weight limit: 30 lbs
Pros
It's just the right size for smaller breeds to the low end of medium (basically, chihuahua to beagle).
Super quiet motor won't terrify your tiny pooch!
Speed ranges from .3 to 5.0 MPH.
Multiple incline options.
Includes a recessed treat holder to entice your dogs to use it.
A remote control lets you change the settings without bending over.
The low sides won't obscure your dog's view or make him feel caged in.
Cons
Setting it up the first time is a challenge.
While the sides fold down, the treadmill itself doesn't fold up.
Tricky to get the belt positioned just right.
Although it's great for most small dogs, it's not ideal for long dogs.
Only has a 1-year warranty
Recommendation
If you have a small breed with relatively short legs, this is a fantastic option.
Most of the cons have to do with assembling the unit, so once you get that out of the way it works great.
The warranty stinks, if I'm being honest (which I always am), but if you buy it through Amazon you can add a protection plan for a reasonable amount.
If you buy it through their website, though, expect to pay a pretty penny for an extended warranty (like $150 for 5 years).
DogTread Premium Small Dog Treadmill
LCD Console – Program Speed, Distance and Time for each workout. Red Safety Start and Stop is easy to identify. Included remote control provides additional training versatility.
Recessed Treat Holder – Provides a convenient way to dispense and hold treats during the initial stages of training. NOT FOR WATER, TREATS ONLY.
Sturdy, Attractive Dog-Friendly Design – The DogTread is equipped with a whisper-quiet motor and is free of any holes, meshes or seams where a dog might get small paws caught.
Natural Running Platform & Manual Incline Options – Low training fence provides a more comfortable and positive experience while the Flip-bar Incline increases training intensity as needed to simulate outdoor terrain.
Space-saving Portable Design – Securely rests on its nose for convenient storage. Transportation wheels makes it easy move the DogTread to any location.
3. Best Treadmill for Medium Dogs: GoPet Treadmill Review
GoPet makes a few different dog treadmills but their "Small/Medium" model is my top choice for mid-sized dogs.
I love it because while it's great for medium pups, it actually accommodates larger breeds as well.
So, if you added another bigger dog to your family you wouldn't have to go out and buy a new treadmill.
Specs
Overall Size: 70″L x 25″W x 11″H
Running area size: 52 X 16″
Weight of treadmill itself: 100lbs
Dog weight limit: 132 lbs
Pros
Great for most breed sizes (not giant breeds, but up to about a German Shepherd).
Metal eyelet lets you attach your dog's favorite toy for motivation.
Speeds from 1MPH up to 8.
Emergency safety stop prevents tragic accidents.
Control the speed from the remote or right on the treadmill.
Comes on wheels to make it easier to move.
No high sides to make dogs feel enclosed (but it does have safety features along the sides).
Cons
Only has a 1-year warranty
No speed slower than 1MPH
Very expensive shipping (almost $200), whereas all the other options on this list ship free.
Pricey compared to other models on this list with more bells and whistles.
Recommendation
I like this one because it doesn't have high sides (my dog gets freaked out when she feels enclosed) and it's relatively compact for a treadmill.
I don't love that it's the most expensive option on this list as well as the most expensive to ship, though!
Again, we have that paltry 1-year warranty that screams "con!," but you can purchase a protection plan through Amazon for an extra fee.
Still, if you have the budget for it, it's very well-liked among dog owners that I talked to.
GoPet PetRun PR720F Dog Treadmill Indoor Exercise/Fitness Kit
For Dogs Up to 132 Pounds. Tread Running Area 52 X16
Air cylinder Auto-Fold. Exercise Multiple Dogs
Low running platform. Remote or manual control
Speed and timer control. Emergency safety stop. Dog chain holder
Speed from0.6 - 7.5 MPH. Silent driving system for very quiet operation.
4. Best Treadmill for Large Dogs: GoPet PR725 Treadmill Review
The best treadmill for large dogs is also the priciest on this list by a long shot but it has some great features that make it worth it.
Specs
Overall Size: 90″L x 24″W x 16″H
Running area size: 71″L x 16″W
Weight of treadmill itself: 137 lbs
Dog weight limit: 176 lbs
Pros
Speeds range from .6 MPH all the way up to 10 MPH, making it the fastest on this list.
Remote control lets your change speeds without bending over.
Folds down and can be stored standing up.
Open-slat sides let dogs see around them.
Push-button controls provide both a gradual increase and decrease in speed
Safety lock feature to prevent accidents.
Eyelet feature lets you hang your dog's favorite toy for motivation.
Cons
The obvious: it's the most expensive on this list by a long shot.
Only comes with a 1-year warranty.
It's quite heavy, which can make it difficult to move.
Although it folds for upright storage, it still takes up a lot of space when not in use.
Recommendation
While my #1 choice above is the more affordable choice for large dogs, if you can swing it I definitely recommend giving this one a go!
I love that the PR725 has "hospital bed rail" style sides that keep your dog safe while letting him see the world around him.
If the 1-year warranty bugged me with the above models, it definitely ticks me off here.
Something that costs nearly a month's' worth of rent should come with a longer warranty in my opinions. Of course, you can buy a plan through Amazon as with the others.
Cons aside, this is still a fabulous high-end option for large breeds!
5. Best Budget-Friendly Option: Goplus Dog Treadmill Review
If you have a low budget and can't quite afford $500+, the GoPlus Dog Treadmill is a good choice.
Specs
Overall Size: 49"x 21" x 28"-29.5
Running area size: 14 " x 38"
Weight of treadmill itself:  47.5lbs
Dog weight limit: 200 lbs
Pros
Highest weight limit out of all the options on this list.
Remote control lets you control it wirelessly.
Display shows speed, time, distance and even calories burned.
Total of 12 different modes, including multiple speed ( 0.5-7.5 mph) and timing functions.
Extra safety features, including a safety key and an emergency stop button on the remote.
Base adjusts to three different heights and has wheels to make it easier to move.
Crossbar allows you to attach a leash (which is great for reinforcing leash training).
Cons
Although it has a high weight limit, it's really only wide and long enough for a small to medium dog.
It's a bit bulky!
No warranty information available & I can't find a website for the brand.
Recommendation
The GoPlus is definitely best option for those who can't afford $500-1K for a dog treadmill!
I adore the extra bells and whistles (like added safety features and modes), especially since it's priced significantly lower than other models.
I don't love the lack of reviews and warranty information of this particular GoPlus item, but the brand in general has decent reviews on Amazon.
Final Recommendation: What is the Best Treadmill for Dogs?
If, after all that, you need me to bottom-line it for you, I'll tell you this: the dogPACER is my #1 pick for a reason!
It hits all the key features that I look for in a dog treadmill. The price is fair, it's big enough for larger breeds, and it offers plenty of features.
All that and it folds down for compact storage! Of course, the other options on this list are great, too! It all depends on your needs.
One last tip: until your pup gets used to using it, you may want to consider using a dog treadmill harness like this one.
While it's not specifically made for treadmills it'll definitely work for one.
Do you have any other picks for the best dog treadmills? Share below!