Keeping training treats for Yorkie puppies on hand will make all of your training tasks infinitely easier.
Reward training is, after all, the best method for teaching your dog what's expected of her.
Of course, nothing but the best will do for our canine companions, right?
So, with that in mind, let's check out some of my favorite training treats that are perfect for dogs of all sizes, including itty bitty yorkies.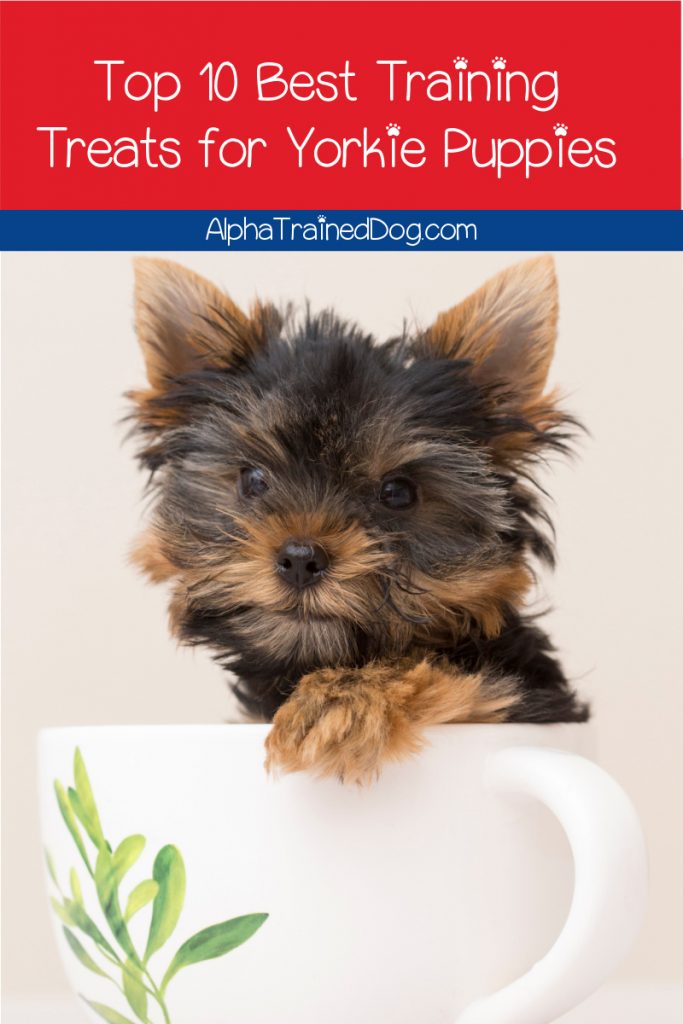 Things to consider when buying training treats
Whether you're buying (or even making) training treats for Yorkie puppies, Great Danes, or any breed in between, there are a few things to keep in mind.
Treat size
If you just scanned this list, you're likely thinking, "why is size more important than quality and allergies?"
Obviously, it's not. You don't want to give your dog junk nor anything that will make him sick.
However, I start with size because, well, when I'm shopping, I literally start with size.
I look at how big the treats are first, then narrow down my options and look at the ingredients.
Regardless of your dog's size, you want to stick with tiny training treats. That's especially true for a Yorkie.
See, dogs should only get about 10% of their daily calories from treats.
If you're tossing a Snausage every time they pee outside or sit on command, you'll end up with a very plump pup.
Trust me, your dog will be equally as excited about a treat that barely fills a tooth as she is by a chunk of cheese. I know mine is!
Quality ingredients
Now that you've narrowed down some choices based on size, it's time to start looking at ingredients.
Try to stick with quality grain-free or healthy-grain treats that are relatively low in calories.
Since you're going with tiny treats, you actually get a good amount for your money, so consider going with higher-end brands.
Your dog's allergies
If your dog has allergies, read the ingredient list very carefully.
You'd be surprised at how often some common allergens appear in dog foods and treat, even if they're not in the name.
Chicken is especially prolific, so don't assume that because the name of the treat is "Beefy, Beefy, Beef-Beef Morsels," it's devoid of poultry.
Heck, it could be called "Alligator Yum Yums" and STILL have chicken somewhere in it to "pad" it out.
Variety is the spice of life
Obviously, you'll also want to consider what your dog actually likes. I also recommend grabbing a variety of treats.
I buy 3-4 different bags at once, dump them all into an airtight container (which is actually my cat's old Temptations container that has "DOG" written on it in Sharpie), then shake it up.
That way, my dog gets different treats and doesn't get bored.
She learns to recognize bags, so if she sees me grabbing a treat she's just not feeling, she simply pretends I don't exist.
Seriously, she has perfected the "la-de-da, I can't hear you" act.
Ready to check out some of my favorite training treats to buy?
While I use these for my Pharaoh Hound, they're all actually just as appropriate for a Yorkie pup, don't worry!
Store-bought Training Treats for Yorkies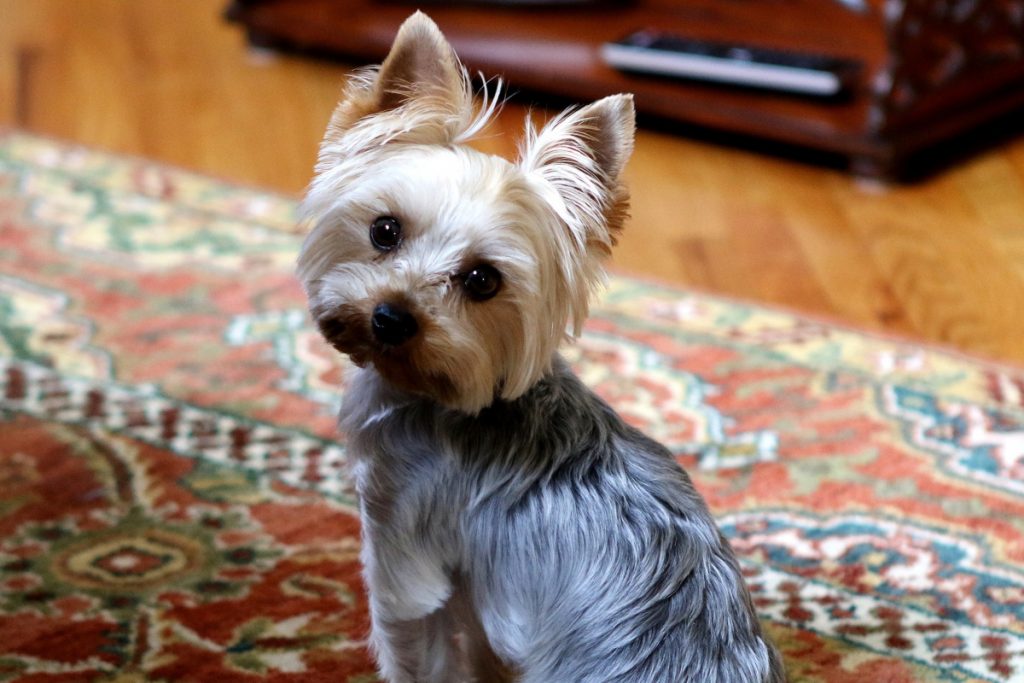 We've tried almost every single one of these treats below (except one), all with great success!
FYI, this post contains affiliate links. If you make a purchase through these links, we earn a small commission at no extra charge to you.
Most are available on both Amazon and Chewy, so I'm providing links to both.
Use the table below to see my top 6 favorites available on both, then read on for more details about each.
Preview
Name
Zuke's Natural Training Dog Treats; Mini Naturals Recipe; Made in USA Facilities, 16 oz, Chicken Recipe
Pet Botanics Training Rewards Treats for Dogs, Made with Real Pork Liver, Focuses, Motivates, Rewards, Speeds Up Learning Curve, No BHA, BHT, Ethoxyquin, Bacon, 20 oz (1 pack)
Merrick Power Bites Dog Treats, Real Rabbit and Sweet Potato Recipe,6oz. Bag,pack of 1
Wellness Soft Puppy Bites Natural Grain Free Puppy Training Treats, Lamb & Salmon, 3-Ounce Bag
Blue Buffalo Wilderness Trail Treats Wild Bits Grain Free Soft-Moist Training Dog Treats, Duck Recipe 4-oz bag, Model:800068
Bil-Jac 840235168621 Little Jacs Small Dog Liver Treats (3 Pack), 16 oz
Why We Love It...
Unique flavors (like Rabbit)
Flat shape perfect for puzzle games
Trust brand for 75+ years
1. Zuke's Mini Naturals Chicken Recipe Training Dog Treats
Honestly, literally anything by Zuke's is a big winner with my dog, but I love these because they're itty-bitty enough for Yorkie pups.
Plus, the flat shape is just the right size to put in my dog's favorite interactive puzzle game.
While I do find Zuke's to be a bit expensive compared to other treats, my dog absolutely loves every single type that we've bought so far.
Plus, the high-quality ingredients more than make up for the extra cost.

Sale
2. Pet Botanics Training Rewards Bacon Flavor Dog Treats
Pet Botanics only has 3 calories per treat, which is what drew me to them in the first place.
They're just the right size to keep in your pocket.
Don't worry, they don't all crumbly and gross, another major selling point!
Plus, they're made with quality real ingredients, like actual pork and chicken.
They are a bit on the pricey side, but again, well worth it since you get so many. One bag lasts me a month, at least.

Pet Botanics Training Rewards Treats for Dogs, Made with Real Pork Liver, Focuses, Motivates, Rewards, Speeds Up Learning Curve, No BHA, BHT, Ethoxyquin, Bacon, 20 oz (1 pack)
Perfect Size For Repetitive Rewards; Approximately 500 Treats Per Bag
Easy To Carry In Your Pocket
Made With Real Pork Liver; Healthy And Nutritional
Low Calorie Treat
Made In The Usa
3. Merrick Power Bites Real Rabbit + Sweet Potato Recipe
While they're a big larger than other training treats for Yorkie puppies, they make a great high-value goodie.
I reserve them for tougher tasks and alternate them with smaller morsels.
Along with quality ingredients, they're also budget-friendly compared to many other brands.
Freya loves the Rabbit flavor, but they have others. Salmon is another hit here.

Sale
4. Wellness Soft Puppy Bites Grain-Free Lamb & Salmon Recipe
Honestly, you don't need to buy a puppy-specific treat, but if you want to, this is my top pick.
My dog is four and she still loves them. They're super soft, which means they do break apart a bit.
However, that actually makes them great, too, since you can pull off smaller pieces for smaller pups.
Plus, they're made by Wellness, so they're super high-quality.

Sale
Wellness Soft Puppy Bites Natural Grain Free Puppy Training Treats, Lamb & Salmon, 3-Ounce Bag
Just For Puppy: Soft, Chewy, Perfectly Sized Treats Specially For Puppies Made With Premium Lamb And Salmon
Treating Or Training: Soft, Delicious Dog Treats Great For Everyday Treating Or Training
All Natural: Contains Only Premium, All Natural Ingredients With No Corn, Soy, Artificial Colors Or Flavors
Made In USA: Backed By Our Wellness Guarantee And Quality Assured Made In The USA With The Finest Globally Sourced Ingredients
5. American Journey Chicken Recipe Grain-Free Soft & Chewy Training Bits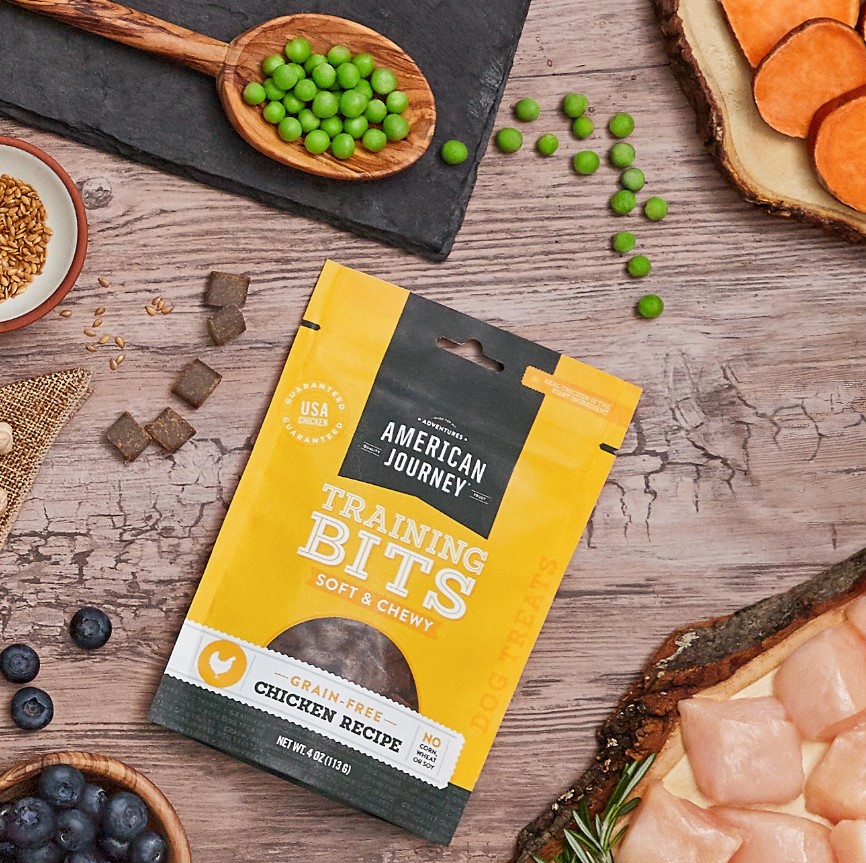 This is the only one that's a Chewy exclusive, since it's their brand. It's also the only one on the list that I haven't personally tried.
I include it, though, because we've had great luck wit other American Journey treats, so they're definitely worth giving a go.
Plus, they're the most affordable at just over $3 a bag. They are a little on the larger side, so I'd break them in half for a Yorkie puppy.

6. Blue Buffalo Blue Bits Soft-Moist Training Dog Treats
As far as Blue goes, there are two that I really love. Let's start with the Bits.
Real meat is the first ingredient, so right there, it's a win for me.
Plus, it contains DHA and other nutrients that pups need.
Mind you, in small amounts, so your dog won't get their entire requirement from them, but every little bit helps.
We had to stop using this one when we found out that my dog is allergic to beef, though.

Sale
Blue Buffalo BLUE Bits Natural Soft-Moist Training Dog Treats, Chicken Recipe 16-oz bag
REAL CHICKEN FIRST: BLUE Bits dog training treats are made with delicious real chicken as the first ingredient making them an ideal reward for your best friend's best behavior.
MEATY TRAINING TREATS: For dogs that love a meaty treat, BLUE Bits are tender, bite-sized morsels that are the perfect size for training. Plus with DHA to help support cognitive development, they're an ideal puppy treat.
WHOLESOME INGREDIENTS: These dog treats don't contain any chicken (or poultry) by-product meals and are free from corn, wheat and soy. Plus, they're free from artificial preservatives like propylene glycol and colors like red dye 40.
HEALTHY DOG TREATS: Blue Buffalo natural dog treats feature the healthy, wholesome ingredients you'll love feeding as much as they'll love eating.
Contains (1) 16-oz bag of BLUE Bits Natural Soft-Moist Training Dog Treats, Chicken Recipe
7. Blue Buffalo Wilderness Trail Treats Duck Wild Bits
With beef off the table, I moved on to Blue's Wilderness Trail Treats, and they're a definite keeper.
First, at just about $3.50 a bag, they're super budget-friendly; even more so considering you can break them in half for smaller breeds.
Plus, they're loaded with Omegas, DHA, and other great nutrients that support your pup's health.
The flat style makes them a great fit for puzzle games, too.

Blue Buffalo Wilderness Trail Treats Wild Bits Grain Free Soft-Moist Training Dog Treats, Duck Recipe 4-oz bag, Model:800068
Packed with real Duck: made with more of the delicious Duck your dog loves, Blue Wilderness Wild Bits are the soft-moist and meaty treat made to satisfy their wild side.
Made with DHA: an important fatty acid found in mother's Milk, DHA helps promote cognitive development in canines.
Wholesome ingredients: made with Omega 3 & 6 fatty acids, These dog training treats are more than just tasty, they're healthy too!
Grain free dog treats: featuring only the finest natural ingredients enhanced with vitamins and minerals, Wilderness dog treats are grain free and contain no chicken (or poultry) by-product meals, and no corn, wheat or soy.
Contains (1) 4-oz bag of Blue Buffalo wilderness trail treats wild Bits high protein Grain free soft-moist training dog treats, Duck Recipe
8. Wellness WellBites Grain-Free Lamb & Salmon Recipe Soft & Chewy Dog Treats
Another favorite option from Wellness, these are pricey, but worth it in my opinion.
They are rather large for a Yorkie. In fact, they're large for my bigger dog!
However, they're super easy to break into quarters, so a bag will actually last you a while.
Lamb and salmon are also great for dogs prone to allergies.

Wellness WellBites Grain-Free Lamb & Salmon Recipe Soft & Chewy Dog Treats, 6 Ounce Bag
MINI CHEWY TREATS: These delicious, grain free soft dog treats are made with two kinds of fresh meat for a flavor and texture your dog will love; they're great for everyday treating, training or snacking
ALL NATURAL: These moist and tasty treats are made with whole fruits and veggies including superfoods like blueberries and sweet potatoes for a naturally craveable flavor and a boost of antioxidants
THOUGHTFULLY MADE: We craft delicious treats with simple, natural, high quality ingredients chosen for their nutritional benefits; no meat byproducts, artificial colors, flavors or preservatives
FIND THE RIGHT TREATS: From puppy to senior, small dog to large breed, crunchy to chewy, grained to grain free, treating to training, we've got an all natural recipe for every dog's needs and taste
WELLNESS NUTRITION: Created by nutritionists, veterinarians and animal lovers, our recipes provide an ideal balance of nature's finest ingredients, carefully selected to nourish and sustain your pet's wellbeing
9. Bil-Jac Little-Jacs Small Dog Chicken Liver Training Dog Treats
Bil-Jac was actually the very first training treat brand that I ever tried. They've been around forever, so I trust the name.
This particular recipe is designed just for the little guys, making it a fantastic Yorkie training treat option.
The company was started by a WWII veteran who worked to create better nutrition for German Shepherd bomb-sniffing dogs.
Their treats never contain gluten meals, soy or added rendered fat.

10. Natural Balance Limited Ingredient Diets Mini Rewards
For dogs with allergies who need a limited ingredient option, Natural Balance offers up a tasty yet affordable treat.
They're tiny enough to give to your Yorkie puppy without breaking them in half.
However, they do have 5 calories per treat, which is a bit more than others above (the average among those is 3 calories).
Natural Balance treats are made Canada with zero grains, artificial colors or flavors.

Sale
Using Human Food as Training Treats for Yorkie Puppies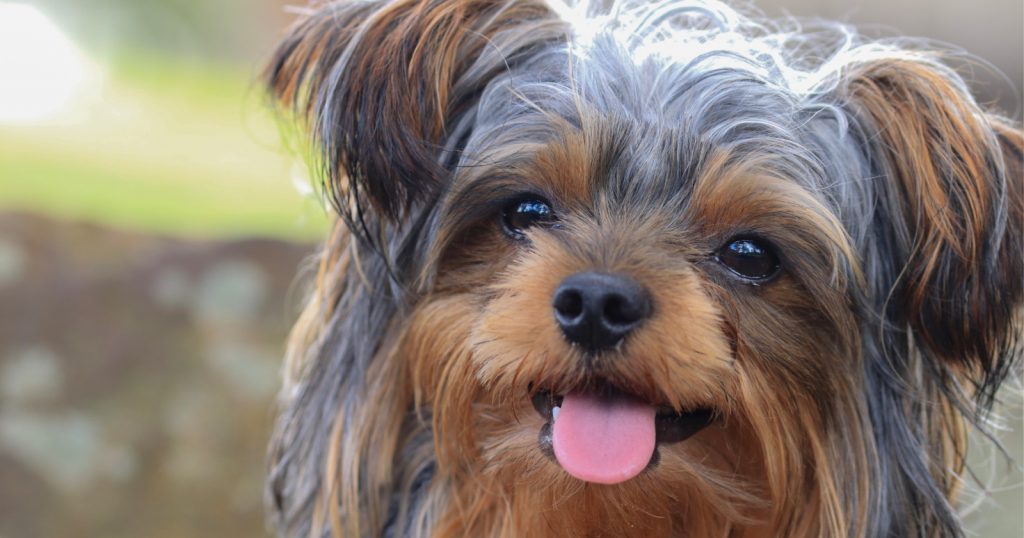 Of course, you don't have to buy specific training treats for Yorkie Puppies. There are some great human foods that you can try, too.
Just remember to keep the portions tiny- about the size as the treats above, and take allergies into consideration, of course.
For each idea, imagine the words "cut into very small pieces" after. It's less redundant than me repeating it over and over.
Carrots and green beans
Chicken hot dogs – sparingly
Cooked chicken breast
Cheddar cheese
Homemade jerky (literally just meat that you dehydrate in an over or food dehydrator)
Final Recommendation
Obviously, I like all of the above or I wouldn't include them.
However, if you want to pick just one to start with, I highly recommend Zuke's.
Remember, the best training treats for Yorkie puppies are those that take their size, calorie needs, and allergies into account.
Keep those things in mind and you'll have no problem choosing just the right reward.
What are your favorite training treats for Yorkie puppies? Share below!