Need to know how to potty train a pitbull puppy?
Don't worry, it's actually a lot easier than you might think!
Read on to learn why it's not all that challenging.
Then, get tips on how to do it!
You may also love: 6 Secrets to Training a Pitbull Puppy Not to Bite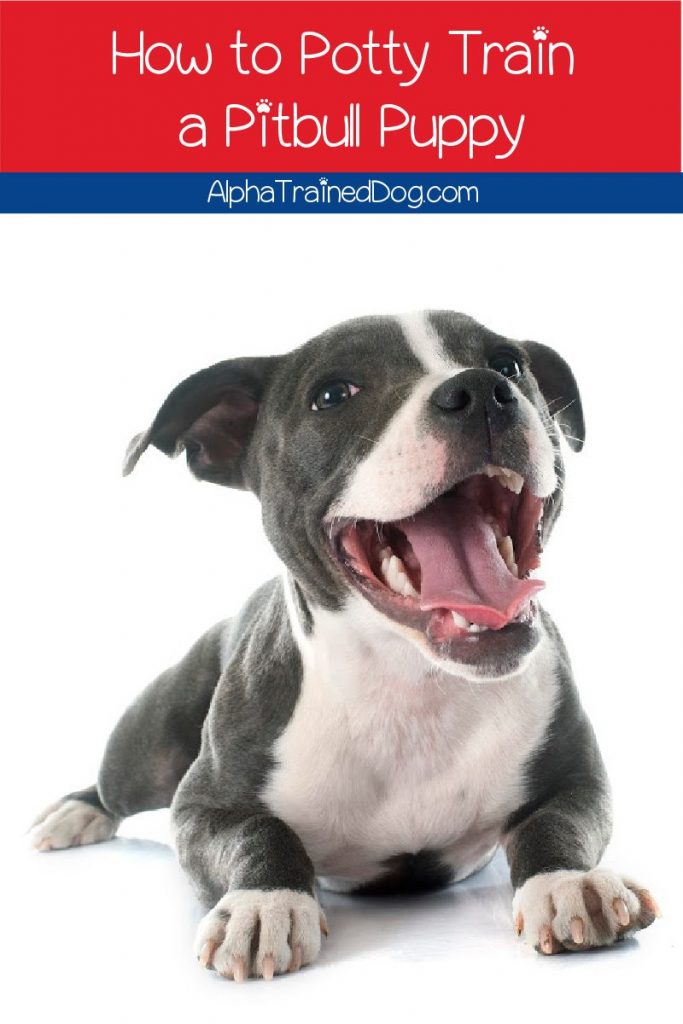 How to Potty Train a Pitbull Puppy – Don't Worry, It's Easy
Potty training a pitbull puppy – any sort of training for Pitbulls – is often seen as more difficult than training other dogs.
Why this opinion exists is anyone's guess, although I'm inclined to believe it comes from people who have never had or interacted with Pitbulls, assuming that because of their power, they're more difficult to train.
However, the reality couldn't be further from the truth.
Potty training any puppy does, of course, require a lot of patience and repetition, but potty training a Pitbull puppy is no more difficult than training any other puppy.
In fact, it can sometimes be easier.
Training Pitbulls Isn't Difficult
Pitbulls get a bad wrap.
From attacks the result from improper training and socialization or "training" dogs to be guard dogs to dog-fighting that produces Pitties that are too aggressive to be rehomed, Pitbulls have had it bad.
This undeserved reputation has led to a belief that Pitbulls are dangerous and untrainable.
That is so far removed from the truth. Pitbulls are actually easy to train.
These guys are eager to please their owners, highly energetic, and greatly motivated by both food and praise.
They're a dream to train when you get down to it. Pitbulls are also smart, so that makes it even easier.
In fact, Pitbulls are so easy to train that they do well in advanced training and dog sports.
Their energetic nature and desire to please, when combined with positive reinforcement and lots of it, come together to make for a training experience that is ultimately one of the easiest out there.
Potty Training a Pitbull Puppy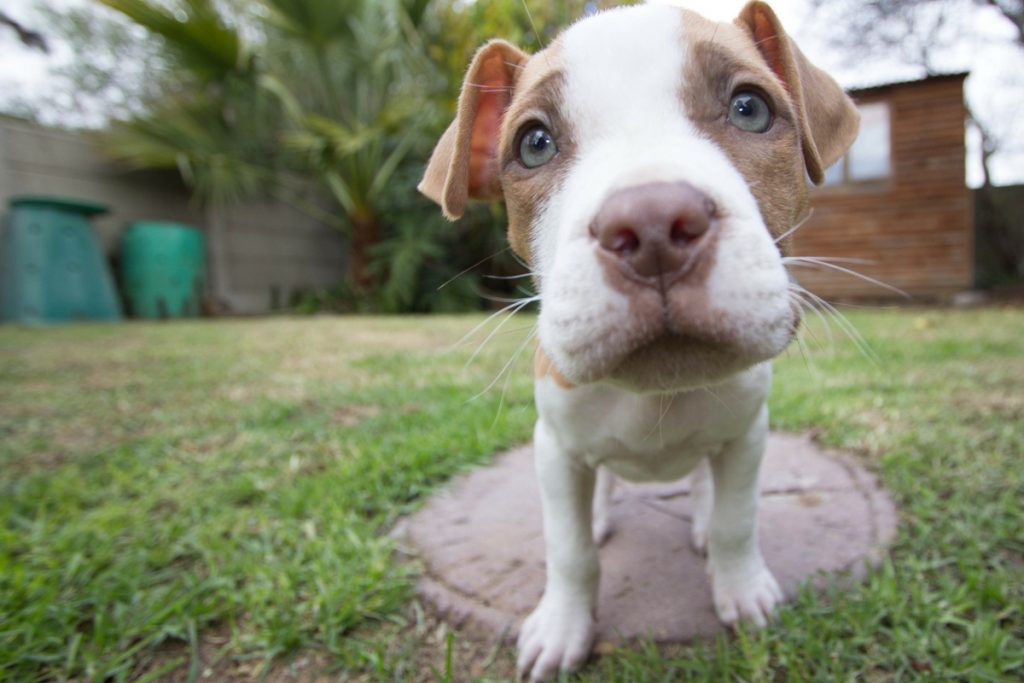 Although Pitbulls are eager to please and respond well to positive reinforcement, it's important to note that with all puppies it can take from 4 months to a year in some cases for them to fully master potty training.
However, we have an edge with Pitbull pups.
They may be young, but they are still smart and eager to please.
So we'll be using that to our advantage. 12 to 16 weeks of age is the ideal time to begin potty training.
At that point, our pups are old enough to learn how to hold their bladder.
Keep Them Confined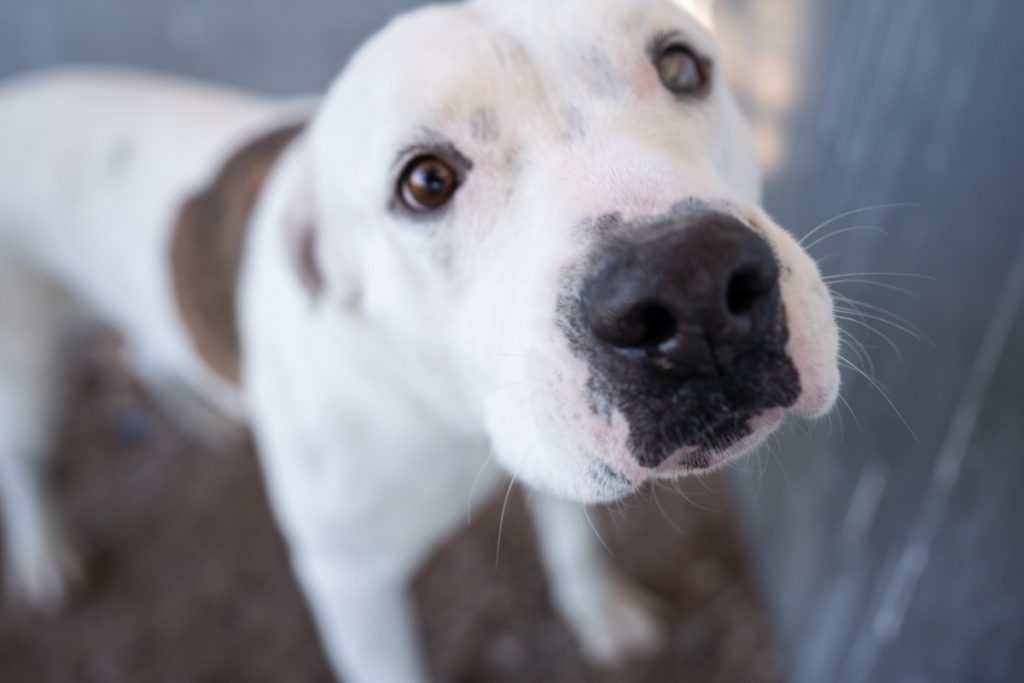 Puppies of any breed need to slowly learn how to control their bladders and bowels, allowing them to hold it until they can go out to potty.
As this process is happening, it's important to keep them confined to a small, easy to clean area, slowly allowing them more access to the home as they become better and better at their training.
A bathroom or tiled kitchen are both excellent options.
Set a Feeding Schedule
When potty training a pitbull pup – or any pup, really – setting a schedule is vital. keeping your pup on a feeding schedule serves a few purposes.
First, it helps to establish your role as your pit's provider.
Secondly, that role helps to reinforce in his mind that pleasing you is a good thing.
Finally, a feeding schedule makes it easier to ensure that there are as few accidents as possible during the potty training process
Set a Potty Schedule
This is more of a frequency schedule than a time table.
Immediately take your puppy out to go potty when he wakes up in the morning, after a nap, and after meals.
Also, take him out every thirty minutes to an hour between meals or naps.
Always take him out immediately before bedtime, as well.
Watch for Signs That Your Pup Needs to Go Potty
Even with all your scheduling, your pup's bladder or bowels might decide to throw you a curveball.
So in between feedings and outings, be aware of the signs that your puppy needs to go potty so you can get him out there before he makes a mess in the home.
Signs that your Pittie needs to eliminate are:
Circling
Extra Sniffing
Barking
Scratching at the Door
The Power of Praise When Potty Training a Pitbull Puppy
Praise and treats are your most powerful tools when it comes to potty training with any dog.
However, it's especially with a breed who is so eager to please like a Pitbull.
Pitbulls are so eager to please their owners, and heaping praise upon them is sometimes more powerful than treats.
Pitbulls practically feed on positive reinforcement, so when your Pittie pup does his business in the right spot, make it a huge event.
The biggest event. The main event. You'll see that your pup can't get enough of it.
Avoid all Negative Reinforcement
You should never scold, yell, or otherwise punish your puppy for having an accident.
To begin with, potty training is not natural for your pup.
It's important to remember that. Secondly, it doesn't work.
Dogs don't understand negative reinforcement. It only serves to make them fearful and timid.
Instead, if your pup has an accident, clean it up quickly and thoroughly with no emotion whatsoever – good or bad. Make it as much of a non-event as possible.
This is especially true when potty training a Pitbull puppy.
They respond more readily to both positive and negative reinforcement.
A Pitbull with lap up positive reinforcement, but he will also soak up the negative, leading to a fearful, timid dog.
Never use any form of negative reinforcement.
Practice Patience
Remember, it can take from four months to a year for a puppy to master potty training, so it's key that you maintain your patience.
Don't allow your frustration to bubble up. Instead, remember the goal, and that becoming cranky about it will only derail any progress you've made.
Remain diligent about his feeding and potty schedule and continue to praise his successes and ignore his mistakes.
While praise is his best friend throughout this process, patience is yours.
Final Watch-Outs for Potty Training a Pitbull Puppy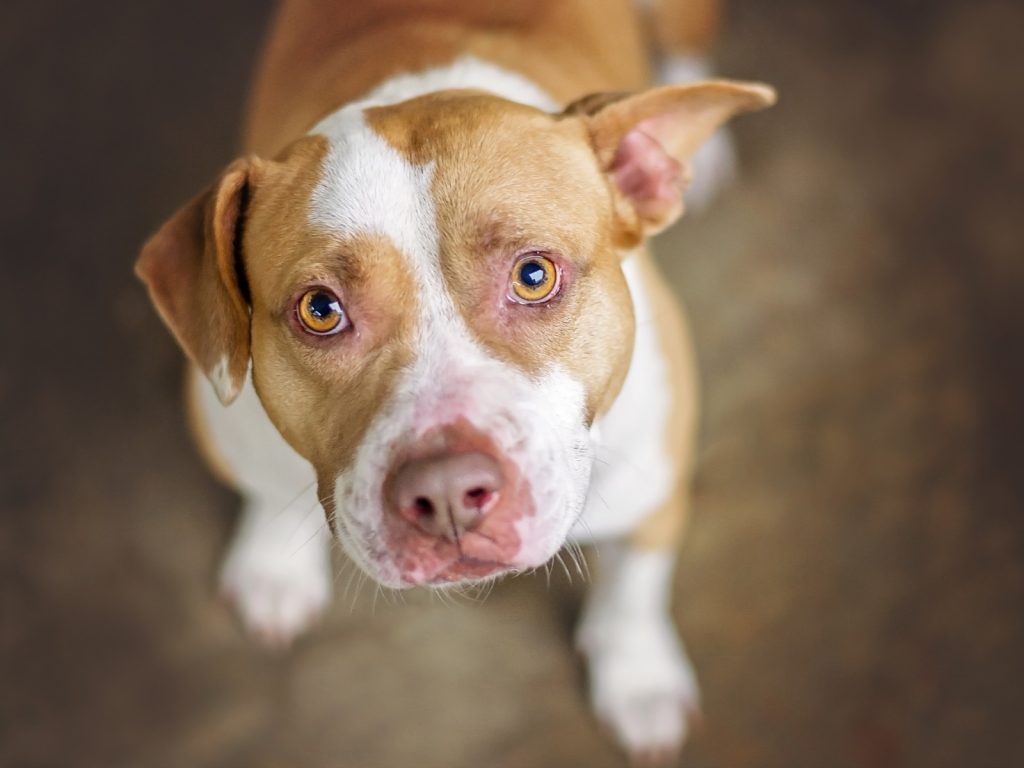 Before we close, let's go over some final watch-outs for training a Pitbull puppy.
Never punish or otherwise use negative reinforcement when training.
If you catch your puppy in the act, clap loudly to distract him from going potty, then immediately take him outside.
Never rub the puppy's nose in an accident (a common myth). It doesn't work.
Stay out as long as you need to for your puppy to go potty.
Use an enzymatic cleaner to clean up accidents. It helps remove potty odors.
Potty Training a Pitbull Puppy When You Approach it Correctly
Potty training a Pitbull puppy is easy to do if you know how to do it.
These pups are eager to please, more so than some other breeds, and you can use that to your advantage.
Practice positive reinforcement, constant praise, and lots of patience, and you'll find that your potty training experience will go surprisingly smoothly.
Do you have any other questions about or tip on how to potty train a pitbull puppy? Share below!