Can a dog be trained to go potty both outdoors and indoors?
It's a valid question, especially if you work outside the home and need to paper train your pooch for certain hours of the day.
The good news: yes, it's entirely possible.
The bad: it'll take a lot more work and patience on your part.
Let's find out how it can be done!
First, though, let's look at why you'd want to do it in the first place!
Why would you want to do it?
If you're wondering "why would I want to train a dog to go potty both outdoors and indoors," then I'm guessing you've never been in a situation where it's necessary.
In an ideal world, we'd all work from home where we can spend every waking hour with our pups.
We'd never have to train them to go potty indoors because we'd be ready and waiting to walk them at all times.
Alas, we don't live in an ideal world and the vast majority of dog owners work outside the home.
If you're thinking, "So, hire a dog walker," keep in mind that not everyone has access to a dog walking service (or even a willing neighborhood teen).
Bottom line, there are times when it's just easier to train your dog to go potty both outdoors and indoors. Some examples include:
People who work all day outside the home
Those who live in high-rise apartments (by the time you get to the ground floor, your puppy will have peed all over the elevator!)
Owners of dogs with major noise-related anxiety (try getting them to pee outside in a thunderstorm!)
Those with elderly dogs who can't always make it outside.
So, if you're one of the people who absolutely needs to train your dog to potty outside and inside, how do you go about doing it?
Let's find out.
Training a Dog to Go Potty Both Outdoors and Indoors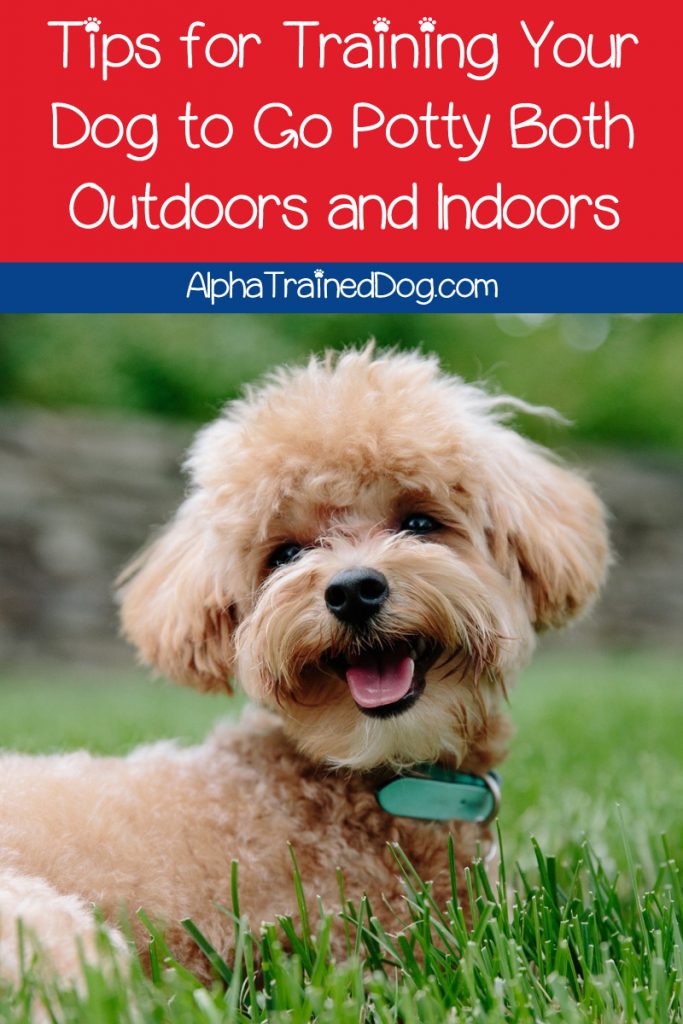 Finding tips on training a dog to go potty both outdoors and inside is definitely a challenge!
For the most part, training sites and forums will say, "pick one or the other" and then give you a diatribe on why.
It makes you want to shout, "If I wanted to know which was better or how to do just one, I would have asked that instead!"
Don't worry, I'm not going to do that to you! I will say that, yes, it's better to pick just one.
However, since you asked about both, I'm betting you need to do both!
Here are some tips that will help make the job a whole lot easier.
*This post contains affiliate links. If you make a purchase through these links, we earn a small commission at no extra charge to you. 
1. Choose your spots wisely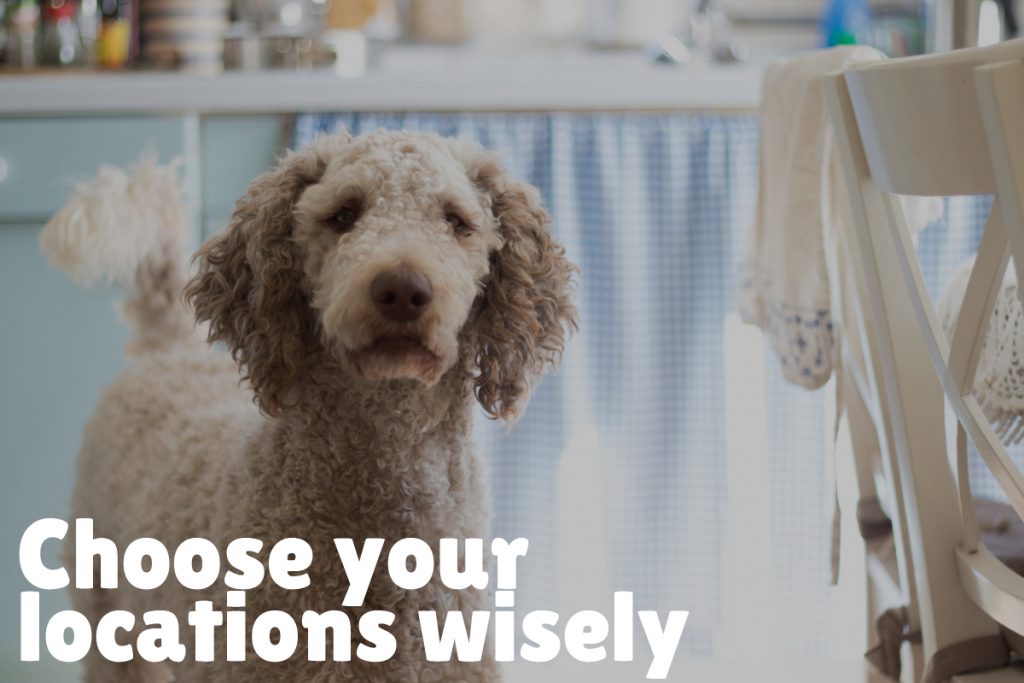 First things first: decide where you want your dog to go potty both outdoors and indoors, then stick to those spots!
For example, maybe you want him to go under a specific tree outside and a specific corner of the room inside.
In both cases, you'll want to choose an out-of-the-way spot.
The only thing worse than stepping in dog poo in the middle of the night while wearing shoes is stepping in it in your socks! Been there, done both!
2. Choose your indoor "potty solution" (and stick to it)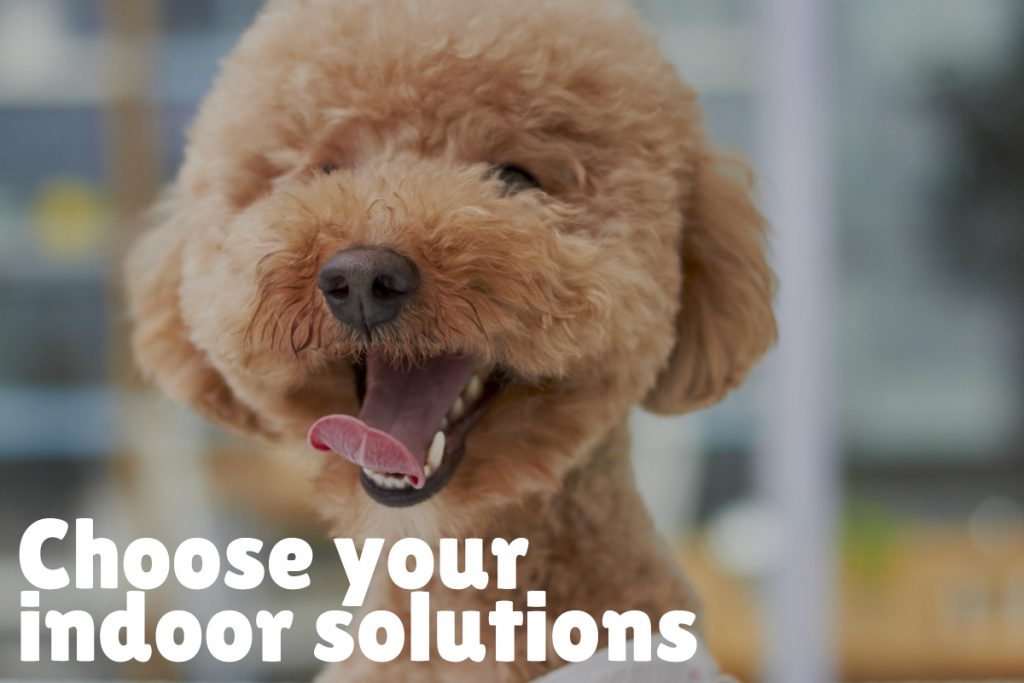 By that, I mean what they'll be going potty on. Once upon a time, we just used newspapers.
Now, though, there are a million and one different products for indoor puppy potty training! A few of the most popular include:
Disposable Puppy Pads
Puppy pads are probably the most popular option because they're relatively cheap (depending on the brand) and easy to dispose of.
They typically have a gel core to lock urine away. I've used them for an elderly dog who couldn't always make it outside and the top dries fairly fast.
You can find them just about anywhere, including grocery stores. I like the AmazonBasics brand, though.
Reusable Puppy Pads
If you like the concept of the disposables but prefer something more eco-friendly, try reusable puppy pads.
While you can buy some made "just for dogs," save your money and just buy hospital incontinence pads. They're the exact same thing.
Fake Grass
Since you're training your dog to go potty both outdoors and indoors, I recommend fake grass, like Fresh Patch or something similar.
It's just less confusing for a dog who's also pottying on grass outdoors.
Whatever you choose, it's important to stick to it! Consistency is super important while potty training a puppy.
3. Create a reliable routine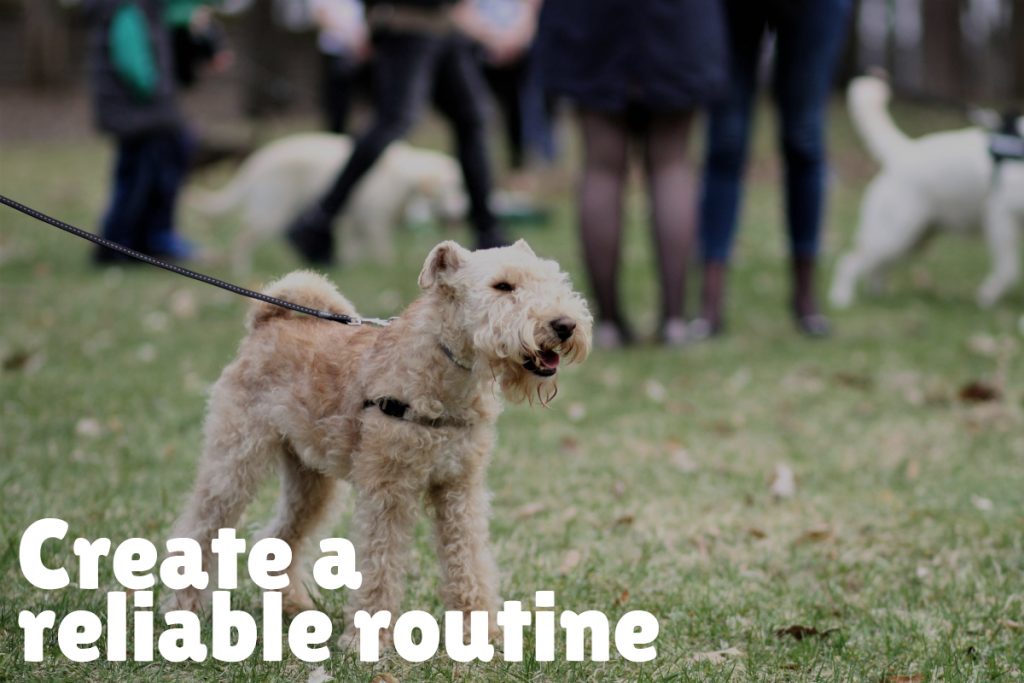 Puppies thrive on routine, especially when they're learning where to do their business.
As you devise your routine, ask yourself:
At what times do I want him to potty outside?
At what times do I want him to potty inside?
Now create a daily routine based around those answers. Note the word "daily," as in every single day.
If you need him to use the puppy pads Mon-Fri from 9-5, then you'll need to also let him use them on Saturdays and Sundays! After all, Fido can't read a calendar!
4. Bring the indoors outside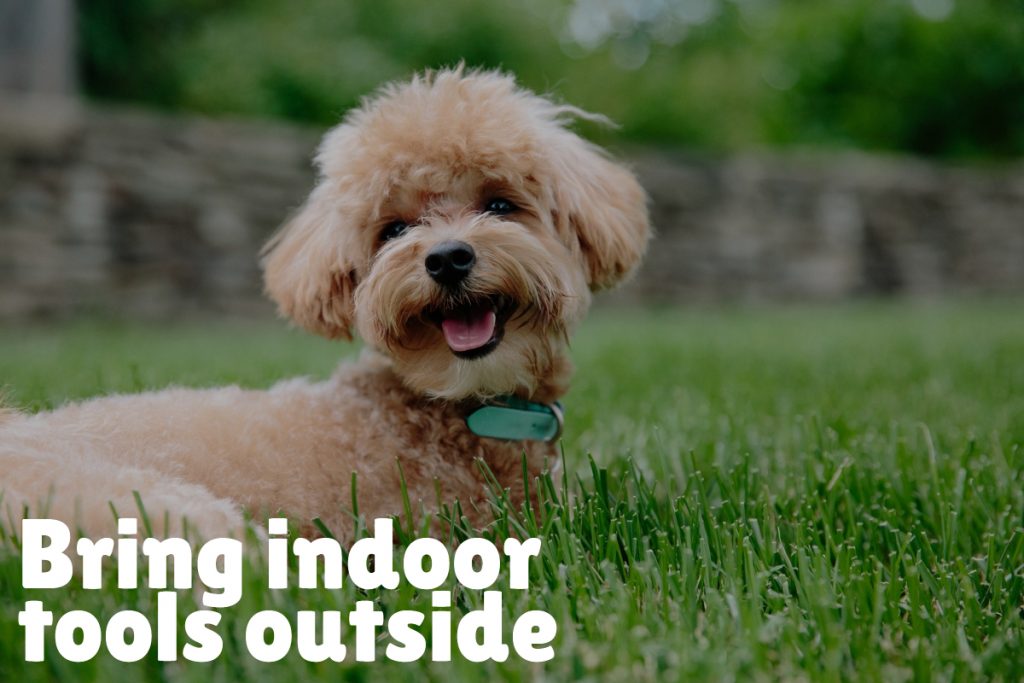 It's easier for a pup to get used to going potty inside and outdoors if he has the same spot to go on in both places, if that makes sense.
In other words, if you're using puppy pads inside, take a few outside with you for him to use.
Eventually, you'll be able to wean him off using both, but for now, it just makes things so much easier.
5. Be patient and reward, reward, reward!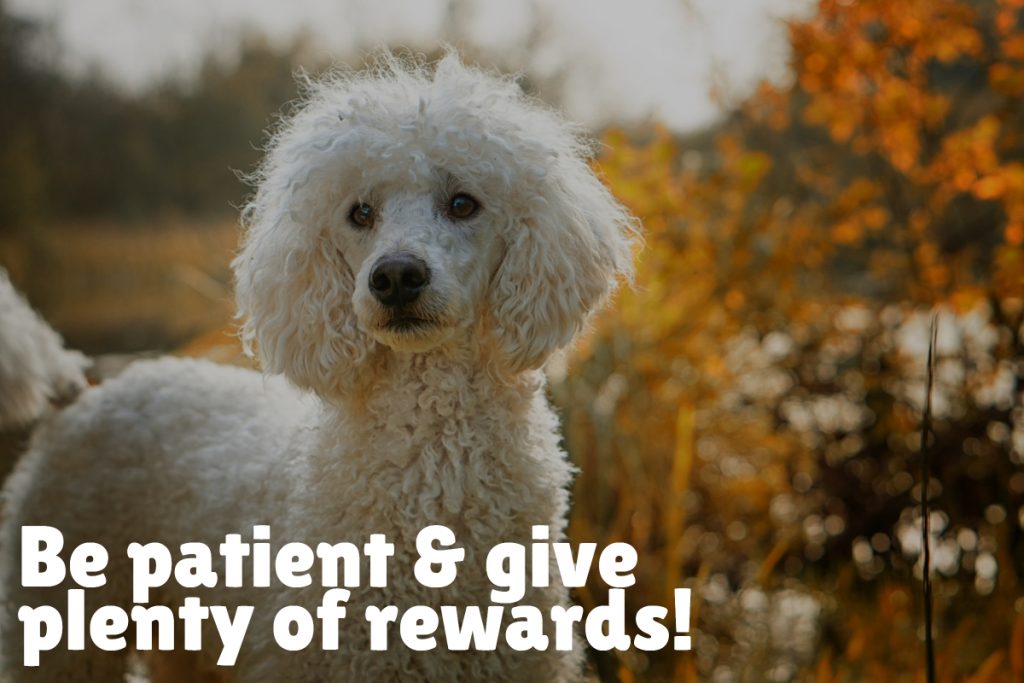 Most important of all, be patient! Potty training in general is a trying time in a new dog owners life.
Trying to simultaneously indoor and outdoor train adds to the challenges.
Keep rewarding your dog when he gets it right and he'll be trained before you know it.
Never, ever, ever punish him when he gets it wrong, though. It's cruel and it doesn't really work.
Have you ever trained a dog to go potty both outdoors and indoors? Share your tips below!