Knowing how to choose the best training collar for a Siberian Husky is every bit as important as knowing how to choose the best Husky harness.
After all, one can't work without the other!
So, below, we'll take a look at some tips on deciding which training collar to try.
We'll also look at some of the best examples of each.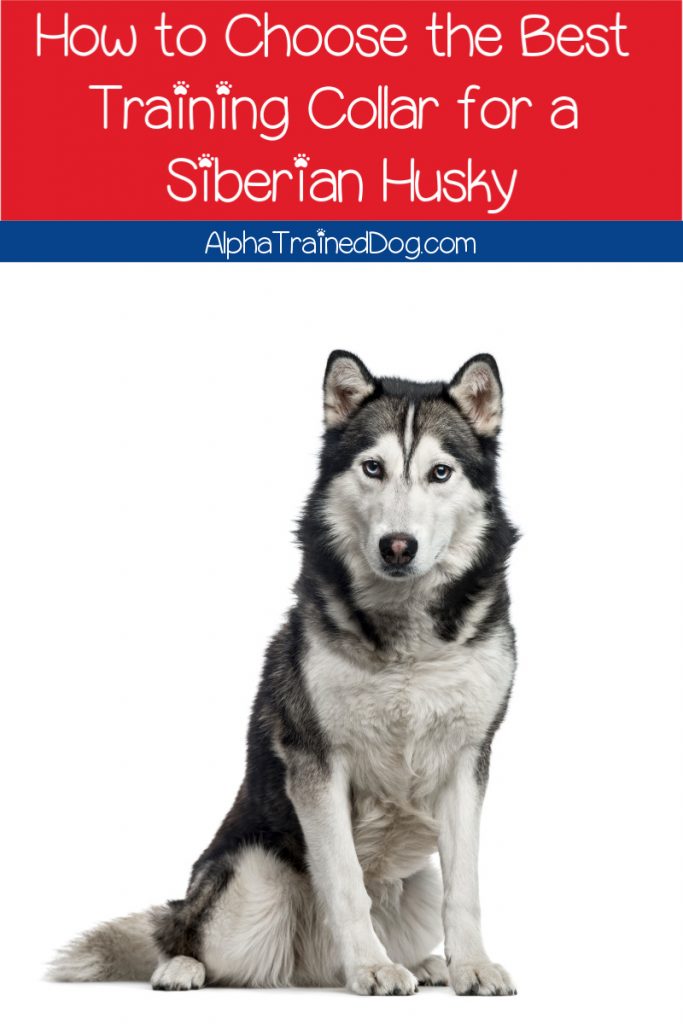 How to Choose the Best Training Collar for a Siberian Husky
When it comes to training collars, your options can get a bit overwhelming.
Do you go with a Martingale or a halter style? A vibration or shock collar? Nylon or leather? The "this or that" options go on and on.
Here's the thing- they're definitely not all created equal. Choose wrong, and at the very best you'll end up with an ineffective collar. At the worst, an aggressive or escaped Husky!
Whoa, that's a lot of pressure for something so small, right? Let's break it all down and take a look at some of our options.
We'll go over the pros and cons of each, then I'll share one that I think qualifies as the best Husky training collar in its category.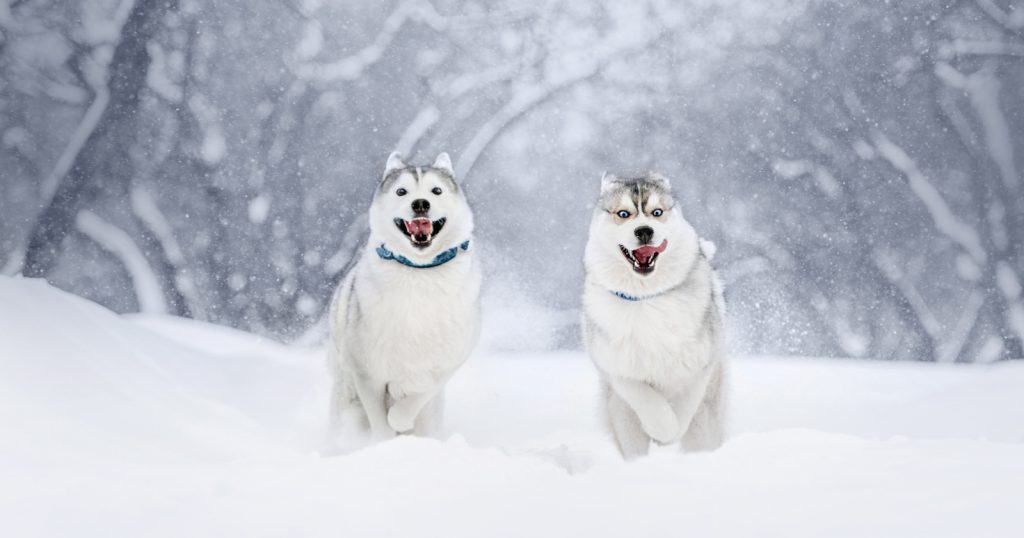 Types of Training Collars for Huskies
The types of training collars for huskies include Flat collars (the standard buckle collar), Martingales, head harnesses, choke collars, pinch collars and electronic collars.
Note that I said "the types" there, and not "the best types." So, let's get the worst options out of the way first, then we'll finish strong with your best choices.
Worst Training Collars for Huskies
We'll put this in order of "least worst" to "absolute worst."
Choke collars
Choke collars are exactly what they sound like, collars designed to give your dog's neck a quick choking feeling if he's pulling too hard (or if you, as the owner, give it a yank).
They're typically made of chain link material, which obviously has no give. While some feel this type of collar can be used correctly, most proponents of positive training methods warn against it.
If you do decide that this is the right collar for your Husky, talk to a professional trainer about the best options and right way to use one.
Pinch or Prong Collars
These collars are like choke collars on steroids. Instead of giving your dog a quick choke, prongs actually push into your dog's neck when he (or you) pulls too hard.
While they were favored by dog trainers because they worked with less force than a traditional chain choke collar, that's actually why they're worse.
They give your dog a very small margin of "error."
As Snow Dog Guru explains, pinch or prong collars are no longer used by experts, and they don't recommend that you try it.
"It can cause damage to the dog when used incorrectly and it's easy to use incorrectly," they say.
Shock collars
Often, when someone says "training collar," our minds go to shock collars. I don't know when so-called "e collars" became the standard go-to for training a dog.
In my opinion, shock collars should be a last resort. In fact, even then, I'm not fond of them. They're banned throughout parts of Europe and the US for a reason.
Furthermore, studies show that they can actually create more problems than they solve, including creating an aggression problem.
That said, if you're "heck-bent" on using one, I will share a recommendation for a vibration/shock collar below. It does have shocking features (literally and figuratively), but also offers other options.
Consider it my attempt at unbiased writing, even though I am very biased against any dog training that uses pain and punishment instead of positive reinforcement.
Okay, enough of that, let's take a look at the best training collars for Siberian Huskies!
Best Training Collars for Huskies
So, I'm going to make things confusing just one more time and say that the absolute best training collar for a husky isn't a collar at all, it's a harness.
Harnesses just give you more control over your dog while also reducing the chances of hurting his throat with ill-fitting collars that pull or drag.
We talked about those already, though. I'm going to assume that you've already read that and know that your dog is ready to move onto a training collar.
In that case, the best training collars for huskies include the Martingale, flat and, in a few circumstances, a vibration collar. In that order. Let's take a look.
Martingale Collar
The Martingale is what I use for my dog. Even though she's not a husky, she is a very strong dog with the same instinct to run.
At first glance, the Martingale does look kind of like a fabric choke collar.
It slips over your dog's head, rather than buckling into place, and it's made of overlapping materials.
When your dog pulls, it does tighten, much like a choke collar.
Take a look at the video below for the right way to use one.
PROS
They apply gentle pressure when your dog pulls, but they won't choke or hurt her.
No prongs, hard buckles, or anything else that can damage your dog's neck and throat.
They're typically made from soft materials that won't irritate your dog's skin.
Slips over the head, so it can't accidentally unbuckle.
CONS
No margin of error for ill-fitting collars, so you have to know what you're doing when you measure your dog for one.
Doesn't give you much control over a super strong puller.
Never leave it on your dog unattended, as it doesn't break loose if it gets caught on something.
No quick release feature. We almost had to cut my dog out of one because she got it into her mouth and got stuck
RECOMMENDATION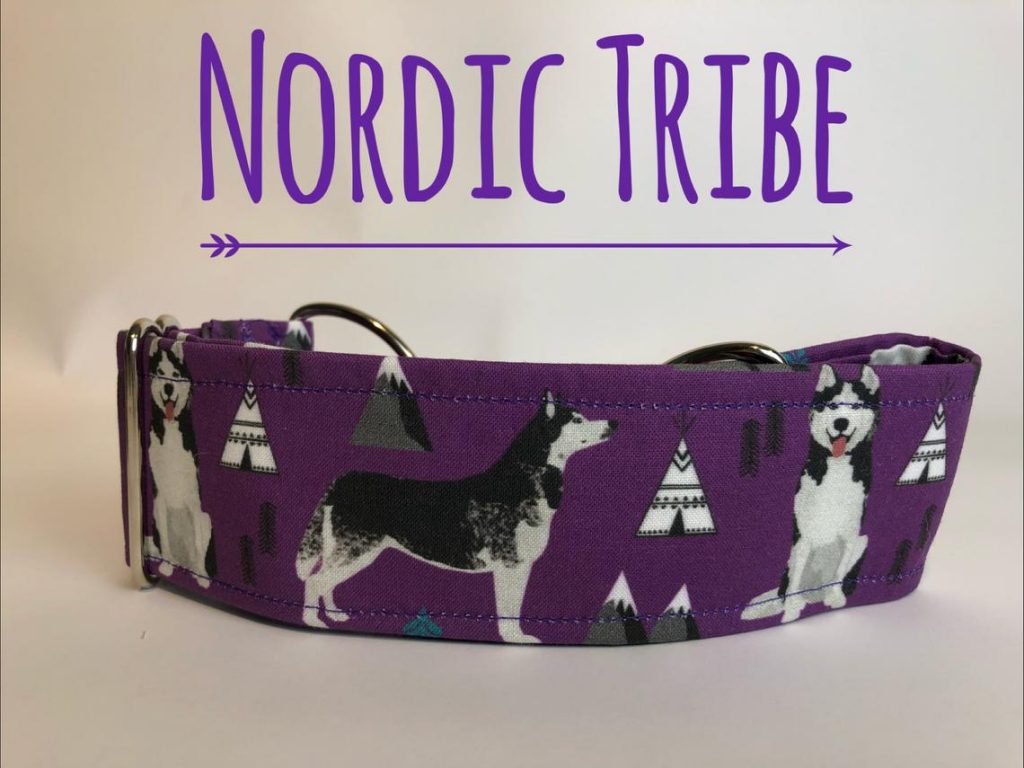 My Martingale was made just for my dog's breed (Pharaoh Hound) by an Etsy seller that no longer exists. For a Husky, I like this one from CampCarlson.
It comes in several styles and two sizes, plus it's super cute! Not important, I know, but still…

Flat Collar
The flat (aka rolled) collar is the standard collar that comes to mind when you hear the word.
Put in other words, if you go to a pet store, this is the collar taking up the most space on the shelves.
Pros
They're the most affordable, with prices starting at just a few bucks (designer collars can get pricey, of course).
Easy to attach to the leash
Easy to release in an emergency, just click to unbuckle.
Typically retain their shape. In other words, they won't stretch out.
Cons
Easier for dogs to escape, since buckles can fail.
Fighting (or even just playing) dogs can get caught in each other's collar.
Buckles can put pressure on your dog's throat.
One study showed that the pressure of flat collars can even create or worsen eye conditions.
Recommendation
I've used flat collars in the past for my other dogs, one of which had Husky in her. They worked fine for me, BUT with one condition.
We only used them for outings. When they were home, we took them off.
Why? Because of con #2. Tasha and Maia were playing one day and got caught in each other's collar.
Had we not been home, they would have died.
If you decide this is the right collar for you, I like Blueberry Pet. They offer a ton of colors, sizes, and styles.
Sale
Blueberry Pet Essentials 21 Colors Classic Dog Collar, Dark Orchid, Medium, Neck 14.5"-20", Nylon Collars for Dogs
【 AWARD WINNING BRAND 】America's Best Petcare Brands 2022 & 2021 Award by Newsweek Magazine and Statista
【 SIZE 】Neck 14.5"-20", Width 3/4", Size Medium; All pictures are taken with our production samples from a size of Medium; Please always look at the size chart and measure your pets carefully for the right purchase
【 MATERIAL 】Collar - high-density nylon webbing; Buckles - eco-friendly plastic; D Ring - chromed steel
【 CARE 】Wipe to clean; The collar is not for tie out, NEVER leave your dog unattended with a collar on; The collar does not stretch itself, please leave ONLY 2 fingers between collar and dog neck
【 MATCHING SET 】Matching leash (B00HRQGT3M) /harness (B01MXE5IX3) /seatbelt (B073W8BZR4) are available separately; It also can be customized, please search B07438DHZD
Vibration Collar
First, let me be clear- vibration collars are not shock collars. Some vibration collars have shock options and vice-versa, but you do not HAVE to use them.
Vibration collars are often used by owners of deaf dogs. In that way, they're kind of like a clicker that says "yep, that's right."
They can be used for correction as well. A vibration startles your dog long enough for you to give him feedback, such as a firm "no."
PROS
Multiple levels of vibration.
Some also come with tone correction options as well (such as beeps)
Pain-free as long as you use it right.
Most include a remote, making them useful for off-leash training.
CONS
Although pain-free, it's still a type of aversion training collar.
The prongs can be irradiating to your dog's skin.
You must follow up with a command, otherwise your dog can't learn what you want.
Pricey
Recommendation
I recently learned about Pet Resolve and it's become my top recommendation for a vibration collar.
I like it because you can completely remove the prongs and because it also has tone features.
That said, I'd still go with one of the other options first.
Personally, I could never use this type of collar, as my dog is super sensitive. Even a gentle vibration would freak her out.
Remote Dog Training Collar,Night Light,Removable Shock,Vibrate,Anti Bark,Beep Mode - Hunting Standard ¾ Mile Long Range Waterproof E Collar,Train 3 Dogs if Extra Collars Bought,Big,Large,Medium 15lbs+
🐾 FANTASTIC NEW UPGRADE SINCE MAY= 4.7* + EXTRA LONG & REMOVE THE SHOCK PRONGS + NO STANDBY MODE ALWAYS READY + ANTI BARK & LIGHT NIGHT MODE! Is your dog misbehaving and you want a well behaved pet with minimal fuss? The Pet Resolve system is the perfect solution to train upto 3 dogs for a range of desirable behaviors. Don't let your dog get side-tracked by other animals or misbehave in public. Teach your canine companion how to act properly with arguably the top training collar on the market!
🐾 SUPER LONG RANGE AND MEMORY; forget other dog training collars which use cheap plastic that breaks when you drop it and are designed for small spaces and yards, our e collar dog training system is of the highest quality and has a super long 3/4 Mile range (1312 yards suitable for hunting dogs) for easy outdoor training covering the widest areas! You certainly get what you pay for with training collars and unfortunately most cheap collars won't last long!
🐾 VARIABLE SHOCK & VIBRATION LEVELS, ANTI BARK & LIGHT for NIGHT MODE; train up to 3 dogs at once (additional collars required) with up to 10 levels of continuous or momentary shock (hold down button to shock for 1 up to 8 seconds, ideal for emergencies!) vibrations, or beeps, for safe, efficient training, allowing you to teach your dog a range of commands. Sometimes it only takes one click of a button to completely change the behavior of your dog and the vibration button does the job for most!
🐾 WATERPROOF CONSTRUCTION; does your dog love to run outside or swim? Unlike cheap collars, our training system is completely waterproof (remote splash proof) and can be fully submerged without damage! Most other collars fail in the rain, we provide shock collars dogs can actually swim in all year round! It's worth noting that this collar doesn't go in to standby mode like most, meaning that it's ready to use when you actually need it!
🐾 ULTRA LONG LASTING BATTERY & WARRANTY for LARGE, MEDIUM AND SMALL DOGS OVER 15LBS; our training collar is powered by a super high capacity rechargeable Li-ion battery, fully charged in 2 hours (Charge above 32 fahrenheit in the house) , for long lasting training without having to constantly change batteries! You also get a warranty included no questions asked and World Class Customer Service!
While you have to decide what's right for your dog, in my opinion the Martingale is the best training collar for a husky.
We've had great success training our own stubborn runner with it!
They're affordable, stylish, and gentle.
What about you? Do you have a different opinion on the best training collar for a Husky? Share below!