What are the best training collars for stubborn dogs?
The answer depends entirely on what type of training you're trying to accomplish.
I can tell you one thing, it's probably not what you think it is!
Read on to learn about the best and worst collars to use on your strong-willed pooch.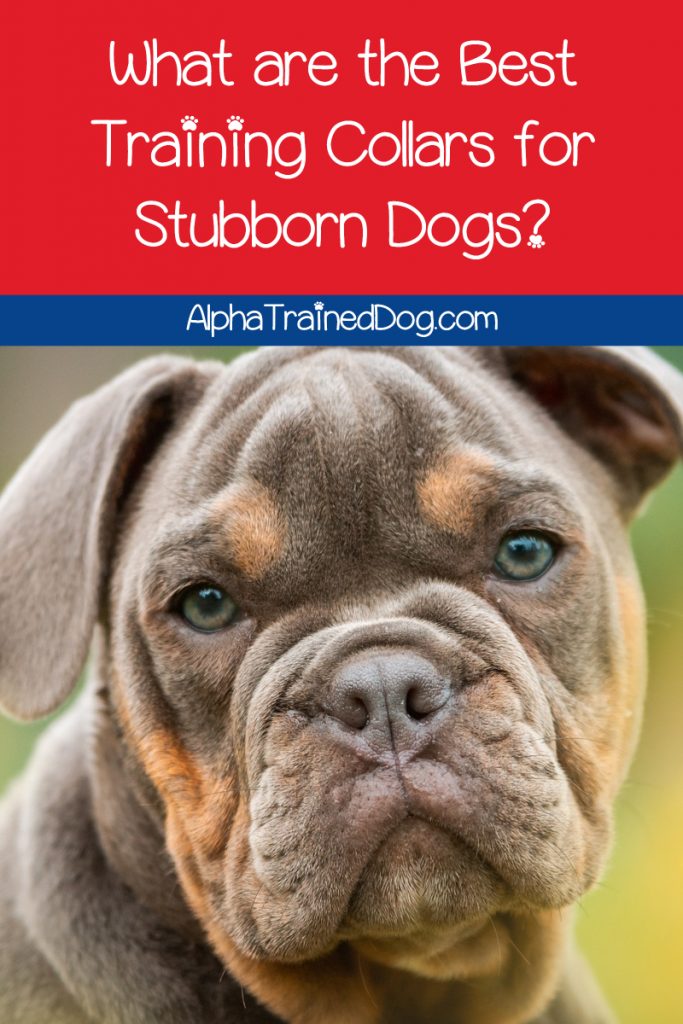 What Are the Best Dog Training Collars for Stubborn Dogs?
If you search "training collars for stubborn dogs" on Google or Bing, nearly the entire first page of results is filled with remote dog training collar reviews.
While not ALL remote training collars are shock collars, the vast majority of them are.
Even those that promise a pain-free training experience use aversion techniques.
In other words, they shock, startle, or scare your dog into stopping unwanted behavior rather than reward him for doing what you want.
So, what are the best collars to use? In order of preference from the most humane down:
Martingale Collar
Gentle Leader
Vibration Collar
Let's explore each one closer, along with my recommendation for the best in each category.
You'll notice that the last one is an aversion-based collars. While they're not my top choices, I know quite a few trainers feel they're the best way to stop unwanted behavior.
So, rather than ignore them entirely, we'll look at the most humane options. Then, later on, we'll talk about the right way to use them should you choose to do so at all.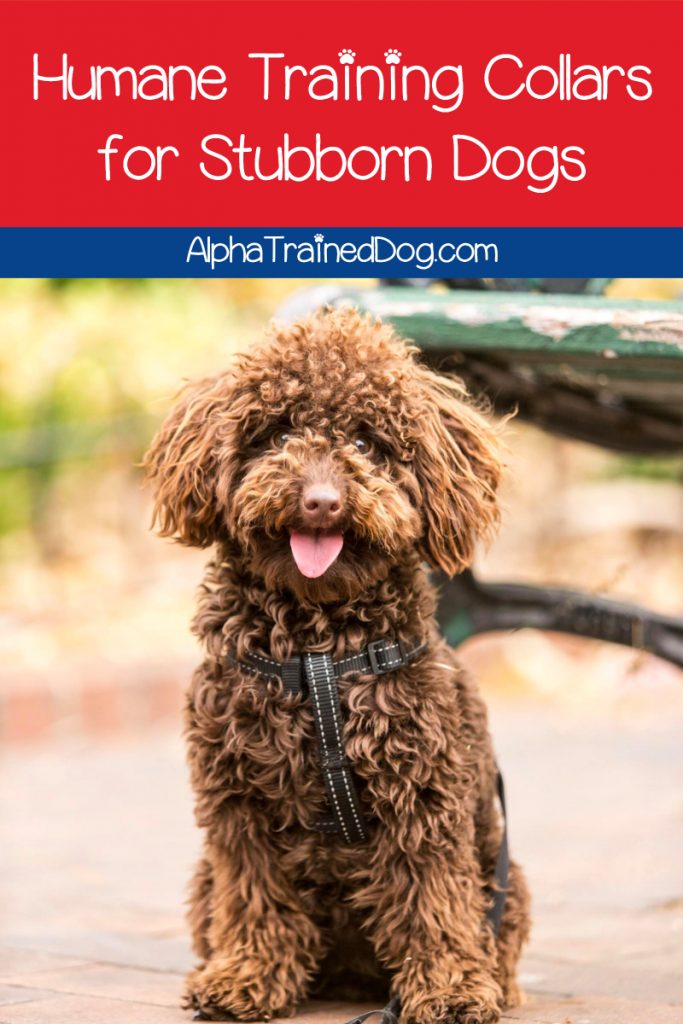 1. Martingale Collar
At first glance, the Martingale looks like a choke collar. Don't worry, it's not. At least not if you buy the right one.
We use this type of collar for my Pharaoh Hound right now. They were actually designed for sighthounds, but became popular for other breeds as well.
Martingale collars are best for mildly stubborn dogs that pull a bit, but won't drag you down the street.
They won't do anything to curb unwanted behaviors like barking. I also wouldn't use them for aggressive dogs who tend to lunge, as they don't give you enough control.
That said, if you need the best training collar for a dog that's stubborn during walks but otherwise fairly well-behaved, start here.
Check out the video below for tips on how to use it, then read on for pros, cons, and my recommendation.
Features & Pros
Designed to put gentle pressure on your dog when he pulls, but NOT choke him or hurt him.
Made without prongs, hard buckles, or other things that can potentially damage your dog's throat.
Most are made with comfortable polyester or cloth fabric, so they won't irritate your dog's skin.
Since it slips over your dog's head, it won't accidentally pop open.
They're among the more attractive collars (not a big deal for training, but at least they don't look scary).
Cons
You have to be SUPER careful with measurements to make sure it's the right fit. No room for error.
If your dog is a strong puller, it won't give you much control.
Should NEVER be used without supervision since it won't release if your dog gets caught.
No easy way to release if your dog gets caught (we almost had to cut Freya's off because she managed to get it in her mouth and got stuck).
Recommendation
While I got mine specifically designed for Pharaoh Hounds, I really love the Blueberry Pet collars pictured here for most breeds.
It comes in a myriad of sizes and colors, so you shouldn't have a difficult time finding the perfect one for your dog.
Blueberry Pet 7 Patterns Spring Scent Inspired Rose Print Safety Training Martingale Dog Collar, Ivory, Medium, Heavy Duty Adjustable Collars for Dogs
Neck 14.5"-20", Width 3/4", Size Medium; The collar does not stretch itself. Martingale collar is a slip collar **WITHOUT THE BUCKLE**, which is designed for sighthouds but becomes popular with other breeds. Please take the measurements at the head and neck showing in the size chart. Especially for non-sight hounds, PLEASE CHOOSE A COLLAR SIZE THAT IS LARGE ENOUGH TO SLIP OVER THE HEAD
Warning: martingale collar is not for tie out. NEVER leave your dog unattended with a collar on. This product is NOT recommended/designed to use without leash and NOT for indoor use
The martingale collars provide more control over the dogs without the choking effect of a slip collar. Great for preventing escape. Properly fitted, the collar will be comfortably loose whenever the dog is not pulling against the leash
Polyester fabric with high density webbing to add durability; This collar is a single product. Its matching leash (B00HWQRPIA) /harness (B06VVV5L4C) /seat belt (B073W84C3Y) /lanyard (B075K69412) sold separately
All pictures are taken with our production samples from a size of Medium; Please measure your pets carefully for making the right purchase. Always look at the size chart for the recommended weight range to confirm the size
2. Gentle Leader Harness
As I said above, the Martingale is what we currently use for Freya most of the time.
However, it doesn't really stop her from almost dislocating my shoulder when she spots a squirrel during walks out front. For that we need the Gentle Leader harness.
Features & Pros
Looks (and acts) very much like the type of harness you'd use on a horse!
Gives you significantly more control over your dog than pretty much all other types of collars.
Keep pressure off your dog's throat (it's not a choke collar).
Completely pain-free.
Helps calm down dogs that are barking or being rambunctious.
Cons
As Wags & Wiggles says, it's a tool, not a complete solution.
It won't train your dog to stop unwanted behavior (you still have to do that).
Can NEVER leave it on an unsupervised dog.
Recommendation
While there are a few different brands out there that call themselves "Gentle Leader," the one by PetSafe is the only one I really recommend.
The Chic Gentle Leader even comes with a matching leash and a training DVD.
PetSafe Gentle Leader Chic Head Collar, Medium, Donuts - GL-HC-C-M-DNT
Stops excessive leash pulling and prevents other unwanted behaviors like lunging, jumping and barking
Provides immediate, gentle control
Adjustable nylon straps with neoprene padded nose loop for added comfort; includes matching leash, fitting instructions and training DVD
Call, chat or email with our expert US-based customer care specialists six days a week; They are waiting to assist you and your pet with your product needs
PetSafe brand has been an industry leading US manufacturer of pet behavior, containment and lifestyle products since 1991, helping millions of people and pets each year
3. Vibration Collar
While shock collars the worst dog training tool ever invented in my opinion (and, apparently, the opinion of parts of Colorado & the UK, since they've banned them), vibration collars are a little different.
Rather than literally shock dogs into stopping unwanted behavior, these collars use gentle vibration to either startle or reinforce.
See, they're actually used by owners of deaf dogs much the way we'd use a clicker for hearing pups. The vibration, when set to a low level, simply says, "Yep, that's exactly what I wanted you to do."
People also use them at higher levels to say, "Hey, knock it off!" If you were shouting and your necklace suddenly started vibrating, it would surprise you enough to give you pause, right?
Features & Pros
The good ones (like my recommendation) have multiple settings and levels of vibration.
Depending on which one you get, you can easily switch from using vibration to using tones instead.
Pain-free when used correctly.
Cons
Although it's supposed to be pain-free, it can still scare some dogs.
The prongs can irritate your dog's skin.
When you don't participate, you can't follow up with a command or reward for proper behavior.
Recommendation
While I haven't used this type of collar, if I ever did consider it, I'd go with the DogRook. I like that you can set it to use tones instead of vibration if you want.
Sale
DogRook Rechargeable Bark Collar - Humane, No Shock Training Collar - Action Without Remote - Vibration & Sound Care Modes - for Small, Medium, Large Dogs Breeds - No Harm Deterrent Vibrating Control
HUMANE BARK COLLAR WITH 2 MODES - provides effective performance with sound (beeps) and 7 safe vibration modes. It helps your dog understand that barking not desirable. You can correct your dog's behavior with this training barking collar.
ADJUSTABLE FOR SMALL, MEDIUM AND LARGE DOGS - no shock bark collar has 100% water-resistant strap weighing 10 to 110 lbs with neck size of 9 to 22 inches. High-quality material and technology can use frequently and last for long-time without troubles.
HUMANELY TRAINING METHOD - We protect humane and no shock way of preventing barking, lovely way without harm! Bark collar for dogs is accurately triggered. You can walk in noisy places and not worry that the device will be triggered too late or randomly.
SATISFACTION - In addition to the automatic stop barking collar we have included 2 batteries, 2 types of plastic prongs and 2 color covers. That fits your dog well and make possible to customize shockless no bark collar.
FREE FROM REMOTE, AUTOMATICALLY STOP BARKING - You don't have to waste your time anymore with this automatic bark collar. It helps your dog learn how to stop barking without your participation.
Now, let's go over a few tips for using these best dog training collars for stubborn dogs.
Tips for using dog training collars
The first few tips apply no matter what type of collar you use. The last ones are especially vital if you choose one that's aversion-based.
Make sure it is a perfect fit.
Not just a good fit. Perfect. If it's too lose, it won't work (or your dog will slip out of it). Too tight and it will damage his throat.
Check out the video below or ask a pro to help you if you're unsure of how to fit a collar.
Always supervise your dog
Whether you choose a Martingale or a vibration collar, make sure you use it when you're there to help your dog should something go wrong.
Years ago, my dogs got caught in each other's collars. If we weren't home to immediately cut them loose, I have no doubt it would have ended tragically.
Follow up with a command
Remember, collars are tools of trainers, not training tools. In other words, a collar alone can't teach your dog what's expected of him.
Always follow up every action with a command. For example, if you're gently tugging back on the leash to get your dog to walk nice, make sure you also say, "heel."
If you're using vibration collars to stop barking, make sure you give the "quiet" command as well.
Use positive reinforcement
When your dog responds by doing what you want, reward him. Plain and simple.
Positive reinforcement will help your training sink in and stick far better than the aversion techniques that ecollars and the like use.
Should I use a dog training collar with remote?
Since most collars that come with remotes are shock collars, my obvious answer is no.
That said, if you choose to use a shock collar, I'd really ONLY feel even slightly comfortable recommending one with a remote. That way, you're in complete control at all times.
In other words, you aren't just throwing an automatic shock collar on a dog, going to work, and expecting to come home to a perfectly trained dog.
Shock collars and the like only work (and I use that word loosely) when you're there to issue a command AND reward the positive result.
Since there's so much that can go wrong with one, using a remote ensures that you're always supervising their use.
Final Recommendation
I will always recommend starting with the simplest, most human option and then working your way up to the more "aggressive" options.
So, either the Martingale or the Gentle Leader would be my first choice.
If you opt for a remote training collar, please consider going with vibration over shock. The DogRook is a good choice.
What are your thoughts on the best dog training collars for stubborn dogs? Share below!