Wondering how to successfully train your dog using positive reinforcement?
We've discussed the basics of reward training before but today we'll really dig in and come up with an actionable plan.
We'll cover the 5 Ws of reward training (who, what, when, where, why), then learn all about the H of it (how) with steps & great training videos to check out!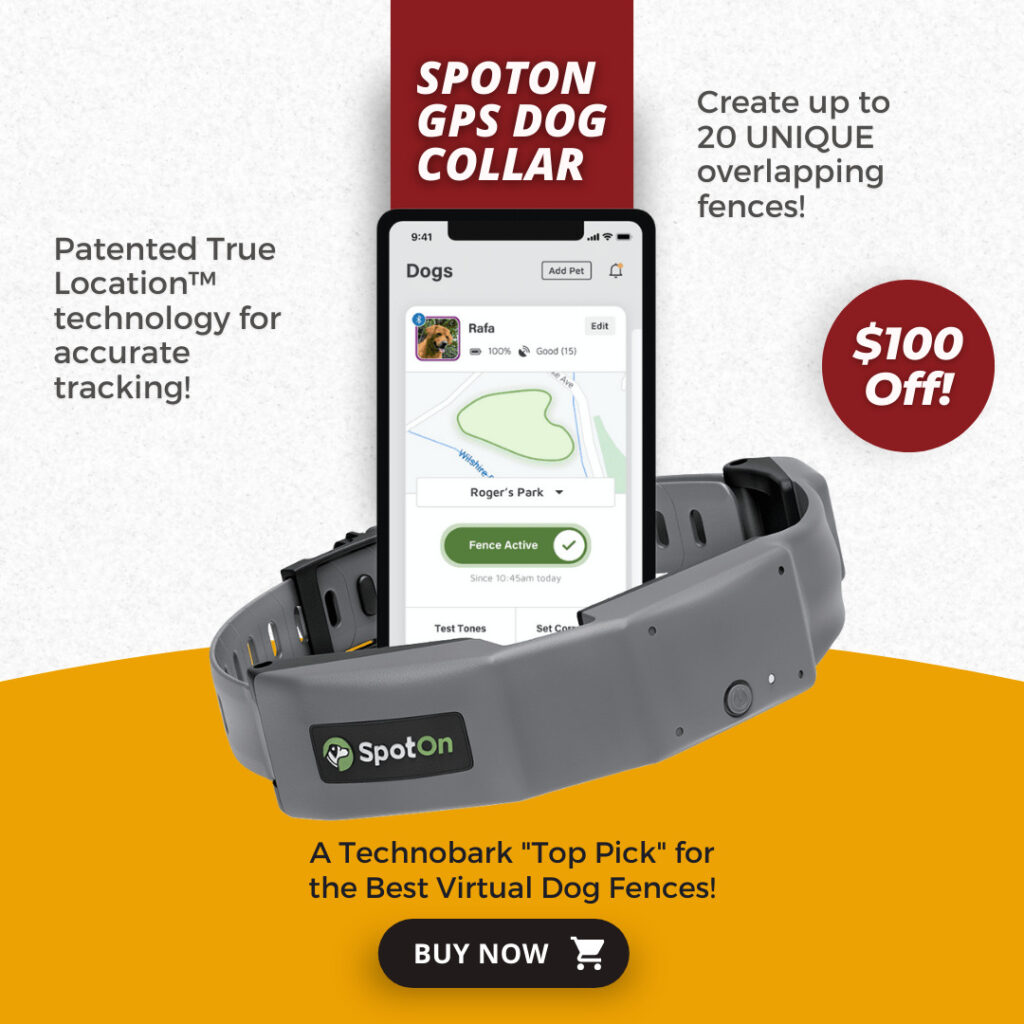 Then, I'll share some of my favorite books with you that really helped me!
We have a lot of ground to cover, so grab a snack and get comfy!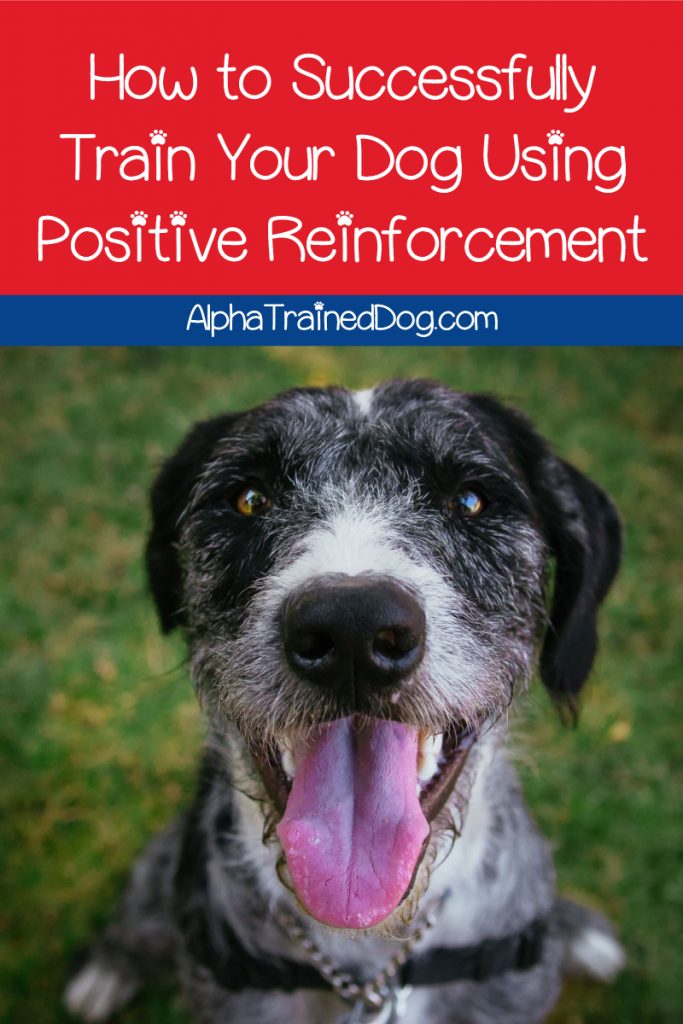 Positive Reward Training Basics: Who, What, When, Where & Why
As I mentioned above, we discussed most of these basics in the past, so just consider this a brief refresher course before we get to the how.
What is positive reinforcement dog training?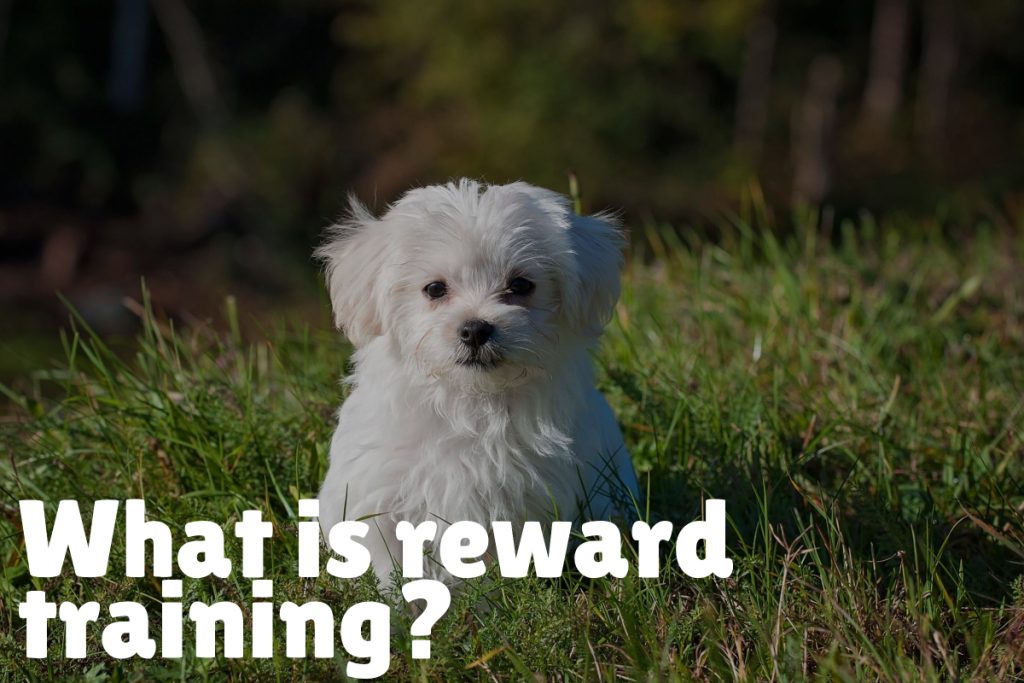 Positive reinforcement dog training goes by many names, including "force-free" training and reward training.
In the simplest terms, it is a strategy that rewards correct actions rather than punishing incorrect ones.
For example, if you're potty training your dog, you give him a treat when he does his business outside rather than yell at him when he does it indoors.
Think of it as the kinder, gentler and more humane way to train a dog.
If you want a longer overview of positive reward training, I suggest checking out our article on the most popular dog training strategies.
For now, though, I'm going to assume that you already know the gist since you're looking for tips on how to successfully train your dog using positive reinforcement.
Why use reward training for dogs?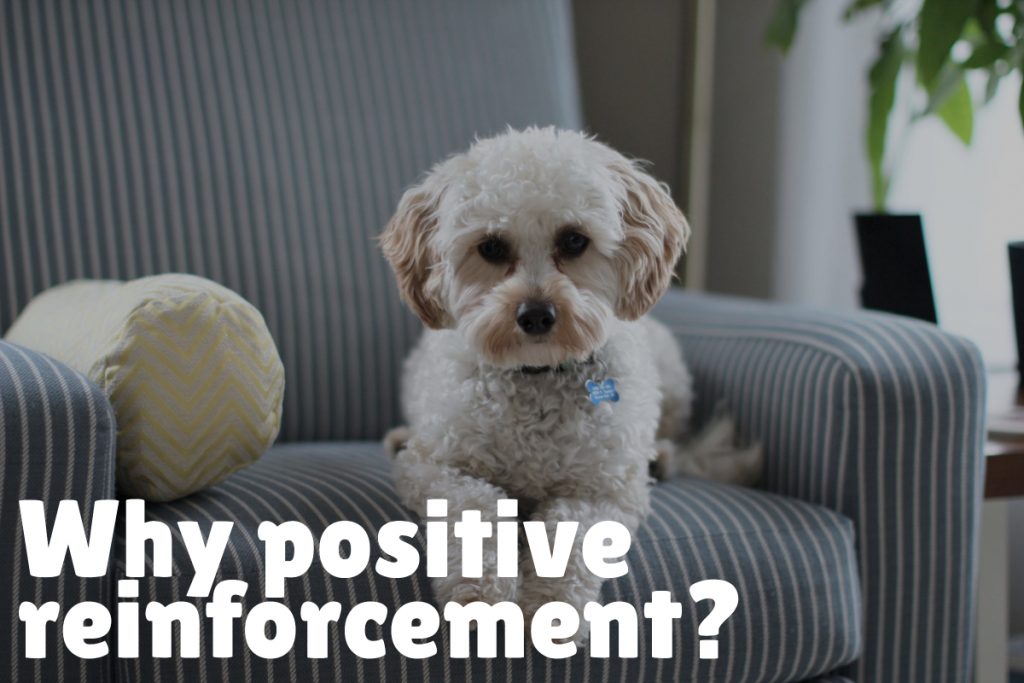 Why use reward training? Simply put, because it's the best method. That's not just my opinion, either. Science backs me up on it!
A few years ago, the SPCA in British Columbia (Canada) put out a massive report reviewing all of the different dog training methods.
Their reviews are based on the latest scientific studies as well as real-world evidence.
By and large, they found reward-based methods to be the most successful & effective, not to mention the most humane.
If you need more convincing, here are some of the benefits of positive reinforcement training:
Builds a strong bond: Positive reinforcement dog training creates a foundation of trust and understanding between you and your furry friend. By rewarding desired behaviors with treats, praise, or play, you strengthen the bond and enhance communication.
Encourages wanted behaviors: By giving treats, praise, or toys when your dog exhibits the desired behavior, you increase the likelihood of them repeating it in the future.
Reduces stress and fear: Reward training techniques create a safe and supportive learning environment for your dog. By avoiding punishment or harsh corrections, you reduce fear and anxiety, promoting a positive and stress-free training experience.
Enhances problem-solving skills: By rewarding them for making correct choices, you stimulate their cognitive abilities and encourage independent thinking.
Long-lasting results: Positive reinforcement training methods have been proven to yield long-lasting results. By rewarding desired behaviors consistently, you reinforce good habits, making them more likely to become ingrained in your dog's behavior over time.
Suitable for all dogs: This type of training can be adapted to suit dogs of all ages, sizes, and temperaments. Whether you have a playful puppy or an older dog, positive reinforcement techniques can be tailored to meet their individual needs.
It's a humane and ethical approach to dog training. It focuses on building a strong bond, fostering trust, and using rewards to motivate and teach, rather than resorting to punishment or aversive techniques.
Fun for you and your dog!: Last, but so far from least, positive reinforcement training creates a positive and fun experience for both you and your dog. It lets you to celebrate your dog's successes, strengthen your relationship, and enjoy the process of training together.
Who can use this training strategy?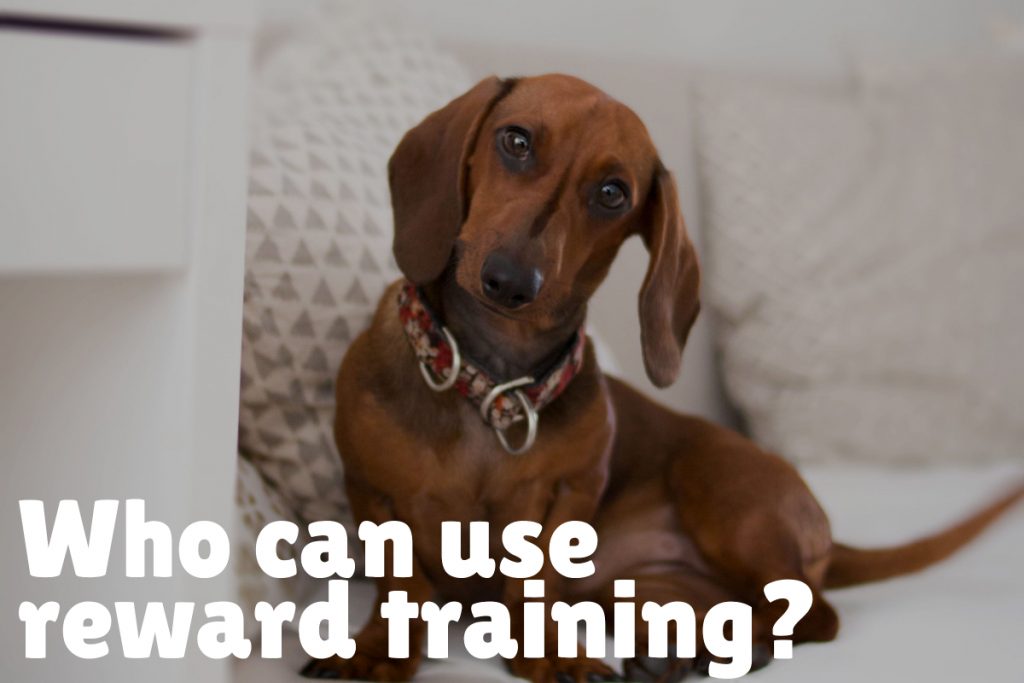 The great thing about reward training is that anyone can quickly & easily learn how to do it.
By the end of this article, you'll already have a good idea on how to successfully train your dog using positive reinforcement.
Throw in a book or two from my recommended reading section and you'll be good to go! Seriously, it's that easy!
When should you start positive reinforcement training?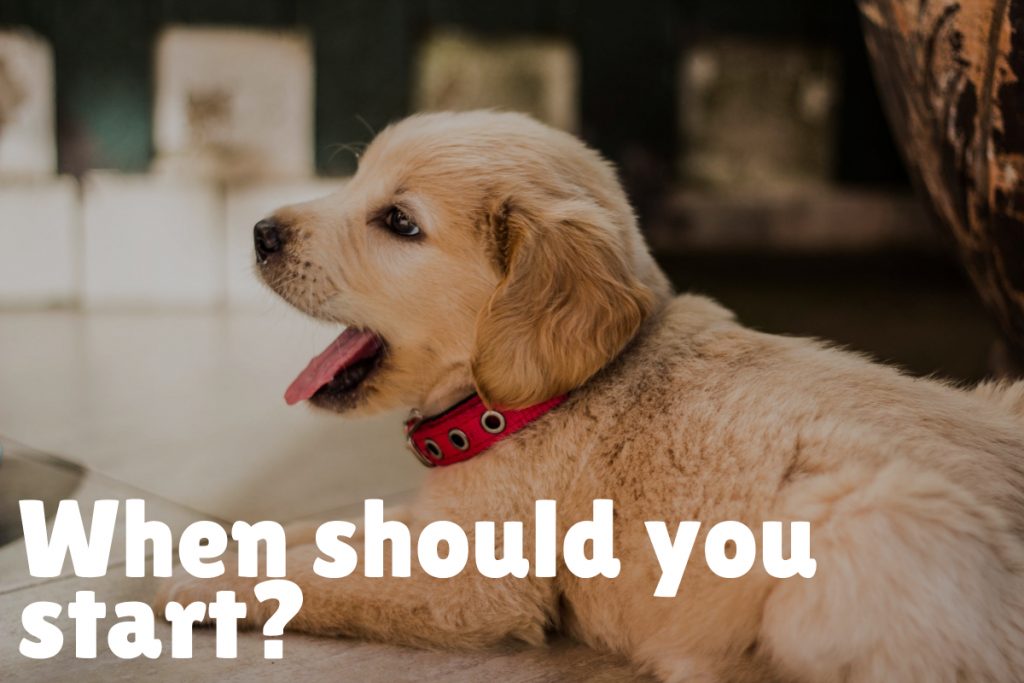 Ideally, you should start positive reinforcement training right from the moment you bring your new puppy home but it's never too late to begin.
If you adopt a dog that was trained using harsher methods (or you used not-so-fabulous methods yourself before you knew better), it may take a little more time to build trust.
However, reward training "clicks" pretty fast with dogs and before you know it, so he'll be on the right track before you know it.
Where can you find help if you need it?
Since positive reinforcement training is so intuitive and easy, most of you won't need outside help.
In the case of a formerly abused or badly trained dog, though, you may want to call in a professional to work alongside you, just until that trust gets rebuilt.
More and more trainers are adopting a reward-based method and ditching the archaic dominance strategy.
So, if you feel you need help, there's no shame in taking your dog to training classes.
Now that we know the five Ws, let's get to the H: the how!
How to Successfully Train Your Dog Using Positive Reinforcement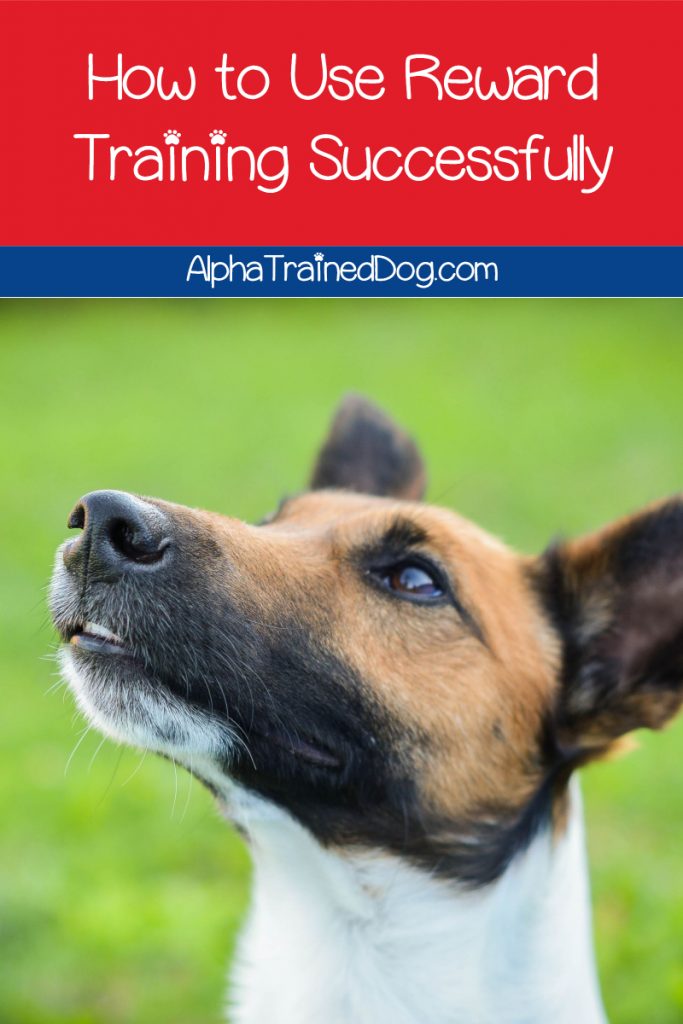 Anyone can toss treats at their dog when he goes potty outside but to successfully train your dog using positive reinforcement, you have to go a little deeper.
We'll start at the very beginning, choosing the right treats! Then, we'll go through the basic steps followed by a real-world example.
Heads up: the rest of this post contains affiliate links. If you make a purchase through these links, we earn a small commission at no extra charge to you.
1. Choose the right treats
Before you even begin training, sit down for a moment and decide on three different types of rewards: low, medium, and high-value treats.
The video below talks about the best high-value treats, then we'll cover it in more detail afterward.
Low-value treats
Low-value treats are what you'll use for sessions indoors with no distractions.
These are things that your dog likes and doesn't get every day, but also doesn't go totally bonkers over.
With Freya, I use watermelon (when it's in season), carrots or other fruits & veggies.
While she does get them fairly often, she still loves them enough to perform on command for them.
Zuke's is also always a good choice. Their treats are tiny yet tasty, perfect for indoor training.
Zuke's Mini Naturals Training Dog Treats Chicken Recipe - 16 Oz Bag
Zuke's Mini Naturals Soft Dog Treats for Training, Low Calorie Dog Training Treats with Chicken Recipe
At 2 calories per treat, Zuke's chicken dog treats are the perfect low calorie dog treats for training your dog
Real chicken is the first ingredient in these soft chewy dog treats for large dogs, medium dogs, and small dogs
Zuke's Mini Naturals dog treats offer your dog soft treats with natural ingredients like chicken and cherries for wholesome, healthy dog treats made without corn, wheat, or soy
These doggy treats come in a convenient, resealable pouch for easy on-the-go rewards, making them the perfect training treats for dogs that love to live life off leash
Medium-value treats
If you'll be working in your backyard or other somewhat distracting areas, opt for medium-value treats.
These are things your dog likes better than tiny training treats, gets occasionally but still doesn't go absolutely bat-guano crazy over.
For Freya, it's cheese. I take one slice of American cheese (yeah, I know, it's not real cheese) and break it into pieces to use during our sessions.
She also loves raw dog food bites, like Instinct Raw Boost. It's pricey, so we don't buy it often. I use it as a treat instead of an actual food topper.
Sale
Instinct Raw Boost Small Breed Grain Free Recipe with Real Chicken Natural Dry Dog Food, Bag, 10 Pound (Pack of 1)
SMALL BREED GRAIN FREE DOG FOOD WITH FREEZE DRIED RAW CAGE FREE CHICKEN: Instinct Raw Boost natural dry dog food combines high protein, grain free kibble with all natural bites of freeze dried raw chicken. Cage free chicken is the #1 ingredient.
SMALL BREED DOG FOOD PLUS FREEZE DRIED RAW PIECES: Made with calcium & phosphorus for strong teeth and bones plus glucosamine & chondroitin for joint health. Made without grain, potato, corn, wheat, soy, byproduct meal, artificial colors or preservatives
THE FIRST RAW BOOSTED SMALL BREED KIBBLE: Raw Boost mixes natural, high protein, grain free dog food with our freeze dried raw dog food toppers in one bag. Also includes probiotics and omegas. Complete & balanced nutrition for small dogs, puppy to senior.
POWER OF RAW INGREDIENTS: Our dog food is made with the pure, real nutrition of raw. Raw is natural, made from real meat & whole food ingredients, protein packed & minimally processed. Made in the USA with the finest ingredients from around the world.
OUR BEST DOG FOOD FOR SMALL DOGS BOOSTED WITH RAW: We craft dry & wet dog food from real ingredients. Compare Instinct to Blue Buffalo, Rachel Ray, Hills Science Diet, Purina One, Taste of the Wild, Merrick, Natural Balance, Wellness, Orijen, Royal Canin.
High-value treats
These are the treats your dog goes absolutely bonkers over, so break them out when you're working in a super distracting environment.
While you can find high-value dog treats, I usually use human food, like pieces of chicken breast left over from our own dinners.
If you prefer to just buy something, Three Dog Bakery makes these great carob chip cookies that Freya loves.
Just break them into a few pieces for your training sessions, since they're a little big on their own.
Three Dog Bakery Cookies with Carob Flavored Chips, Premium Treats for Dogs, 13 Ounce Pack (114033)
Premium Dog Treats: Our Dog Treats Are Packed With Premium Ingredients And No Artificial Flavors, Just Like The Ones You Would Bake For Yourself. Dogs Drool Over Our Cookies And Bark For Another Bite
Wholesome & Delicious: Each Tasty Treat Is Baked In The Usa In Small Batches, Packed With High-Quality, Real Ingredients Like Carob – A Sweet And Healthy Chocolate Substitute, Along With Others That You Can Actually Pronounce
Crunchy Reward: A Little Bit Crunchy, These Old-Fashioned Style Cookies Are Just The Right Bite For Any Pup To Enjoy. Take One Of These On Walks, To The Dog Park, Or At Home To Help Your Puppy Stay Motivated During Training
Taste Of The Bakery: Baked Slowly To Preserve The Delicious Flavor, Our Classic Cookies Have An Irresistible Aroma That Dogs Drool Over. Praise Your Pup With A Cookie With A Crunch That They'Ll Wolf Down Right Away
Join The Pack: For Over 30 Years, Dog Lovers Have Trusted Us To Create Wholesome Treats For Their Four-Legged Family Members. We Bake Love Into Every Bite. Let Them Savor Our Delicious Treats And See Tails Wag
Now that you've chosen your treats, let's talk commands.
2. Make a list of simple one-word commands
Please, for the love of all things canine, keep your commands short, sweet & simple.
Even the smartest dog in the world (mine's pretty darn close, if I do say so myself) only understands so much English.
Sit, stay, come, heel, leave it: these are all good options that your dog can quickly master.
Also, start them with a strong consonant. "Down" instead of "lay down," for example.
You'll also want to make sure every single member of the family knows the command words and uses them exclusively.
3. Reward & praise every success
During your training sessions, make sure you're rewarding every successful action AND praising your dog.
Really heap that praise on, as it'll become the reward later on when it's time to withdraw the treats.
Freya is almost three and I still cheer "good girl!" when I see her going potty outside (I have a fenced-in yard, so I don't always see her going).
So, your session will go like this: command, dog does action, dog immediately gets reward.
If you're using multi-step commands (come and down, for example) you can use a clicker to mark each correct step.
So, it would go come, click as your dog starts walking towards you, down, click as he starts to go down, give treat.
The video below explains "markers" in more detail.
4. Ignore "failures"
Since we're focused solely on positive reinforcement training, punishment has no place in your strategy.
Honestly, punishment has no place in any strategy, but especially here. So, what do you do when your dog doesn't properly obey a command?
Nothing.
Yep, nothing. Ignore it. If he doesn't sit, he doesn't get the treat. Plain and simple.
Obviously, if your dog is eating your sofa, chasing the cat, or being totally unruly it's okay to correct the behavior with a firm "no."
Don't bark it, don't yell it. Just say "no," then redirect your dog to more acceptable behavior.
For example, if he's chewing your shoe, take it, say "no," and give him a chew toy instead.
However, during your actual sessions, you'll want to stick with rewarding positive results & ignoring negative ones.
5. End the session before it gets boring
Training should be fun for both you and your dog so keep your sessions brief.
Experts recommend between 10-20 minutes per session.
Keep in mind that you use sessions for teaching & reinforcing basic commands. In all actuality, your training continues day in and day out.
Every time you give your dog a treat for listening, you're reinforcing those lessons he learns during sessions.
6. Gradually remove the treats from the equation
As your dog masters basic commands, you can begin to remove the treats from the equation.
This is where all that praise comes in handy because your dog comes to think of "good girl!" as a reward on its own.
With Freya, her praise is followed by butt scratches (for lack of a more eloquent phrase). She loves getting her behind scratched!
Try this: reward every other correct action, then every third, and so on. Then, just reward at the end of the session.
You don't want to completely withdraw treats, though.
Give the "end of session" reward, then randomly reward correct actions when you see your dog doing them on his own.
Which brings us to…
8. Reinforce your training (& your bond)
It's not enough to just train your dog to respond to a command, move on to another command, then quit once he's mastered the basics.
While positive reinforcement refers to the method used to train your dog, the reinforcement part also refers to ongoing training.
Since you don't want your dog to get bored, try mixing in some fun training games to reinforce the lessons.
Freya and I play a "cheesy fun" training game a couple of times a week.
Rather than working on one command, she puts them all together in a routine: sit, paw, wait, come, turn, kissy cheese (she takes it from my mouth), repeat.
She also has a puzzle game (this one) for mental stimulation. Before she can being, though, she has to curtsy (basically, just sit).
9. Repeat, repeat, repeat!
Once you've mastered one command, repeat the whole process with another.
That's really all there is to successfully training your dog using positive reinforcement.
At first, it's best to work on one at a time until you have the essentials mastered.
Best Dog Training Videos for Reward Training
Since we talked about the basic commands above, I thought it would be helpful to round up a few of my favorite video tutorials.
Each one covers some of the most important aspects of reward training.
I personally learn better by reading, so we'll get to my too book recommendations in a minute, but this is for you visual learners out there.
1. First 7 Things to Teach Your Dog
Zak George covers the first seven commands that every dog needs to know, so it's a great place to start.
2. Positive Reinforcement vs. Punishment
Again, we turn to Zak George for an overview on the benefits of positive reinforcement vs. punishment. It's very eye-opening!
3. Take it & Drop It
Since these are two of the most important commands (drop it especially), it's worth checking out Victoria Stilwell's video on teaching them.
4. Reward scaling
This video explains the basics of scaling up (or down) your rewards to fit the situation and the command.
5. Training without treats
While treats are typically the best type of reward, some dogs just aren't food-motivated.
Others may have such severe allergies that treat-training is just too risky. For those dogs, check out this video on using play & praise as a reward.
As promised, the next resources are for my fellow "learn by reading not watching" friends!
Recommended Reading: Books that Teach Reward Training Techniques
I've read countless books on reward training for my own training purposes as well as for research. Below is a list of my top 5 recommendations!
FYI, the last one is part of Kindle Unlimited, so you can read it for free if you have a membership.
The Power of Positive Dog Training
Amazon Kindle Edition
Miller, Pat (Author)
English (Publication Language)
393 Pages - 03/15/2012 (Publication Date) - Howell Book House (Publisher)
For those who learn best by listening, all of the books are on Audible. You can try Audible and Get Two Free Audiobooks if you're not already a member.
That about covers it! We went over a lot of ground, so you may want to bookmark this page and refer back to it. 😀
Do you have any other questions or tips on how to successfully train your dog using positive reinforcement? Share below!