If you came here searching for the best dog training tools for barking, I've got you covered.
First, though, I'd like to ask you a favor; please amend that search to include the word "humane."
Anti-barking devices are a dime a dozen, but very few of them are what one would call dog-friendly.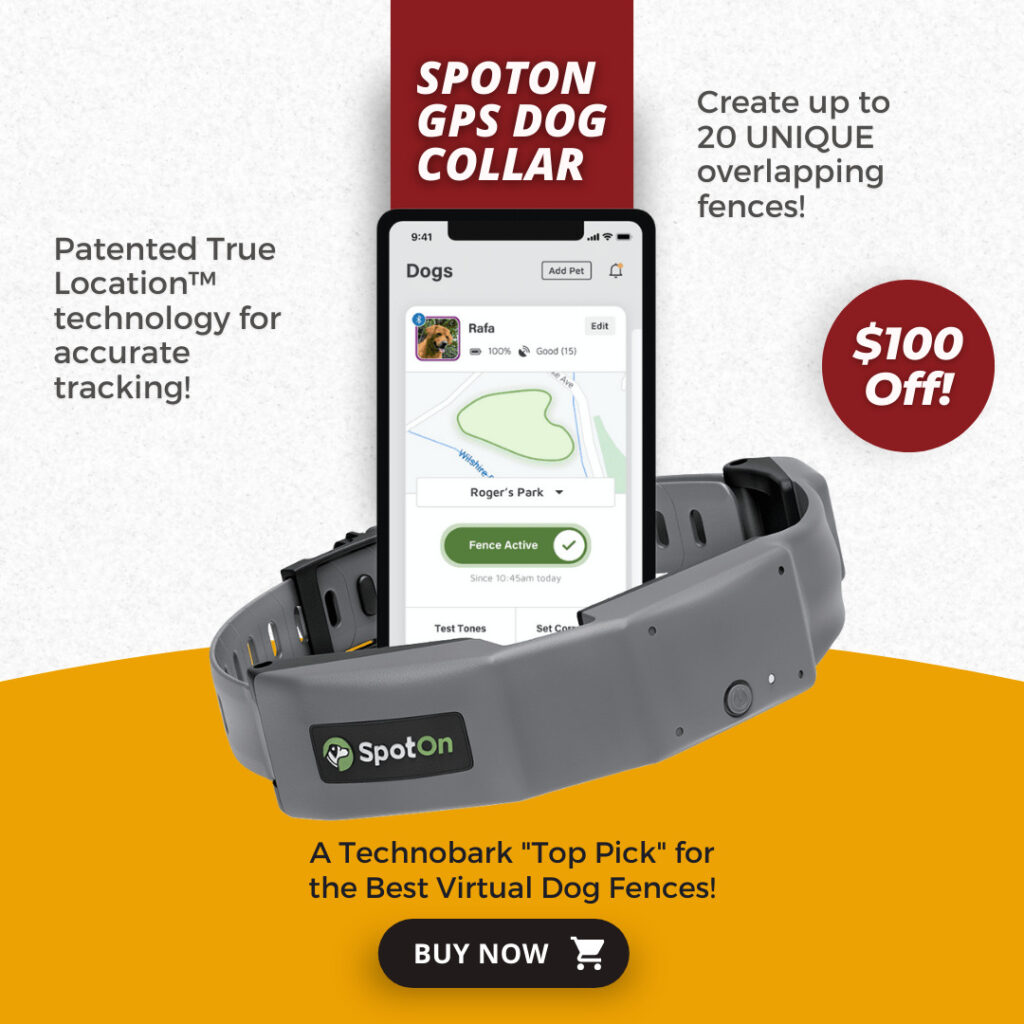 So today, we'll focus ONLY on force-free and pain-free tools to stop your dog from barking.
Let's begin with what makes a tool humane versus cruel and go from there.
Related: How to get neighbors dog to stop barking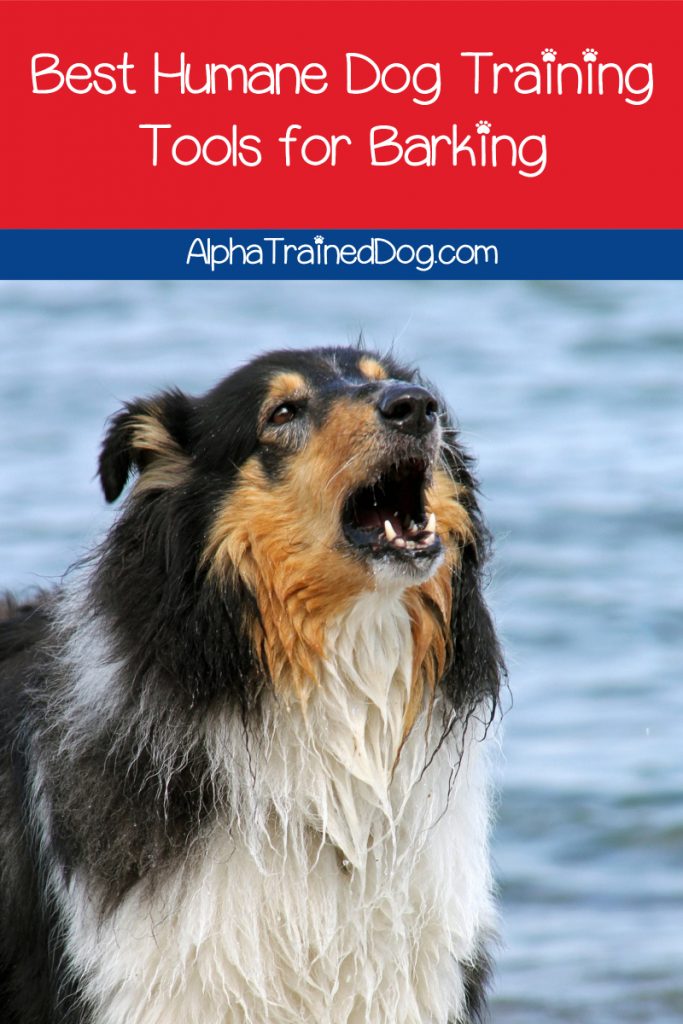 Humane vs Cruel Anti-Barking Tools
I'm going to put this in incredibly simple terms. If a device causes your dog pain or suffering, it's cruel. Period.
Ask yourself, "Does this tool feel like punishment?" If the answer is yes, it's the wrong tool.
Let's go over some of the common devices that use punishment-based methods of training, starting with the worst of the bunch.
Shock collars
These collars are exactly what they sound like. When your dog barks, they deliver a shock. In other words, they electrocute your dog.
I know that there are proponents of shock collars who claim they're wonderful tools when used correctly.
I will never, ever, ever agree with them. Bottom line, shock collars are cruel and do far far far more harm than good.
Science agrees with me. Good professional dog trainers agree. England, Scotland, and Boulder, Colorado agree so much that they banned them.
So let's just cross shock collars off our list of humane dog training tools for barking and move on.
Citronella collars
Since citronella is toxic to dogs, I'm going to put them in the "not humane" category as well.
The ASPCA does say that the minimal amounts used in the collars are typically safe, but I'd rather err on the side of caution.
Besides, in my experience, they don't really work.
Before I knew better, we used one for my boy Coop (who is, sadly, no longer with us).
Not only did it not work, but my other dog learned that if she barked in his vicinity, he got blasted, so she did it…often.
I kid you not, she thought it was funny. Poor Coop did not, so we retired the collar and I learned the right way to train a dog.
Noise-making collars
Collars designed to blast a high-pitched frequency in your dog's ears when they bark are kind of a grey area.
Dogs have sensitive ears, and these collars tend to get louder and more painful the longer your dog barks.
It's a vicious cycle. Your dog barks at a squirrel and gets blasted with noise. The noise startles him so he barks louder.
The noise gets louder so he barks in pain, which is met with a higher frequency, more pain, more barking…you get the picture.
So, in collar form, I'm going to say no to noise-makers. However, you'll find some alternatives below if you feel like this is the way to go.
If pretty much every popular anti-barking collar on the market falls into the "not humane" category, what's left? Let's find out.
Humane dog training tools for barking
We'll start with the most human dog training tools for barking and go from there.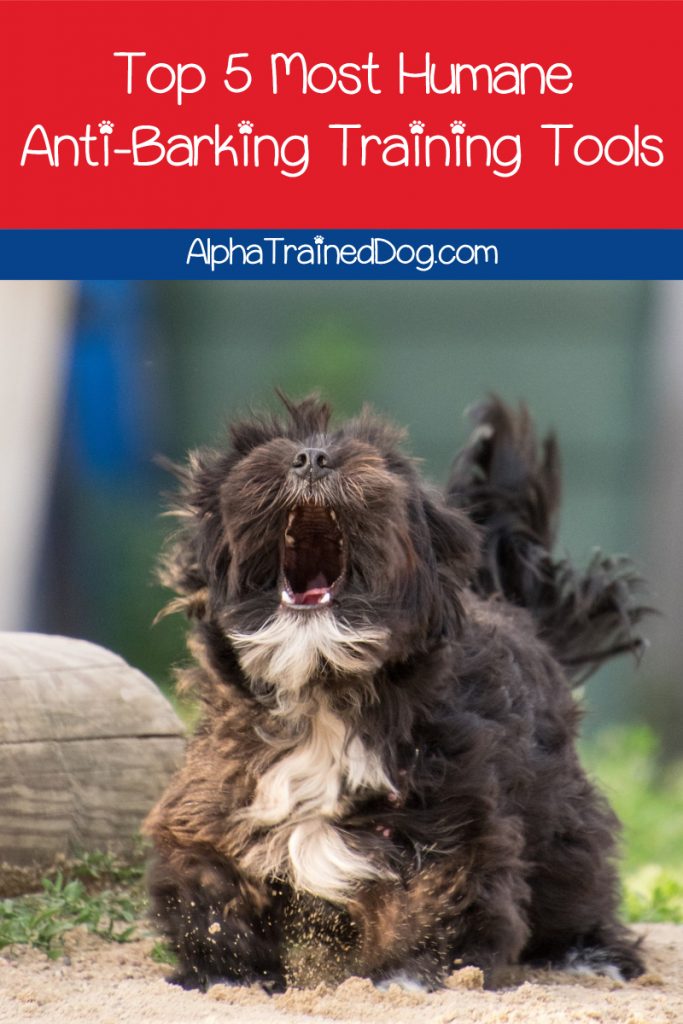 FYI, this post contains affiliate links. If you make a purchase through these links, we earn a small commission at no extra charge to you.
1. Your firm voice
Your firm voice is by far the most humane anti-barking device, but it takes a lot of work.
You need to train your dog when it's acceptable to bark and when it's not.
For example, maybe you're okay with her barking at strangers knocking on the door but not so much with, say, a leaf flying by.
It's hard, I know. Believe me, I know.
Pros
100% humane
Strengthens your bond with your dog
Doesn't rely on external stimuli, so your dog can't "get used to" it.
Cons
Take a lot of patience and hard work.
Not an immediate solution.
Recommendation
I highly recommend checking out Zak George's dog training videos as all of his methods are force-free and pain-free.
2. Dog Training Clicker
Clicker training is a fantastic reward-based method that helps "mark" correct behavior and teach dogs what's expected of them.
You'll need to do a little groundwork first to teach your dog the "quiet" command during a regular training session (in other words, when your dog isn't barking).
Check out the video below to see what I mean.
Later, when your dog barks, issue the "quiet" command. The very moment he stops, click the clicker, then reward him.
Why the click? Why not just go right to the reward? Well, most of the time when my dog is barking, she's across the yard, so "quiet" is followed by "come."
If she gets the treat when she arrives by my side, she has no way of knowing if she's being rewarded for not barking or for coming.
The click "marks" the correct action. Does that make sense?
Features & Pros
100% Humane
Reinforces positive behavior
Inexpensive
Comes with a treat bag and
Cons
You have to be present
Not an immediate solution
Recommendation
EcoCity 4-Pack Dog Training Clicker with Wrist Strap
★A brand new happy communication mode with the pet. Great for training puppies and young adult dogs!
★Fits nicely in your hand, it has elastic wrist strap so you don't drop it.
★Button presses easily and comes right back up without getting stuck, good sound, not to loud or soft.
★The Clicker can not only train the dog but also the cat, bird, chicken, sheep and even mouse.
★100% MONEY BACK GUARANTEE & LIFETIME WARRANTY. Don't miss!
3. Handheld Doggie Don't Device
While I'm not a fan of anything that's designed to hurt a dog's sensitive ears, this one is fairly humane overall.
See, rather than attaching a collar with a mind of its own, YOU control the timing and duration of the sound.
Pros
Completely controlled by you
Portable
Doesn't go around your dog's neck
Cons
Loud, even to you.
Still potentially painful to your dog if he's too close
Recommendation
It's loud, in the sense that it will hurt your ears as well! That said, if you use it while your dog is across the yard and just give it a quick tap, it'll startle him enough to stop.
Keep in mind, though, that it works best when you also give a command like "no barking."
The goal is to get to the point where your command combined with the sight of the device is enough to curb unwanted barking.
Doggie Don't Device - Dog Training Tool to Stop Barking & Bad Behaviors - Loud Sound Safely Corrects and Redirects Behavior (Replaceable Batteries)
Stop Barking & Bad Behavior: Stop dogs from barking. Also correct fighting, jumping, biting, nipping, chewing, begging & leash aggression behavior
Protect Yourself & Your Dog: Prevent attacks from aggressive dogs & coyotes while walking, running, hiking & biking
Loud: Device produces a very loud audible noise (more than 100 decibels) that humans & animals can hear. No shock, so humane. Effective on all dog breeds and other animals
Easy to Use Training Tool: Push button & say command. Loud noise redirects dog's attention to stop unwanted behavior. Eventually, simply showing the device will get dog's attention
Replaceable Batteries & Cord: Comes with 2 lithium CR2 3.0v batteries. Batteries can be replaced. Also includes easy to carry wrist strap
4. MODUS Anti Barking Device
Need a humane way to stop barking when you're not around to push a button? The MODUS is a fairly good option.
I'm still not a fan of using devices like this when you're not around to monitor and control them, but at least this one doesn't go around your dog's neck.
Instead, it sits on a table, shelf, or wherever else you put it. When it detects barking, it emits a high-frequency sound.
Pros
Microphones can automatically detect dog barking up to 50 feet away
4 different power levels
"Safe" for dogs and humans
Cons
Still uses punishment as a deterrent
"Safe" doesn't mean "comfortable," and the sound can still cause pain
No way to know if it's actually emitting a sound, since you can't hear it
Dogs get used to it fairly quickly and ignore it
Recommendation
I like that it has 4 levels, so you choose a sound that's appropriate for your dog's size.
However, I don't like that there's really no way of knowing if it's actually working. No blinking light or any other indicator.
With all noise-making devices, you're going to run into a problem where the dog gets used to it and simply doesn't care anymore.
Plus, if you're not around to give a command, your dog has no way of knowing what's expected of him.
The sound may surprise him enough to stop barking, but without follow-through, it's basically the high-pitched equivalent of yelling "shut up" out the window.
MODUS Anti Barking Device Bark Control Device with 4 Adjustable Ultrasonic Volume Levels, Automatic Ultrasonic Dog Bark Deterrent, Indoor Bark Box Safe, Suitable Dogs
GET PEACEFUL AND QUIET - Imagining a quiet home where you can relax with your own thoughts, get a good night's sleep. Thousands of people like you have used MODUS anti-barking devices to take back their peace and quiet. Using an ultrasonic bark control device can effectively prevent barking by your or your neighbor's dog. Provide a quiet and comfortable rest and sleep environment.
AUTOMATIC CONTROL & 50 Ft EFFECTIVE DISTANCE - The sensitive microphones can automatically detect dog barking up to 50 feet away (also works on your neighbors' dogs!). This dog barking control device will automatically blast high-pitched sounds that only the dog can hear. Once the dog stops barking, the ultrasonic bark control device will automatically stop transmits ultrasonic sound.
SUITABLE FOR ALL SIZES OF DOGS - MODUS ultrasonic dog bark deterrent has 4 different power levels of high, medium, low and test. Suitable for small, medium and large dogs. Test mode can be used to verify that the microphone and speaker are functional. You can manually adjust the power of the bark box with a simple knob. We recommend you start with the unit on low and then increase the power as needed.
SAFE & EFFECTIVE, NO HARM TO DOGS OR HUMANS - MODUS ultrasonic dog bark deterrent uses high-pitched ultrasonic sound technology. Ultrasonic sound is above the hearing range of humans, but it will make attention and stimulate to dogs. It is safe for humans and dogs. With its hanging rope or hole, you can easily mount this on a wall.
WALL-MOUNTED & HANDHELD, EASY TO USE - The simple outlook of the MODUS ultrasonic dog bark deterrent can be easily integrated into the overall environment of the house. The LED light will indicate the working and battery status, offering you an easy and cozy experience of dog training. MODUS ultrasonic anti-bark device can be used on dogs from 6 months to 8 years old.
5. DogRook Humane Anti Barking Training Collar
If you really need to use a collar to stop barking, this is one of the few I'd feel comfortable recommending.
The DogRook uses vibrations rather than shock, so while it's surprising, it's not painful.
In fact, many owners of deaf dogs use these collars for all aspects of training, not just for correction.
Pros
Humane and pain-free
7 safe vibration modes
Waterproof
Cons
Still a form of punishment-based training
The prongs can damage your dog's skin if the collar isn't fitted exactly right
Recommendation
While I still feel that punishment-based collars are the wrong way to go, I know some dog owners feel like they're the only good option.
I'd rather you go with vibrations than shocks and sprays.
Like I said, this one is humane enough that deaf dog owners use it in positive training methods as well.
Just make sure you follow fitting directions very, very, very carefully. A wrong fit can damage your dog's neck.
Sale
DogRook Dog Bark Collar - Rechargeable Smart Anti Barking Collar for Dogs - Waterproof No Shock Bark Collar for Small/Medium/Large Dogs - Anti Bark Collar for Dogs with 5 Sensitivity Levels
Bark training - Our anti barking collar for dogs teaches your pup to be relaxed and trusting instead of terrified. The no shock dog barking collar offers a highly effective, pain-free bark training solution, whether you're after bark collars for small dogs or something that fits all the way up to medium and large dogs.
Vibration & sound - Our no bark collars for dogs combine 2 vibration modes & 7 sound stages to deliver progressive bark training while remaining a no shock bark collar. The dog barking collar provides instant, automatic feedback tailored to your dog, whatever its size - making it the perfect small dog bark collar, anti bark collar for medium dogs or bark collar for large dog all in one!
Smart & sensitive - Our vibrating dog barking collar features a smart microphone that responds to your dog's unique bark only! The anti barking collar for dogs has 5 sensitivity levels that can be adjusted to match environmental noise, meaning the collar is both a no shock bark collar while also not being triggered unnecessarily - making for a happy, quiet dog!
Rechargeable & waterproof - The no shock bark collar has a long-lasting battery life (up to 14 days) and is rain, snow, and splash proof. This makes the dog bark collar suitable for both indoor and outdoor use, making it a most effective bark collar in all settings, whether you need anti bark collars for small dogs or whether your dog is medium or large.
For pups of all shapes & sizes - Our no bark collars for dogs fit pups between 8 and 110 lbs. The wide dog collar is adjustable up to 22 inches. The dog bark collar for medium dogs, small dogs, and large dogs comes with prong covers for long-haired breeds, making it an effective no shock bark collar for dogs of all sizes.
As you can see, the list of humane dog training tools for barking is fairly short.
I personally recommend #1 used in conjunction with #2. While they don't give immediate results, they'll work much better in the long run than punishing your dog for natural behavior.
Think about it, how would you feel if someone shocked you every time you spoke a little too loudly?
Tell me your thoughts below on my picks for the most humane dog training tools for barking!