Wondering how to find good home dog training services?
Maybe you're unable to attend training classes for health reasons?
Or perhaps you just prefer to teach your dog basic commands from the comfort of your own yard?
Whatever the reason, it's totally possible, and we'll tell you how below!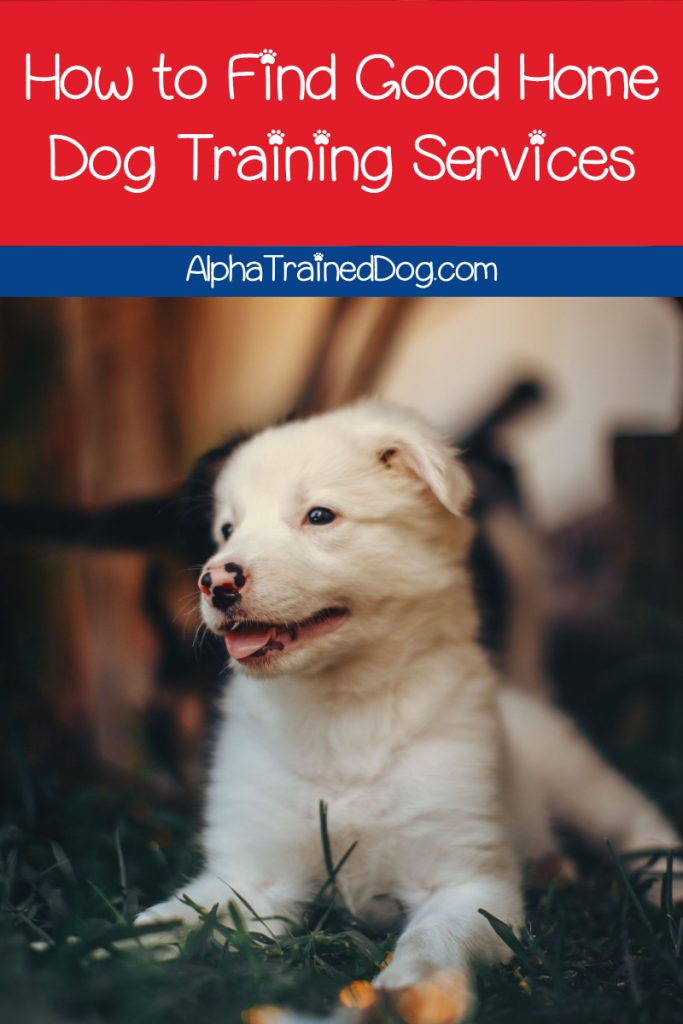 Tips for Training Your Dog At Home
Did you know that there are some really great services available to do home dog training?
While they're a bit pricier than taking your dog to a class, they're worth checking out!
Remember, you choose how long the program lasts, so factor that into the price.
Since you're not locked into a specific curriculum, your dog may not even need a full 6-8 weeks like they would with training classes.
Home dog training is relatively new, but it's already becoming a super trendy option.
Dog owners love the flexibility of having someone come to their home and help them out.
It's especially beneficial to those with aggressive dogs or other training problems.
Let's look at how to find home dog training options, shall we?
Where to Find Programs for Training Your Dog at Home
One of the largest home dog training services are Bark Busters, a global home dog training service that has achieved results all over the world.
There are hundreds of reviews and testimonials available for you to check out.
However, your best bet is to search a bit more locally. Try typing "at home dog trainers near me."
You can also give your vet or local animal rescue a call and ask for recommendations.
Virtual Dog Training
Another option that's especially great right now is virtual dog training (also called remote dog training).
With this option, you'll connect with a trainer via Zoom, Skype, or other video conference call apps.
Then, the trainer guides you through the steps for training your pup. I like it because it's more hands-on for you, rather than just handing your dog off to a trainer.
Dogology is among the most popular. The CEO is an animal behaviorist with more than a decade of experience training dogs.
Another good one, Dog Parenting 101, is incredibly affordable at $1 per minute.
That may sound like a lot, but an average training session should only last 20 minutes anyway, other wise your dog loses interest.
Again, do your research and choose one that uses training strategies that you're comfortable with, such as reward-based training.
Many people are turning to home dog training as it is convenient and helpful especially if you haven't had experiences training a dog before.
A lot of people get tense and irritated when their dog doesn't do what they say but that doesn't help.
Training a dog can be a very stressful time and home dog training just makes it that much easier.
Do you know of any other good home dog training programs? Share below!