Are you wondering how much in-home dog training cost?
You might be struggling to find the right dog training classes and considering home dog training services.
Fortunately, we're here to tell you everything you need to know about private dog training and online dog classes.
Just keep on reading.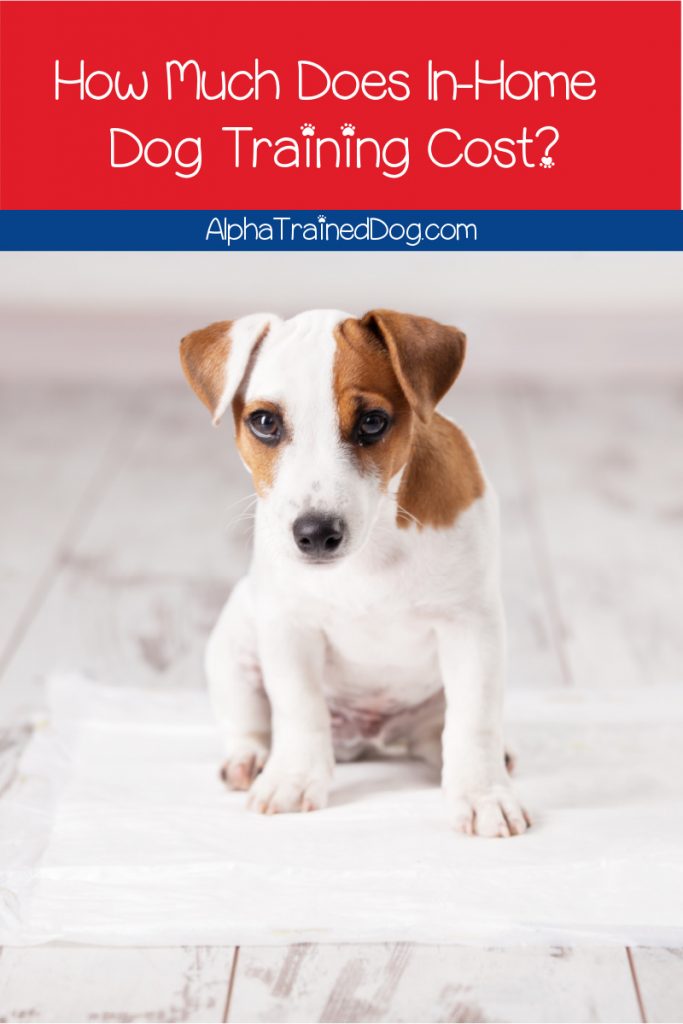 How Much Does In-Home Dog Training Cost?
Obedience training is necessary for all dogs to teach them manners and curb any unwanted behaviors.
While you can find tons of books about training your dog, it can be a daunting task for first-time owners.
If you're thinking about in-home training rather than group training classes and boot camps, the expenses might be one of the deciding factors.
But we're also going to cover the pros and cons of in-home dog training to help you make an informed decision.
What Determines the Cost of In-Home Dog Training?
I can tell you from the start that private dog lessons are more expensive than group ones and less expensive than obedience school or dog boot camp.
On average, you can expect to pay around $120 per lesson for in-home training, but the price might reach $400. 
It depends on several factors:
Age. It's one thing to train a puppy and another to teach an adult dog with behavior problems. So, some private trainers might have different prices for puppies and adults.
Location. As you can imagine, dog trainers in the big cities will probably charge more than a small-town professional. Moreover, traveling to a client's house will also increase the price of the lesson.
What training you need. Basic obedience training will be cheaper than advanced obedience training or dealing with aggressive behavior.
The number of sessions and their length. Some trainers might offer discounts for more than one lesson. Short sessions also tend to be cheaper than long ones.
For example, PetSmart has private dog training lessons for $89 per hour or $219 for four hours ($54,75 per hour). They also offer a 30-minute training session for $45. 
On the other hand, Tucker Pups offers $125 per single lesson or $100 per lesson if you pre-pay for 10 sessions.
In comparison, dog training classes start from $30 to $75 per session. Usually, a 5-6-week course will be around $200-$300, but it might go as high as $400.
PetSmart's basic obedience package, for example, is $119 for a 6-week basic obedience training.
How Much Does Online Dog Training Lessons Cost?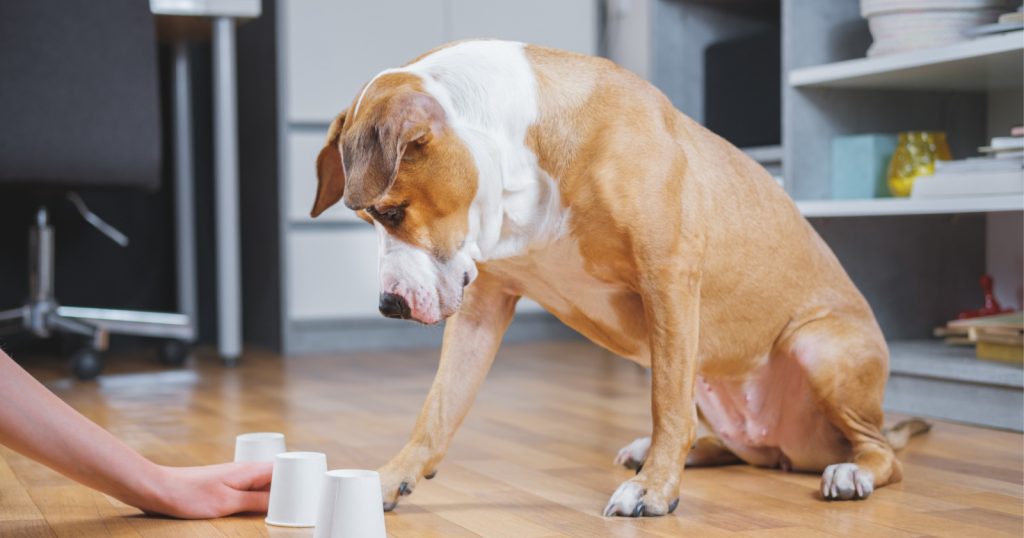 Since we're talking about how much in-home dog training costs, we can't miss talking about online dog classes.
After all, online education has become essential in the current global pandemic.
A lot of dog owners probably don't know that there's such a thing as online dog classes.
They're relatively new in the dog training world, but such courses can be beneficial for busy people.
As a whole, online classes provide you with videos on dog training and allow you to chat with professional trainers.
You can check Udemy.com for dog training classes, Cyber Dog, or Google search for online dog classes.
Usually, the cost of online dog training classes is around $90, but it can as high as $350 per lesson/course.
So, it's not much cheaper than private dog training, and some owners find it more challenging.
What are the Pros of In-Home Training?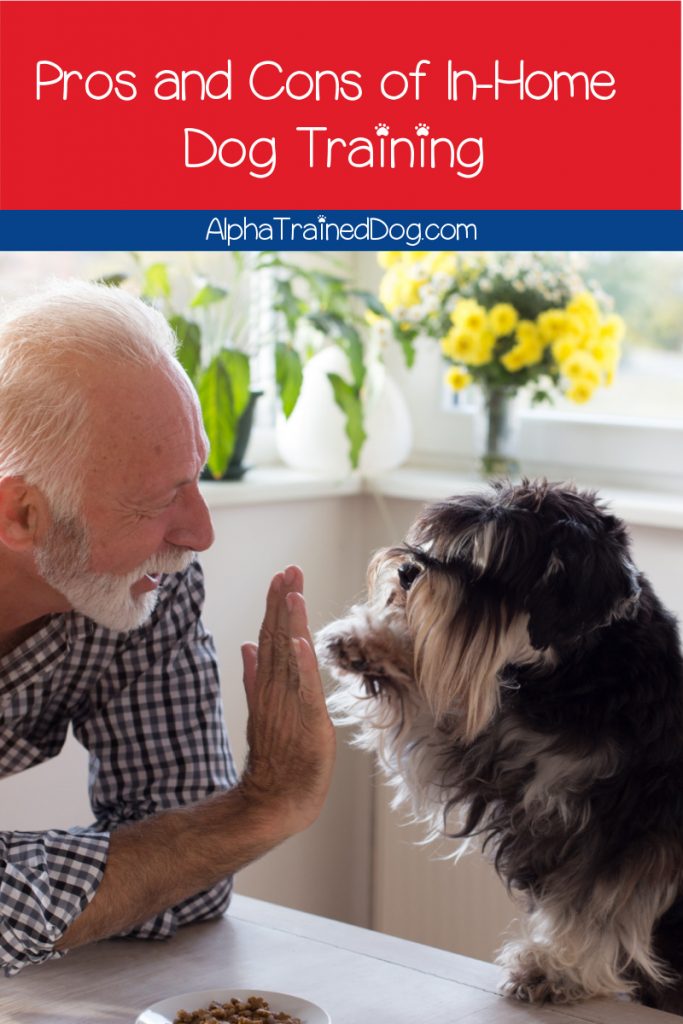 You're probably wondering if it's worth paying so much for in-home dog training.
That's not an easy question to answer, and it depends on your dog's temperament and what you expect of them.
In general, in-home dog training is more suitable for:
Dogs that have trouble concentrating or keeping up with the class
Aggressive/anxious dogs that get triggered in a noisy environment
Dogs with specific behavior problems
Unvaccinated puppies
The biggest advantage of in-home training is that you can schedule the sessions when you have the time and reschedule if necessary.
You don't have to worry about missing the class or that you're going to be late.
Moreover, in-home training is tailored to your dog's specific needs. A basic obedience class won't help you deal with reactivity, separation anxiety, or aggressiveness, for example.
During in-home training, you also have the undivided attention of the dog trainer.
You can ask them all the questions you might be embarrassed to ask in a group class and move things at a comfortable pace for you and your dog.
What Are the Cons of In-Home Dog Training?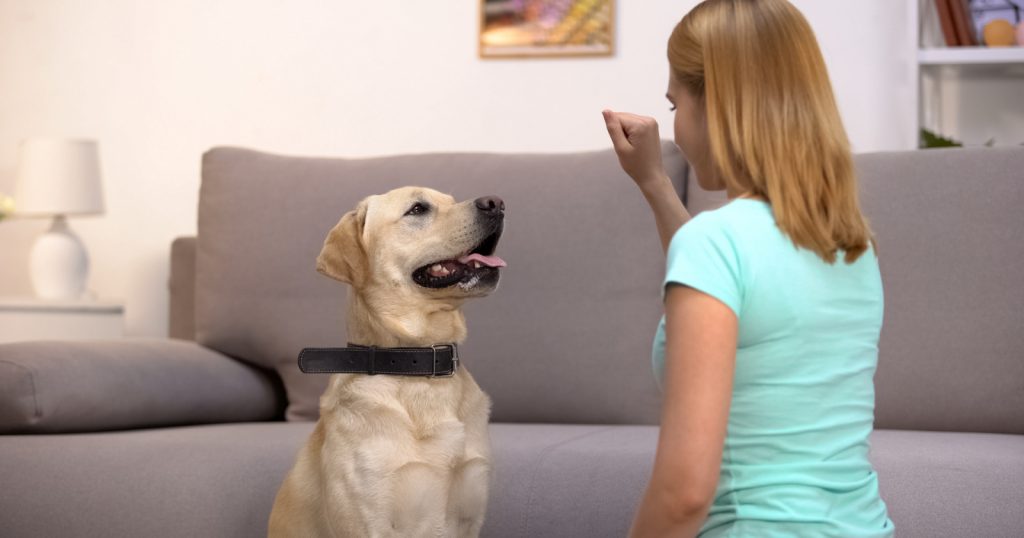 As you can see, in-home dog training has many pros, and it can be an excellent solution to manage an unruly dog.
However, private lessons also have disadvantages, and you have to consider the cons of in-home dog training before you make your mind.
Group classes, obedience schools, and dog boot camps allow your dog to socialize with other animals and people.
It exposes your pet to various stimuli and triggers and helps your dog get used to new smells, sounds, and people.
In group classes, your dog also learns how to behave by interacting with other dogs and acquires important social skills.
That's vital for a pet to become a good citizen and grow up into a mellow dog.
By choosing in-home training, you're going to miss a great chance for socializing your dog and getting them comfortable around other dogs.
Moreover, in-home trained dogs might not respond to your orders when you're outside home.
That's because the outside is full of distractions, and it's hard for a dog to focus on what you want from them.
On the other hand, group classes are usually full of distractions, which helps a dog learn to concentrate and listen to you in a chaotic environment.
You're also going to miss the opportunity to share experience with other owners and learn important training tricks and secrets.
In group classes, some owners might ask questions you've never thought of and have unique methods for managing their dogs.
Pros and Cons of Online Dog Classes
Online dog training courses usually provide you with training videos that you can watch in your free time and then repeat the steps with your dog.
Being alone with your dog might be less stressful for both of you and improve the training results.
Moreover, you can schedule online meetings with the trainer at a convenient time and work things at a comfortable pace.
Still, online dog classes have the same disadvantages as in-home training.
Your dog doesn't get much socialization, and you can't benefit from shared learning.
But online training also lacks the personal contact with the trainer.
It's one thing to see how training is done on video and another when the trainer is right next to you and can point your mistakes.
As you can see, how much in-home dog training costs depends on several factors. It has a lot of advantages, and it's a great choice for busy people and some dogs.
I advise that you use Airtasker to search for a private dog trainer.
You can explain what you expect of training and how much you're willing to spend.
If they are any suitable trainers, they will get back to you to discuss the details.
What do you think about in-home dog training? Tell us about your experience in the comment section.