What are the best crates for Huskies?
How about the right size for males and females?
Do you need a different one for puppies than you'd use for an adult?
We'll take a look at the answer to all of these questions, then I'll share my top 5 recommendations!
You will like: Top 4 Best Airline Crates for German Shepherds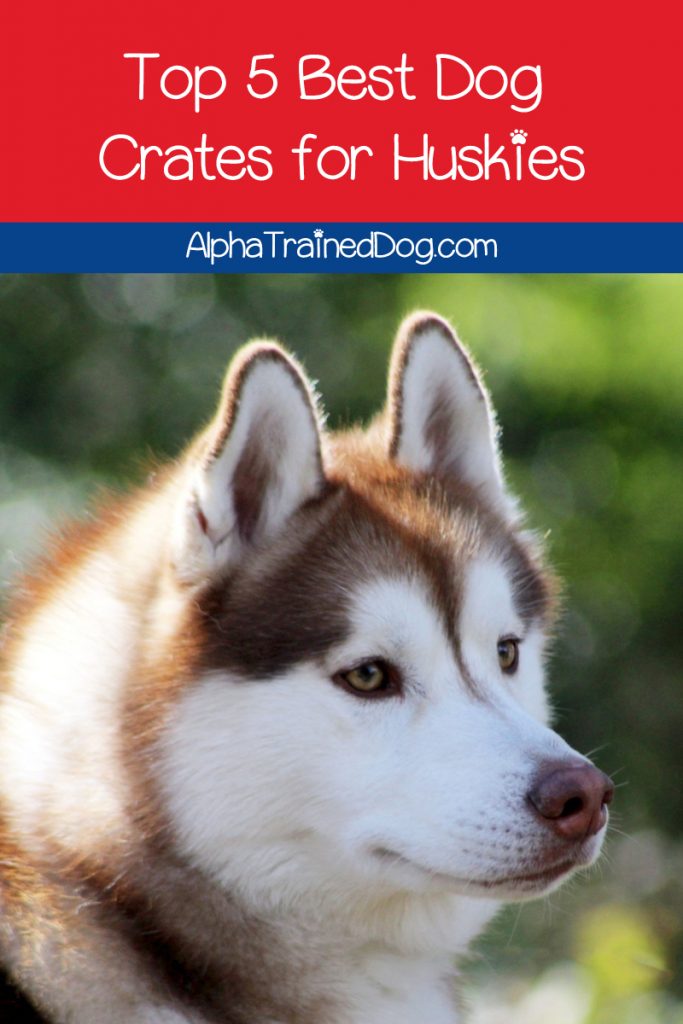 Our Top Pick
If you want to skip ahead and grab my top pick, go with the MidWest iCrate Starter Kit.
FYI, this post contains affiliate links. If you make a purchase through these links, we earn a small commission at no extra charge to you. 
What is the best size crate for a Husky?
Short version- the best size crate for a Husky is typically a 42″ or 48″ model, depending on gender.
So, the crate size for male husky is the 48″ one, while females can usually fit well into a 42″ crate.
Of course, it's not always that straight-forward. It's entirely possible to have a smaller male or a larger female.
Your best bet is to measure your dog before you shop for a crate.
Are you a Frenchie parent? Try these best crates for french bulldog
Should you start with a puppy crate?
If you're shopping for a crate for a husky puppy, then you may wonder if it's worth grabbing something smaller at first.
The answer isn't a simple yes or no, as there are pros and cons to each option
Opting for a puppy-sized crate has two notable benefits.
Your pup feels more secure, since it's not such an overwhelming sizes
He's less likely to do his business in the crate.
The only major con, of course, is that he'll outgrow it before you know it, so you'll be here shopping for an adult-sized husky crate in months.
Plus, getting a large crate from the get-go saves you money.
Puppy-sized crates don't really cost significantly less than adult-sized crates, so buying one of each means spending double the money. .
Personally, I'd just go with the adult crate right from the start. Most models come with a divider. For those that don't, you can buy one fairly cheap on Amazon.
Now that we've settled that, let's check out some of my favorite options.
Top 5 Best Crates for Huskies
All of the options are available as both a 48 inch dog crate.
However, just to keep everything consistent, I actually picked the 48 inch dog crate models for each one.
I think that will make price comparisons a bit easier.
Use the table below for a quick look, then read on for more details.
1. MidWest iCrate Starter Kit Review
The Midwest iCrate Starter Kit is, as the name implies, a fantastic starter option.
More than just a crate, it also comes with everything you need to set your Husky pup up in comfort.
Let's look at the features and pros, then we'll check out the few cons.
Features & Pros
You get all your crate supplies in one box, like a bed, cover, and bowls.
Includes a free divider panel, so you can use it for puppies and adults.
2-door iCrate makes it easy to set up in different rooms.
Bowl actually affixes to the crate so your dog doesn't knock it over.
The fleece bed and poly cover are both machine-washable.
1-year warranty on everything included
Affordable
Cons
Doors can't be removed
Cover isn't waterproof
Low-quality bed is easy to chew up.
Door may not stop super determined Huskies
Warranty only covers defects from the manufacturer, not damage caused by your dog.
Recommendation
I like that this kid includes all of the basics, even if the add-ons aren't really the highest quality.
That's kind of why they call it a "starter" kit, I guess.
My biggest concern is the door, since Huskies are notorious escape artists.
Unfortunately, some Huskies could escape Alcatraz, so this is going to be a common problem.
Overall, though, it's definitely my top pick.
It has a solid 5-star rating across just under 1,000 reviewers, so it's well-liked by users, too.
2. AmazonBasics Double-Door Folding Metal Dog Crate
As the name implies, the AmazonBasics dog crate is one of the retailer's private-label items.
I've always been pleasantly surprised by the quality of Amazon's line of products, so don't let the "generic" nature of this one scare you away.
Features & Pros
Two doors, with one on the side and one in front
Slide-style bolt
Relatively sturdy metal.
Folds almost flat for easy storage
Includes a divider panel
Cons
Doesn't come with bowls, cover, or any extras.
Like the iCrate, a determined Husky can break out.
A total pain to assemble (in my experience)
Recommendation
This is about as basic a crate as you can get, but sometimes you don't need bells and whistles.
We had this crate for my Pharaoh Hound. We don't crate train (I know, gasp!) but we had it just in case.
She only really used it once. Rather than shove it down into the garage, we ended up using it as a container for plants.
It held up to some crazy weather! Not that I'd recommend using it outdoors, but it does prove how sturdy it is.
While it doesn't quite make it to 5 stars on Amazon, with a whopping 30K+ ratings, 4.5 is still pretty darn close to perfect.
3. New World Folding Metal Dog Crate
The New World crate is another "what you see is what you get" option.
It's available with both a single or double door, but both have the same basic features (plus or minus a door, of course).
Features & Pros
Suitable for dogs up to 90lbs.
Folds down almost flat (or as flat as a dog crate can get)
Two heavy duty slide-bolt latches on each door
1-year Manufacturer's Warranty
Durable design
Cons
As with all wire crates, it's not escape-proof
Latches don't always line up right
A bit heavier than similar crates
Recommendation
Once again, I feel like I need to remind you that no metal wire crate is totally escape-proof.
While some reviewers did complain that their Husky broke right out of it, others said it worked fantastic for the breed.
Your best bet is to train your dog to love the crate.
I know, that's kind of "no, duh" advice, but a dog who views it as a safe haven rather than a prison won't try to escape quite so often.
With 3600+ people rating it at a total of 4.5 stars, this one is a pretty safe pick.
4. Precision Pet by Petmate "ProValu" Crate
The ProValu Petmate crate is a bit pricier than the other options so far, but it has a few options that make it worth the money.
Features & Pros
Two doors, with one on the front and one on the side
A 5-point precision lock system for added security.
Included divider panel
Folds down almost flat
Rust-resistant finish
Rounded corners to avoid snags.
Cons
They put the instructions IN the crate, including the ones that tell you how to open it up in the first place!
No warranty or return policy
Again, not totally escape-proof
Recommendation
The rounded corners are a nice touch and something that really should be standard on dog crates.
I don't love that they don't even offer a manufacturer's warranty. That tells me they don't believe in their product.
I really don't love that you can't return it!
That said, it has a 4.5 rating with over 800 reviews, so most users don't see a need to return it.
5. LUCKUP Heavy Duty Dog Crate Review
Let me preface this review by saying I am not fond of how the LUCKUP looks. It's too cagey.
However, it's as close to a husky proof crate as you can get, and I know some of you have major escape artists on your hands.
Features & Pros
Made with strong and durable rust-resistant steel
Nontoxic finish (which should be a given)
Two locks include safety buckles to make it extra hard to escape.
Top opens up, so you can reach down into it if need be.
It's on wheels, so it's easier to move.
Multiple styles for the 42″, including an "anti-biting" upgrade.
Cons
More like a husky cage than an actual crate
Expensive
Still not 100% escape proof (although more so than others)
A few complaints about customer service not be stellar
Recommendation
Like I said, this is one of the few Husky-proof crates out there. Is it perfect? No. Nothing is.
However, the bulk of reviewers said that it held their dog just fine.
I do want to note, though, that the bottom isn't very feet-friendly as is, so you may want to modify it and add an extra floor.
The LUCKUP is a 4-star crate with over 200 ratings, so not as many as other crates, but fewer people are shopping for this style overall.
Final Recommendation
While the best crates for a Husky depends entirely on just how determined your pup is to escape, I like the first one by Midwest.
However, if you have a super strong dog, the last one may be worth the price.
Just remember, Huskies are brilliant at getting out of places where they don't want to be, including even the toughest crate.
Nothing is 100% Husky proof, in other words!
Do you have any thoughts on the the best crates for Huskies? Share below!