Choosing the best airline crates for German Shepherds is WAY harder than picking out one for teeny dogs.
Don't worry, though, I've got you covered!
Today, we'll talk about what to look for in one that's safe, secure, and approved by airlines.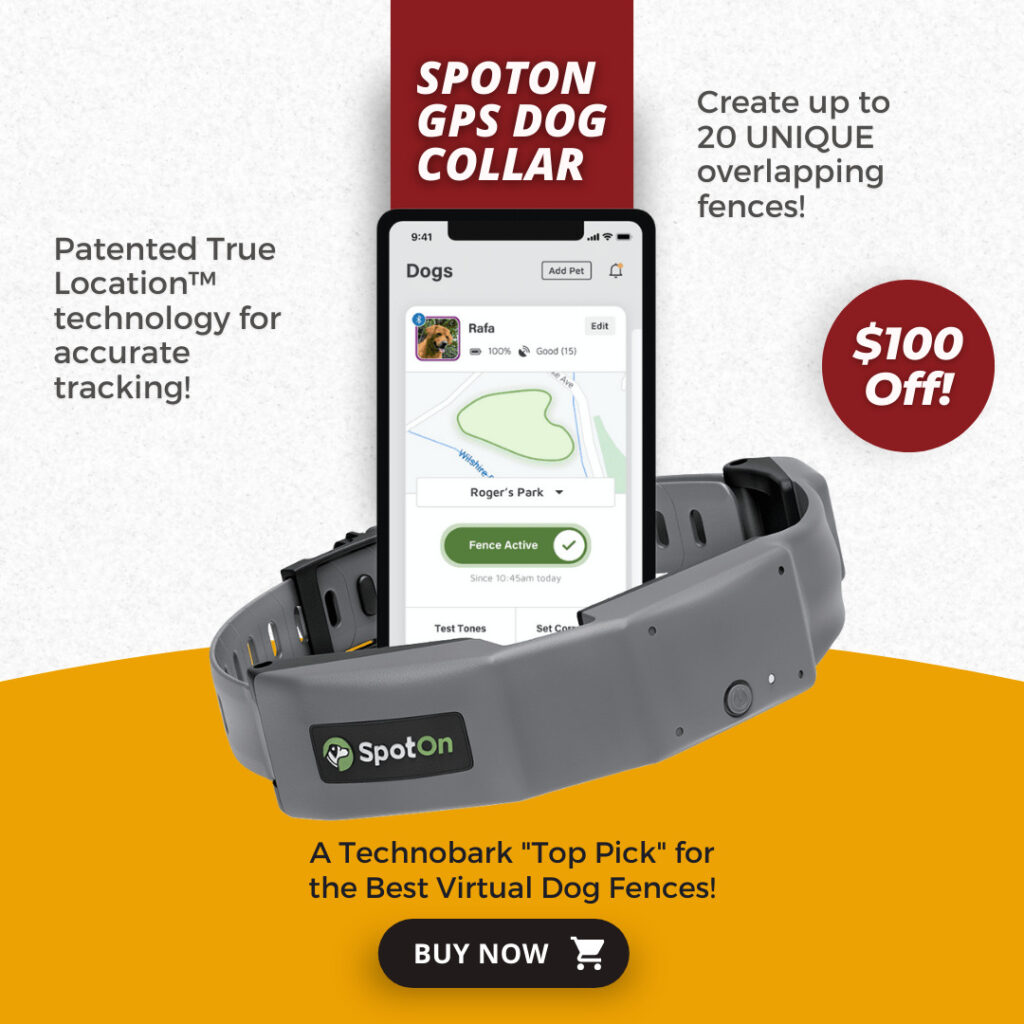 Then, we'll check out the ONLY four crates I'd actually recommend.
You may also like: How to Crate Train a German Shepherd Puppy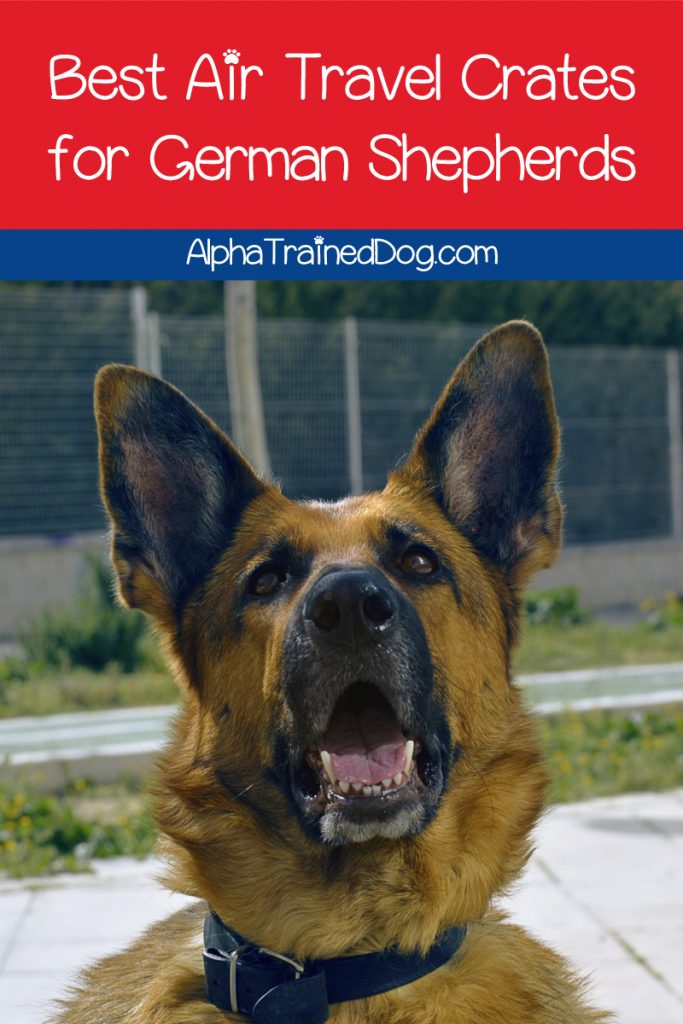 German Shepherd Airplane Crates: What to Consider
Like I said, finding the perfect air travel crate for a German Shepherd isn't quite as simple a choosing one for an itty bitty guy.
Small dog owners often have the option of keeping their pup in the cabin, those of us with big breeds are typically stuck leaving our pups in the cargo hold.
I searched every major airline, and they all say pretty much the same thing. Aside from service dogs, larger breeds cannot fly in the cabin.
Some airlines go so far as to call them "checked baggage."
Personally, I don't think I want to take my dog on any flight that refers to a living creature as "luggage," but we're not here to debate the morality of airlines.
Since your German Shepherd is going to be stuck in the cargo hold, it's incredibly important to choose a safe, secure, and comfortable crate.
Let's go over a few things to keep in mind before we get to the specific recommendations.
Related: Best escape proof dog crate
It must be IATA-Compliant
Above all else, your crate MUST be IATA-compliant. IATA stands for International Air Transport Association.
The good news? If you choose crates that fit their requirements, you'll cover pretty much all the other considerations below without even trying.
The bad? The IATA doesn't actually "approve" or in any way vouch for ANY carrier. So, you can't just say "give me a list of IATA-approved dog carriers and I'll be on my way."
Crates must be the right size for your GSD
According to the IATA, a crates needs to follow a fairly specific algebraic formula to meet their requirements.
The formula: A + ½ B = Length C x 2 + Width D = Height

A = length of your dog from the tip of nose to base of tail.
B = height of your dog from the ground to his elbow joint.
C = width across his shoulders (or his widest point).
D = height of your dog when he's in his natural standing position, from the floor to the tip of his ears (or top of his head, whichever is higher, but with GSDs, it'll be his ears).
I stink at algebra, so don't even ask me to turn that formula into real number examples.
Bottom line, your dog "must have enough space to turn about normally while standing, to stand, to sit erect, and to lie in a natural position," according to IATA requirements (and common sense).
For most female adult GSDs, that's a 42″ long crate. For males, a 48″.
Make sure it has good ventilation
I shouldn't have to tell you why this is important. I mean, obviously you know your dog needs to breathe, right?
IATA requires good ventilation on three sides of the crate. So, the door counts for the front, then maybe air holes on two sides.
Personally, I'd rather see air holes on all four sides (top and bottom can be solid) just to be on the safe side.
Food and water considerations
Even if you're going on a short flight, you'll want to make sure your dog has access to water. The IATA has this to say about feeding requirements.
Separate food and water troughs must be provided, either fixed inside the container or attached to it so that they are accessible for replenishment purposes. They must have rounded edges and be made of non-toxic material suitable for the species.

– IATA
You'll also need to write up a list of instructions detailing your dog's feeding and watering schedule, then affix it to his crate.
Honestly, I'm not sure if this is required for all flights or just those where your dog flies without you, but do it either way to be safe.
Materials
As far as permitted materials go, the IATA allows fiberglass, metal, rigid plastics, weld metal mesh, solid wood or plywood.
However, there are caveats for most of those materials. For example, a cage made entirely of wire mesh isn't really great for air travel.
For the most part, unless your DIY your crate, you'll be looking at rigid plastic sides with wire/metal doors.
All nuts, bolts, and other hardware must be present. They also need to be made of metal, not plastic.
Crate liner
While this is something you'll put in after you buy your crate, it's still an important consideration.
The IATA requires some sort of liner with cushioning as well as a layer of absorbent material for accidents.
I say go the extra mile here and make it as comfortable as possible for your dog. Use something familiar, like a blanket that he sleeps on at home.
I highly recommend reading through the IATA Pet Container Requirements for more detailed explanations of all of the above.
For now, we're going to move on to my top four recommendations for the best airline crates for German Shepherds.
FYI, the rest of this post contains affiliate links. If you make a purchase through these links, we earn a small commission at no extra charge to you.
Top 4 Airline Crates for German Shepherds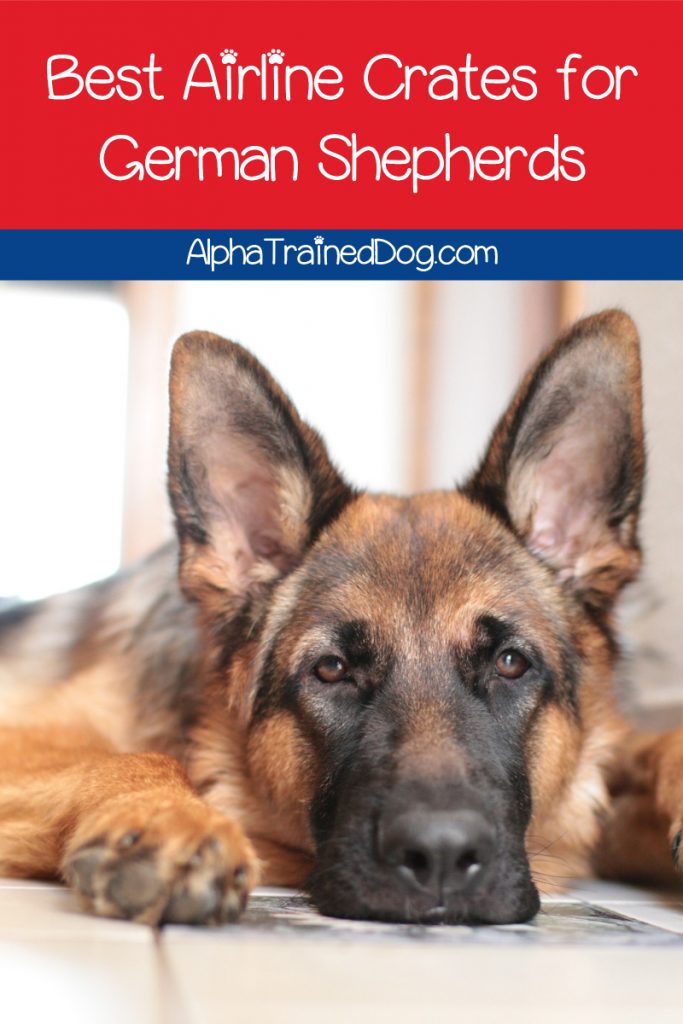 There aren't a ton of airline crates that I'd feel comfortable putting a German Shepherd into, so this list is fairly short.
Remember what we said above, you'll never see an IATA-approved carrier (if anyone claims that theirs is, they're fibbing).
Instead, we're looking for "meets most air travel requirements.
That's a short way of saying "Most airlines will let you fly with our crate. However, there's always that one airline that likes to be difficult, so call ahead before booking your ticket."
FYI, that "one" is United. They won't allow any crates over 30″, which means you can't fly with your GSD on their planes, period. Well, unless he';s a puppy.
Got it? Good. On with the show. Use the table below to get a quick overview, then read on for more details.
TABLE
1. Petmate Sky Kennel
The Petmate Sky Kennel is pretty much the most popular air travel crate for all dogs, including the GSD.
It comes in 6 different sizes (only two of which are suitable for your shepherd, though).
Let's take a closer look at the features and pros, then we'll talk cons.
Features & Pros
Meets most air travel requirements (with caveats)
A heavy duty plastic kennel with strong wire mesh door.
Ventilation on all four sides (with a solid top and bottom)
The ventilation consists of wire mesh, not just holes that dogs can chew through.
4-way vault door for added security, so your dog can't just pop it open.
Side handles (or side bar, protruding bar, whatever you want to call it) stick out far enough to give your dog a safe buffer zone.
Comes with "live animal" stickers, clip-on food & water bowls, and pet ID stickers.
Cons
Dimensions are misleading. Usable space is much smaller than the overall crate size.
A lot of complaints about the handles breaking, snapping, or just plain falling off.
Made with plastic nuts and bolts, so you'll need to modify it to make it compliant. This seems to be a common issue, though.
Recommendation
This is one of the most highly recommended and often-used air travel crate for dogs, so it's a pretty safe choice.
You will need to order a metal nuts and bolts set to make it truly compliant, but that's going to be an issue with most crates.
Just make sure you get a size larger than you think you'll need. I would go with the 40″ L X 27″ W X 30″H or larger.
Sale
Petmate Sky Kennel Pet Carrier, 28 Inch
Extra Security: 4 way vault door provides extra security for the travel dog crate by preventing sliding and shifting (available on 36 inch size and up)
Durable, Heavy Duty Construction: Durable plastic shell, non corrodible wing nuts, extra strong steel wire, and interlocking door provide heavy duty protection
360 Degree Ventilation: Ventilation openings surrounding the travel kennel give pets fresh air and visibility from all sides
Travel Necessities Included: Portable dog kennel includes 2 Live Animal stickers, clip on bowls and ID stickers for easy modification for travel. Top Handle available on 21 inch and 28 inch sizes
Airline Adaptable: The Petmate Sky Kennel meets most airline cargo specifications for easy and safe travel, but pet owners should always check with individual airlines
2. Aspen Pet Porter Heavy-Duty Pet Carrier
The Aspen Pet Porter comes in 9 different sizes and holds dogs all the way up to 125 lbs.
While it's also made by Petmate, it's kind of like their budget model in my opinion. Let's take a look.
Features & Pros
Meets most airline cargo specifications.
Ventilation on all sides.
Easy-open latch (also a con, see below)
Handle is built in, rather than external, so it won't snap off.
Cons
An easy-open latch for people means an easy-open latch for dogs. My GSD could have opened this no problem.
No top handle, but that's not a huge deal because they tend to snap off with large dogs anyway.
Ventilation consists of holes, so dogs can chew through them.
Sizing info in description is WAY off.
Not a structural con, but I'm kind of irked that the little dogs get cute colors while the big guys are stuck with grey and beige.
Recommendation
Like I said, this is the budget model, so it doesn't have as many bells and whistles as their actual Petmate models.
Also, Petmate as a whole seems fundamentally incapable of properly listing sizing information on their crates. They seriously need a proof reader!
So, don't go by the sizes they list in the bullet points. Instead, you'll want to read through comments to figure out which is the best for your dog.
I would say go with the 2nd largest to 3rd largest. Anything smaller is too tight.
Petmate ASPEN PET Pet Porter Dog Kennel, Various Sizes
Large Pet Crate: This dog kennel for large dogs has an easy-open latch for opening the dog travel carrier with one hand
Up To 70 lbs: Suitable for pets up to – 70 lbs | Product dimensions-36 L x 25 W x 27 H inches| Product weight – 19 lbs
Air Travel: This pet carrier meets most airline cargo specifications | The Air Travel kennel for dogs cats also has ventilation on 3 sides
Aspen Pet: Aspen Pet provides every day essentials for pet parents, dogs cats Check out Aspen Pets for leash cable tie-outs, litter box accessories, pet toys, gravity water/food bowls, pet beds, dog houses, carriers more
Just For Pets: Petmate makes a variety of pet products for dogs, cats, chickens other small furry friends Check out our brands such as Aspen Pet, Arm Hammer, Booda, Chuckit, Pet Qwerks more
3. SportPet Designs Kennel
While the SportPet Designs kennel doesn't have as many ratings as the larger brands, it's still a great option.
It's available in 6 sizes, but you'll most likely need either the XXL or 3XL.
Features & Pros
Meets most airline requirements.
Metal nuts included, so it's compliant right from the get-go
Tie down holes for bungees, as required by airlines.
Heavy-duty plastic construction with strong wire door
Ventilation on 4 sides, and it's metal mesh isn't of just little holes.
Wheels snap on and off.
Cons
Claims to be "IATA-approved," which as we discussed earlier just isn't possible.
Includes two dishes, but they look like they're made for mice.
Vents aren't the sturdiest, as some users complain that they broke during travel.
Challenging to assemble
Recommendation
After reading through reviews, I feel like your best bet is really the 3XL for a larger GSD.
I do have some concerns about complaints regarding the vents coming off. I'd definitely order it well ahead of time and give it a thorough check before using. That goes for any crate, though.
It also bothers me that they claim to be AITA-approved. Maybe they meant "compliant," but honestly, I feel like it's a false claim.
That said, it's a fairly budget-friendly model with a good number of decent reviews. Not as many as the Petmate, but enough to make me feel confident in recommending it.
4. Petmate Ultra Vari Kennel
Notice a trend here? Petmate makes pretty much all of the best airline crates for German Shepherds.
This particular model only comes in four sizes, and the largest is the only one that will work for most GSDs.
Features & Pros
Meets most airline cargo specifications
Made with sturdy plastic and wire mesh.
Wire vents on two sides
Includes tie-down strap holes.
Easy-open front latch
Easy to assemble
Cons
Largest model only holds up to 90lbs, so not great for a super big GSD.
Easy open front latch means easy for super smart dogs to open as well.
No top handle
Outside of the nuts are plastic (inside is metal), so airlines may not allow it without modifications.
Hole-style vents on the back.
Usable size is much smaller than advertised size
No food bowls
Recommendation
This is probably my least-favorite of the Petmate models, but I include it because a lot of people like it well enough.
Once again, Petmate skipped the proof reader and gave the exact same dimensions for every single size, leaving us with a super fun guessing game!
I would say, based on reviews and weight limits, to go with the largest one.
Petmate Ultra Vari Dog Kennel for Medium to Large Dogs (Durable, Heavy Duty Dog Travel Crate, Made with Recycled Materials, 40 in. Long) 70 to 90 lbs
DOG AIR TRAVEL KENNEL: This large dog travel kennel features tie-down strap holes, wire vents for ventilation a raised interior to keep pets safe and comfortable For large dogs 70-90 lbs Measures: 40"
AIRLINE-ADAPTABLE: This dog crate meets most airline cargo specifications Made with heavy duty recycled plastic material and features an easy-open front latch to quickly access pets
KENNELS HOUSES: Crate kennel training is vital for dog safety comfort We provide traditional travel carriers, wire training exercise kennels, play pens, barn-style dog houses more
Petmate: For over 50 years, we at Petmate are passionate about our dogs, cats furry friends in general Starting with the very first dog kennel, we've produced plenty of eco-friendly products that pets will love. Great for car or air travel
JUST FOR PETS: Petmate makes a variety of pet products for dogs, cats, chickens other small furry friends Check out our brands such as Aspen Pet, Arm Hammer, Booda, Chuckit, Jackson Galaxy more
Final Recommendation
I really wanted a nice round number, like 5, for this list, but I'm not slapping a substandard crate up there just because I have mild OCD.
These are quite truly the ONLY 4 crates I'd recommend for air travel with a German Shepherd.
All of them have their share of problems, but the Petmate Sky Kennel really feels like your best bet.
Remember, though, if you're traveling on United, none of these crates will meet their requirements while still being large enough for your dog.
Honestly, though, they have the worst reputation as far as pet-friendly airlines go, so they're not a good choice for traveling with any size pet.
Do you know of any other airline crates for German shepherds that I missed? Tell me below!